Movie Information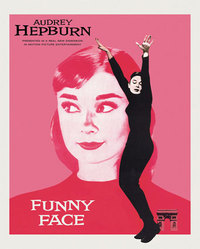 Funny Face
Released: 1957
Credits
Movie Purchasing Links
Review: Funny Face (50th Anniversary DVD)
by Dan Goldwasser
October 31, 2007
3.5 / 5 Stars
In 1957, Audrey Hepburn and Fred Astaire starred in the feature film musical Funny Face. Featuring four songs by George and Ira Gershwin, with additional songs by Roger Edens and Leonard Gershe, the storyline has almost nothing to do with the original 1920s musical of the same name (except for four of the songs). Quality Magazine editor Maggie Prescott (Kay Thompson) wants a new trend and look for the next issue of the magazine. Fashion photographer Dick Avery (Astaire) and Prescott take over a Bohemian bookstore for a photo shoot, and in the process he discovers clerk and amateur philosopher Jo Stockton (Hepburn). Realizing that she could be the new face of "Quality Magazine", and seeing something promising in her, Avery convinces Stockton to come to Paris for a major fashion event - but she just wants the opportunity to meet her idol, philosopher Professor Emile Flostre. Once in Paris, she disappears into the Bohemian cafes, but is eventually coaxed out by Avery to do their photo shoots. In the process, they begin to have feelings for each other - but her love of philosophy and Avery\'s jealousy of her admiration for Professor Flostre threatens their blooming relationship.
For the 50th Anniversary of the film, Paramount Home Video has released a new DVD of Funny Face, with a few small featurettes. The image of the film is greatly improved from the previous DVD release of the film, with new remastered visuals looking crisp, sharp, and rock-solid, with almost no visible grain. The famous Bohemian dance sequence, with the wild color palette, is significantly vibrant. The 5.1 Dolby Digital English audio track is very clear and well balanced, but there isn\'t much in the way of channel separation until the songs kick in. The original English mono track is also included, as well as mono tracks in French, Spanish and Portuguese.
Special features include an 8-minute long featurette "The Fashion Designer and His Muse", which focuses on the relationship between Audrey Hepburn and renowned fashion designer Hubert de Givenchy. "Parisian Dreams" is about 7.5-minutes, and looks at the influence that a location like Paris had on the film. "Paramount in the \'50s" is a 10-minute long retrospective featurette that looks at the many influential and classic films that the studio produced in the 1950s, from Sunset Boulevard to The Ten Commandments. Rounding out the extras is a Theatrical Trailer. All said, the extras feel too light to qualify this release as a "Special Edition", but the new transfer is excellent, and the film is a classic. If you\'re a Hepburn or Astaire fan, then this is a must-have release.
Movie Ratings
Soundtrack.Net Users

Click stars
to rate.



Missing Information?
If any information appears to be missing from this page, contact us and let us know!