Movie Information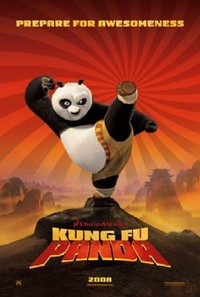 Kung Fu Panda
Released: June 6, 2008
Credits
Song Credits
KUNG FU FIGHTING


WRITTEN BY CARL DOUGLAS
PERFORMED BY CEE-LO GREEN AND JACK BLACK
PRODUCED BY THE UNDERDOGS
VOCALS PRODUCED BY CEE-LO GREEN
CEE-LO GREEN APPEARS COURTESY OF RADICULTURE RECORDS/DOWNTOWN RECORDINGS/ATLANTIC RECORDING CORP.
JACK BLACK APPEARS COURTESY OF EPIC RECORDS
Review: Kung Fu Panda
by Dan Goldwasser
June 2, 2008
3 / 5 Stars
An apprentice noodle-maker, Po the Panda (voiced by Jack Black) dreams of being a super Kung Fu warrior, fighting alongside the five masters: Master Monkey (Jackie Chan), Master Tigress (Angelina Jolie), Master Viper (Lucy Liu), Master Mantis (Seth Rogan) and Master Crane (David Cross). But Po\'s father (a goose voiced by James Hong - don\'t ask, it\'s still amusing) believes that Po\'s destiny lies in noodle-making. When the evil Tai Lung (Ian McShane) escapes from prison, supreme master Oogway (Randall Duk Kim) believes that the time has come for the prophecy of the \"Dragon Warrior\" to come to fruition. When Po tries (through a series of small misadventures) to attend the ceremony, he ends up being chosen as the Dragon Warrior. Kung Fu Master Shifu (Dustin Hoffman), who has trained the other five Masters, believes this to be an accident - but as Oogway says, \"there are no accidents\". And so, Po begins his unlikely training to be a Kung Fu warrior - with the other masters set against him, and trying to get him to quit. Is Po the Dragon Warrior? Will he be able to defeat Tai Lung? Find out, in Kung Fu Panda!

The computer-animated film, released by Dreamworks Animation, is a lot of fun. Colorful and vibrant, the imagery is solid although it\'s not going to beat Pixar in any competitions. Jack Black as Po is entertaining, with his lack of self-confidence adding charm to his character. Unlike some of the other Dreamworks Animated films, the jokes aren\'t filled with pop-culture references that will date the film, and though the story is a tad on the predictable side, the flow of the film is strengthened by the (rather intense at times) action sequences. They\'re not violent, per se, but they certainly get the adrenaline pumping.

The music by Hans Zimmer and John Powell has a strong ethnic melody, and the underscore accentuates the action quite well. It\'s just enough to push the emotion in the right direction, and overall is a solid musical effort. While Kung Fu Panda won\'t break the mold for story, it has a pretty straightforward plot that is entertaining enough to keep you satisfied for an hour and a half. To put it another way, I enjoyed this much more than the new Indiana Jones film.
Missing Information?
If any information appears to be missing from this page, contact us and let us know!