Movie Information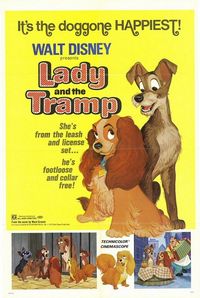 Lady and the Tramp
Released: June 22, 1955
Credits
director

Clyde Geronimi

director

Wilfred Jackson

director

Hamilton S. Luske
Review: Lady and the Tramp (Blu-ray, Diamond Edition)
by Dan Goldwasser
March 4, 2012
0 / 5 Stars
Walt Disney's 1955 animated feature Lady and the Tramp was in development at the studio for nearly twenty years before finally being released. The idea was conceived by Disney story man Joe Grant in 1937, based on his own experience of his dog—a springer spaniel named Lady—who got pushed aside when Joe's new baby arrived. Combining Grant's material with elements from a book by Ward Greene, the result was a two-stage story about a well-to-do-dog, Lady (voiced by Barbara Luddy) and her unlikely relationship with a mutt from the wrong side of the tracks, Tramp (voiced by Larry Roberts). The idea was that Lady's life was perfect and structured, whereas Tramp's life was spur-of-the-moment. Lady's owners soon have a baby, and Lady starts to feel a bit left out - a feeling made even worse when the owners go off on vacation, leaving the baby—and Lady—under the care of Aunt Sarah, who hates dogs and owns a pair of devious Siamese cats.
The cats frame Lady for some in-home destruction, and Aunt Sarah takes Lady to get a muzzle—but she escapes, and with the help of Tramp, gets the muzzle removed. She learns a bit about Tramp's fancy-free lifestyle, and the dangers of being out in the "real world," with the risk of being caught and sent to the pound an ever-present danger. This is a pretty basic (and yet touching) story, and know that it's entertaining, heartwarming, and (in typical Disney fashion) has a happy ending.
Now, 57-years after it was released (and 75 years after development started), Lady and the Tramp comes to home video as a "Diamond Edition" Blu-ray—and once more, the wizards at Disney Home Video have taken every effort to present Lady and the Tramp in a way that looks better than anything audiences in 1955 likely witnessed in theaters. The first Cinemascope animated feature film, this is a rock-solid, pixel-perfect restoration from start to finish. From the gorgeous painted backgrounds to the delightful hand-drawn characters, the film looks simply amazing. Colors are solid, blacks are deep, and the artist's brushstrokes and textures are clearly visible.
Audio, similarly, is given a wonderful and immersive DTS-HD Master Audio 7.1 surround track, with plenty of atmospherics and Oliver Wallace's excellent music surrounding you throughout the film, but without seeming out of place for a film of its age. An unexpected but welcome inclusion is a DTS-HD Master Audio 3.0 track of the original Cinemascope film mix, and while it might not feel as engrossing as the 7.1 track, it is really nice to have, simply out of respect. We're also provided French and Spanish Dolby Digital 5.1 tracks (which makes it fun to hear the songs in foreign languages).
The release contains all the extras from the old DVD, as well as some new goodies. An "Introduction by Diane Disney Miller" (HD, 2-minutes), Walt Disney's daughter, kicks off the extras. There is no scene-specific commentary track, but rather a re-creation of the story meetings (from the original meeting transcripts) is presented with voice actors in "Inside Walt's Story Meetings." It's a glimpse at the creative process from the Walt Disney Studios in the 1950s, and truly fascinating to hear how things evolved.
"Diane Disney Miller: Remembering Dad" (HD, 8-minutes) is a nice and touching trip down memory lane by Disney's daughter, as she reminisces about the legacy that he wrought, as well as his love of the simpler things in life, including his cherished time in the Victorian-styled apartment above the firehouse at Disneyland. Three new "Deleted Scenes" (HD, 19-minutes) are presented via storyboards, and a short never-recorded song for Tramp, "I'm Free as the Breeze" (HD, 2-minutes), is presented as well. This song was ditched halfway through the nearly twenty-year development/production of the film.
Over 2.5 hours of "Classic DVD Bonus Features" from the 2006 "50th Anniversary" special edition DVD are presented on the Blu-ray as well. "Lady's Pedigree: The Making of Lady and the Tramp" (SD, 53-minutes) is a seven-part documentary looking at the making of the feature, with tons of archival footage and material. "Finding Lady: The Art of the Storyboard" explores how storyboards were used while the story of the film changed, and how it influenced future filmmakers. "Original 1943 Storyboard Version of the Film" (SD, 12-minutes) is a short presentation reel that was made 12 years prior to the completed film. "The Siamese Cat Song: Finding a Voice for the Cats" (SD, 4.5-minutes) is a look at how the voices of the cats evolved; "Puppypedia: Going to the Dogs" (SD, 9.5-minutes) is a very kid-oriented look at the evolution of different dog breeds hosted by Fred Willard. A "Bella Note" music video (SD, 3-minutes) featuring Steve Tyrell is included, as well as three "Theatrical Trailers" (SD, 6-minutes). Three different "Excerpts from 'Disneyland' TV Shows" (SD, 42-minutes) are also included, and absolutely well worth watching. Finally , three more "Deleted Scenes" (SD, 13-minutes) are also included, again presented in storyboard form.
Missing from this release are the art galleries that were on the original DVDs—but that's redundant when you use the "Disney Second Screen" app on your iPad or computer. Synched with the film, we get hundreds of pieces of artwork, sketches, behind-the-scenes photos, trivia, and so much more. It's a great way to explore the film further, and there are even puzzle games included for the kids.
Lady and the Tramp is a Disney classic, a short but sweet story about love from opposite walks of life, told through our canine companions. With a (now expected) stunning transfer, solid audio presentation and impressive wealth of extras, Lady and the Tramp is easily yet another must-have Blu-ray from the Disney archives.
Missing Information?
If any information appears to be missing from this page, contact us and let us know!