Movie Information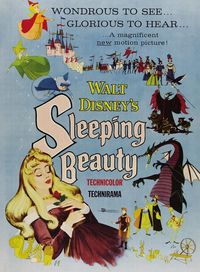 Sleeping Beauty
Released: 1959
Movie Purchasing Links
2-Disc Platinum Edition:
DVD
Review: Sleeping Beauty (2-disc Platinum Edition Blu-ray)
by Dan Goldwasser
October 18, 2008
5 / 5 Stars
Long considered a classic, Walt Disney\'s 1959 animated adaptation of Sleeping Beauty was actually not initially a financial success.  Indeed, it would take numerous theatrical re-issues and home video releases before the film would finally break even.  The last animated film that the Walt Disney Studios hand-inked, Sleeping Beauty tells the classic fairy tale about a young princess who is cursed and falls asleep after pricking her finger on a spinning wheel, only to be rescued by a prince when his true love\'s kiss wakes her and the rest of the kingdom up.  With an orchestral underscore and songs adapted and based on Tchaikovsky\'s classic "Sleeping Beauty Ballet", Sleeping Beauty runs a brisk 75-minutes long, and was originally shot in the "Technirama" process, giving the film an effective widescreen aspect ratio of 2.55:1.  However, due to Cinemascope standards at the time, the film was generally seen at the projected (cropped) ratio of 2.35:1. 
Now released on Blu-ray disc (and Special Edition DVD), Sleeping Beauty can be seen not only as it was originally intended to be presented, but with a restored and cleaned up image (from the original negative) as well as a new 7.1 home theater mix from the original audio elements.  The image is absolutely stunning.  Colors are pure, the framing is rock solid, and there is no compression or dirt at all. I can\'t even say there is grain - it\'s a truly amazing image considering it came from a film source that is nearly 50 years old.  Likewise, the audio sounds great.  The original scoring sessions for the music was found, and then all of the dialogue/effects were restored and cleaned up.  On the Blu-ray, audio is presented in DTS-HD Master Audio 7.1 English (the new home theater mix) as well as the original four-channel soundtrack, fully restored and delivered in 4.0 Dolby Digital English.  It\'s the best this film is ever going to sound, and kudos to the folks at Disney for putting the original mix on there as well as the new enhanced home theater one.
Last released on DVD back in 2003, Walt Disney Home Video has gone back into the vault to not only bring us all of the extras from that release, but a whole bunch of new exclusive and exploratory extras.  First up is a new feature length commentary track, featuring film historian Leonard Maltin, Pixar director John Lassetter, and Walt Disney animator Andreas Deja.  Using the "Cine-Explore" feature, this commentary is transformed into a visual one, with an array of pop-up windows featuring stills and archival video - you\'ll learn pretty much everything you didn\'t know about the movie in this process.  But just in case there was no stone left unturned, the "Princess Fun Facts" trivia track will likely fill in the remaining gaps.  The remaining extras on the first disc include a "Dragon Encounter Audio Sensory Experience" (4.5- minutes), which is a new 3D animated "first person" short film that will take advantage of your home theater setup to immerse you in a small adventure;
The Oscar-winning short film "Grand Canyon" (29-min) is included here, in full HD, and it looks great - much better than the old 2003 DVD version that had been included.  Kudos Disney!  In "Music & More", the obligatory music video for a contemporary pop-band cover of a classic Disney song (in this case "Once Upon a Dream" as performed by Emily Osment) is included, as well as the "Disney Song Selection" that lets you jump to the five different songs in the film, with lyrics shown on screen so you can sing along.  I also want to point out the main menu for the first disc, at this point.  If you have an internet connection, the menu will actually adapt(!) to your location, and give you the weather (including three day forecast) as well as show a different background depending on the time (day or night castle images).  Very slick.  You can even change your "kingdom" to see what the weather/time is like at the various Disney theme parks globally.  And if you have a BD-Live compatible player (and sign up for the free account) you can chat and control the movie with other owners of the movie via "Disney Movie Chat", or compete against them in the "Disney Movie Challenge" to test your trivia of the movie and score points. You can even send custom video "Movie Mail" messages to you friends on the BD-Live network, and even earn Disney Movie Rewards Live as well (though how was unclear, since many aspects of the network were not live as of press time).
The second disc has the two major sections found on pretty much every Disney home video release. "Games & Activities" is for the kids, and includes three features. "Maleficent\'s Challenge" is a clever animated interactive bit where you essentially play a game of 20 questions (powered by 20Q.net), and Maleficent will identify the object you\'re thinking of; "Briar Rose\'s Enchanted Dance Game" lets you learn how to dance with the woodland animals from the film, and then play a variant on "Dance Dance Revolution" with your remote; "Sleeping Beauty Fun with Language Game" is for very young kids, and helps you match words with objects.
The bulk of extras on this disc are found in the "Backstage Disney" section, and provide a cornucopia of items.   Starting with "Original Disneyland Sleeping Beauty Castle Walkthrough Attraction", a 3D virtual recreation of the Disneyland attraction is presented by Disney Imagineer Tony Baxter where you can branch off to behind-the-scenes explorations of each area. It\'s interesting stuff, and apparently they\'ll be re-launching the attraction at the theme park in the coming year.  A more in-depth history of the attraction is explored in the 10-minute long "History of the Sleeping Beauty Castle Walkthrough Attraction" featurette, which uses archival footage and new interviews to discuss the project.  The heart of the extras lies in "Picture Perfect: The Making of Sleeping Beauty" (running 43.5-minutes), where we are treated to new interviews, archival footage, stills and more all help to tell the story of the entire project. Excellent stuff, and it complements the visual commentary quite nicely without too much overlap.  "Eyvind Earle: The Man and His Art" is a 7.5-minute long featurette that takes a look at the artist that was hand-picked by Walt Disney to work on Sleeping Beauty.  "Sequence 8" (5.5-minutes long) looks at the film\'s most expensive sequence, when Briar Rose and Prince Phillip first meet, with interviews and archival photos/footage. 
An "Alternate Opening" (3.5-minutes), "Deleted Songs" (12-min) and two "Storyboard Sequences" (4-min) are also included.  The deleted songs are interesting because they include multiple versions of the same discarded number.  2-minutes of "Live-Action Reference" is included, as well as a rather extensive selection of "Sleeping Beauty Art Galleries" which covers Visual Development, Character Design, the Storybook, Backgrounds & Layout, Storyboards, Production Pictures, Live-Action Reference, and Publicity. Whew!  But wait, there\'s still plenty more!  "The Sound of Beauty: Restoring a Classic" is an 11-minute featurette that explores the new 7.1 sound mix for the Blu-ray, and some of the history of the original sound recordings and subsequent restoration. Six minutes of "Publicity" trailers (three in all) are presented, sadly in standard definition. Then, two versions of the 50-minute long special "The Peter Tchaikovsky Story" are presented (minor differences in the stereo simulcast instructions), in HD. Finally, the 16-minute long "Four Artists Paint One Tree" 1958 featurette (also shown in HD) is included, showing how four different Disney artists would approach the same subject (in this case, a tree).
Just in case you thought we were done, there\'s one last extra.  A third disc is included - a bonus DVD containing the full film, so you can watch the movie on standard DVDs as well. (It also includes the commentary and trivia tracks, music video, "Grand Canyon" and both versions of "The Peter Tchaikovsky Story".)  Sleeping Beauty is definitely a classic of Disney animation.  It\'s not the best film they\'ve made, nor was it the most successful.  Yet, with the "Fairy Tale" formula fully entrenched, the film has endured for the past 50 years.  Until now, it has never looked or sounded so good. With an enormous wealth of extras, Disney has fully embraced the capabilities of Blu-ray, and their first classic animated feature release sets the benchmark for all future animated releases. I enthusiastically recommend this release, and cannot wait for Pinocchio next year.
News &amp Articles
Missing Information?
If any information appears to be missing from this page, contact us and let us know!