Movie Information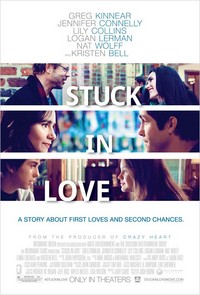 Stuck in Love
Released: July 5, 2013
Credits
Song Credits
"Schemers"


Performed by SKATERS
Written by Michael Ian Cummings and Noah Rubin
By arrangement with Razor & Tie Direct, LLC

"Home"


Performed by Edward Sharpe And The Magnetic Zeros
Written by Alexander Ebert and Jade Allyson Castrinos
Courtesy of Community Music Group / Fairfax Recordings / Vagrant Records

"End Run"


Performed by Cloudbirds
Written by Joseph W. King, Glenn Rischke and Josh Chicoine
By arrangement with Ghost Town, Inc.

"A Mountain, A Peak"


Performed by Bill Ricchini
Written by Bill Ricchini
Courtesy of Transdreamer Ltd.
By arrangement with Bank Robber Music

"Tokyo"


Performed by Chinatown
Written by Jeffrey A. Freundlich, Jared Gill and Otto D'Agnolo
Courtesy of Fervor Records
By arrangement with Wild Whirled Music

"Polkadot"


Performed by Like Pioneers
Written by Dan Fleury and Bobby Gallivan
By arrangement with Ghost Town, Inc.

"American Man"


Performed by Rio Bravo
Written by Edward Sumpter, Bryan Davis, Christian Black and Micah Kolk

"No Time to Speak"


Performed by Bear Driver
Written by Oli Deakin and Harry Dean
Licensed courtesy of Electric Lady Studios o/b/o Adventure Club Records

"Martian Rings"


Performed by Jesse Voccia
Written by Jesse Voccia
Courtesy of Agami Music

"Are We Just Doomed"


Performed by SKATERS
Written by Michael Ian Cummings and Noah Rubin
By arrangement with Razor & Tie Direct, LLC

"Will You Be By Me"


Performed by Wallpaper Airplanes
Written by Joshua James Henry
Courtesy of RipTide Music Inc.

"Beach Baby"


Performed by Bon Iver
Written by Justin Vernon
Courtesy of Jagjaguwar
By arrangement with Bank Robber Music

"Love You Any Less"


Performed by Nat and Alex Wolff
Written by Nat Wolff

"Between the Bars"


Performed by Elliot Smith
Written by Steven Paul Smith
Courtesy of Universal Music - Careers on behalf of itself and Spent Bullets Music
Courtesy of Kill Rock Stars
By arrangement with Terrorbird Media

"Gospel"


Performed by The National
Written by Matthew Berninger and Aaron Dessner
Licensed courtesy of 4AD
By arrangement with Beggars Group Media Limited

"Body to Body"


Performed by Electric Valentine
Written by Chris Qualls, Lauren Baird, Sami Diament and Sarah Hudson

"2 That Top"


Performed by Tarik NuClothes
Written by John Costello, David Hilker, Markell Parker and Tarik Holder
Courtesy of Fervor Records
By arrangement with Muzik Headz

"The Calendar Hung Itself"


Performed by Bright Eyes
Written by Conor Oberst
Courtesy of Saddle Creek

"You Are Your Mother's Child"


Performed by Conor Oberst
Written by Saddle Creek

"At Your Door"


Performed by Big Harp, Mike Mogis and Nathaniel Walcott
Written by Stefanie Drootin-Senseney, Chris Senseney, Mike Mogis
and Nathaniel Walcott

"Somersaults in Spring"


Performed by Friends of Gemini
Written by Corina Figueroa Escamilla, Mike Mogis and Nathaniel Walcott
Review: Stuck in Love
by Sean Saulsbury
October 16, 2013
4 / 5 Stars
First time writer/director Josh Boone brings us a charming, not-so-rosy but emotionally rewarding drama, Stuck in Love, about a family of writers. Thematically, the movie manages to cover the gamut of love in its various states and stages—and with a refreshing dose of authenticity.
Greg Kinnear and Jennifer Connelly play a divorced couple, and Kinnear's character is vying to win back his ex-wife's affection while also having an affair with a married woman (Kristen Bell). This is accomplished, not with cynicism, but grace and understanding. This situation is crazy enough that it is funny but believable, thanks in part to Kinnear's strong and subtle performance.
The two kids, played by Lilly Collins and Nat Wolff, have their own struggles in love. The daughter, a college student who is having her first novel published, has a cynical view of love and uses sex to keep a safe distance from men. Her brother, a virgin high school student, pines after the girl of his dreams but does not have the guts to talk to her.
Everyone in this family is challenged, love-wise: The father to let go, the mother to hold on, the son to be bold and make his move, and the daughter to open up an be vulnerable. Often they challenge each other, sometimes with love and encouragement and sometimes with anger and rage. The net result is that this feels like a real family.
This is an enjoyable picture to watch because it rewards its audience for paying close attention to detail, especially about the characters and the performances themselves. Sometimes a character will act stupid, or naive, or is too forgiving—or not forgiving enough—but then something is revealed in an "ah ha" moment that, upon reflection, results in a quiet "ah, yes" nod understanding. Further, every character has something unique to identify with, and it is easy to root for all them to succeed in their endeavors.
However, one minor quibble but worth mentioning is that a final scene on the beach between Kinnear and Collins (the daughter) feels rushed and unnatural. It's clear what the director is trying to accomplish, so we get the idea, but it is not convincing.
Songs are well placed throughout and the soundtrack re-creates the movie's feel and is worth a buy, especially for the acoustic "You Are Your Mother's Child" song by Conor Oberst. The original score by Mike Mogis and Nate Walcott is serviceable but at times cliche and with its mostly slow and contemplative style. It works in context but does not make a strong stand-alone album. The composers also penned two of the songs in the film "At Your Door" and "Somersault In Spring", enjoyable and available on the Stuck in Love: The Writers Playlist album.
Stuck in Love is a good warm-up-for-the-holidays kind of movie. Bookended by scenes of Thanksgiving dinners, we are taken on a journey that reminds us that when it comes to love, we indeed are often stuck—sometimes for the worse and, sometimes, for the better.
This movie was screened at the reviewer's home via an HD stream from Amazon Instant Video (full price paid).
News &amp Articles
Missing Information?
If any information appears to be missing from this page, contact us and let us know!