Movie Information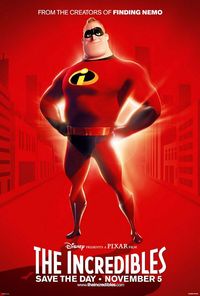 The Incredibles
Released: November 5, 2004
Movie Purchasing Links
Review: Incredibles (Blu-ray), The
by Dan Goldwasser
April 27, 2011
4.5 / 5 Stars
With eleven feature films released (and more to come), it's hard to think of a Pixar film that wasn't good. Even one of their weakest films, Cars, stands out above most of the films Hollywood is releaseing these days.  Pixar spend so much time on the story and emotional core within, that it's nearly impossible to point out a film of theirs that wasn't ultimately regarded as a solid - and even great - movie. The Incredibles is no different. Released in 2004, it starts out a little slow, but once it picks up steam, it doesn't let you go until the end credits start to roll. 
Bob (Craig T. Nelson) is an insurance claims agent, living a dull boring life. But he used to be Mr. Incredible, a superhero from the time when a whole slew of heroes were saving the world on a daily basis. An onslaught of lawsuits forced all superheroes into a "relocation" program where they were all given new identities.  Now Bob is married to Helen (formerly Elastigirl) (voiced by Holly Hunter), and they have three kids - Violet (Sarah Vowell) who can turn invisible and create force fields, and Dash (Spencer Fox) who can run very, very fast, and their new infant, Jack-Jack (superpowers as yet undetermined).  And so, the first act of the film focuses on how a family of superheroes deals with "normal" life. But there is a new threat, and Syndrome (Jason Lee) has an evil plan to destroy the world and emerge as a new hero. In the process, Bob's family must come together with their superpowers, and save the day.
The Incredibles was the first Pixar film where the main characters were humans, and they were given a stylized and slightly exaggerated look that works quite nicely, and every nuance and emotion is clearly conveyed - even through subtle movement. The heart of the film is touching, emphasizing the importance of individuality, responsibility, and the strength of family - but it never comes off as overly mushy. There is plenty of humor to be found in the film as well, and Samuel L. Jackson has some great moments as Frozone.  The film contains plenty of throwbacks to comic books and much of the design style is based on the sleek look from the 1960s, in particular a certain influence from James Bond and Johnny Quest.  That influence is not lost on Oscar-winning composer Michael Giacchino, who - for his first feature film score - delivered a jazzy score with plenty of nods to the great late John Barry's James Bond scores. (In fact, Barry was initially asked to score The Incredibles, and his music was used extensively in marketing the film.)  The bold musical style fits perfectly into the world of The Incredibles, which was stylized as if we are living in the future envisioned in the 1960s. 
One of the best films of 2004, The Incredibles was initially released as a full 2-disc special-edition DVD. All of those extras have been moved over to the new Blu-ray release, along with a few new goodies. On the first disc, we start out with a jawdroppingly pristine digital transfer of the movie.  Presented at 2.39:1 widescreen, the 1080p image is wondrous, with such bold and vibrant colors that I would actually be worried for those with old CRT televisions, only because at times the reds are so bold that I am convinced it would have caused color bleed on my old television.  The rendering quality at Pixar has obviously improved since 2004, but this is the best The Incredibles is likely to have ever looked.
The audio also gets a delightful presentation, in full English DTS-HD Master Audio 5.1 ES.  Keep your subwoofer primed for this one, and you won't be disappointed. Dialogue is clear and the movie uses all the surrounds to great effect - you are definitely going to be transported when watching this film.  Michael Giacchino's score benefits as well from the improved fidelity, with the wailing brass and groovy ostinatos propelling the action forward.  Other languages provided include a standard English Dolby Digital 2.0, an English Descriptive Video Service 2.0, French and Spanish Dolby Digital 5.1 EX, as well as Mexican and Argentinian Spanish Dolby Digital 5.1 EX tracks.
The supplements for The Incredibles contains the original DVD extras, some upgraded to HD for Blu-ray, as well as a few new goodies. Starting on the first disc, we're provided with the two previously recorded commentary tracks.  The first features director Brad Bird and producer John Walker discussing the film from almost every vantage point imaginable.  They start right off by commenting on the music, since this was the first Pixar film since Toy Story that didn't use Randy Newman's logo music.  Bird is very enthusiastic about sharing every bit of information he can, and makes the track both fun and informative.  The second commentary is by the animators, and takes a more technical approach to discussing the film.  Next up is the Academy Award nominated Pixar short film, Boundin' (HD, 4.5-minutes).  Directed, written, narrated, and composed by Bud Luckey, one of the original Pixar animators and character designers, this short film is about a newly shorn sheep who learns to be proud of his talents, by a roaming jackalope.  It definitely brings a smile to your face, and comes with a commentary track by Lucky.  This is followed by Jack-Jack Attack (HD, 5-minutes), which was the direct-to-video short that tied into the film.  It shows what was going on with Jack-Jack and the babysitter while the rest of the family was dealing with Syndrome on his island.  It's delightfully fun, and on this Blu-ray comes with a picture-in-picture version called "Jack-Jack Attack Exploded" (HD, 5-minutes), which gives us a visual commentary with the creative team.  The last extra on the first disc is "The Incredibles Revisited" (HD, 22-minutes), a great round-table discussion featuring writer/director Brad Bird, producer John Walker, story supervisor Mark Andrews, supervising technical director Rick Sayre, production designer Lou Romano, character designer Teddy Newton and animation supervisor Tony Fucile. You might be worried that with so many participants there wouldn't be enough clarity to what was being said, but it's a cleanly edited and nicely presented extra, as the team recounts the challenges they had getting the film going, from the early story ideas, all the way through the release and the reaction to the film.  It's supplemented nicely with archival footage, and it's a great way to look back at this excellent film nearly seven years later.
The second disc is where the real meat of the extras are housed. New to Blu-ray, we get "Paths to Pixar: Story Artists" (HD, 6-minutes), a nice inspirational look at how some of the Pixar team managed to get hired and work at the popular animation studio.  "Studio Stories: Gary's Birthday" (HD, 1.5-minutes) is a clever storyboarded story (99% true!) that explains how a mistake on a birthday cake resulted in a regular morale booster for the company.  "Ending with a Bang: Making the End Credits" (HD, 1.5-minutes) is a too-brief look at the stylized 2D animated end credits, and how they came about.  "The New Nomanisan: A Top Secret Redevelopment Plan" (HD, 3.5-minutes) is a cute travelogue about the "newly renovated" Nomanisan Island, which is now apparently a resort destination. After the intro, you can click around the island to learn about the various activities you might encounter.
The next section up is "Deleted Scenes", now upgraded into HD!   Almost 35-minutes worth of story reel ideas that were cut are presented, including introductions (in SD blown up to HD) that explain what they were, and why they were cut. This includes such things as the alternate opening sequence, action scenes, and some emotional character moments.  The original "Incredibles Teaser" (HD, 2-minutes) is also included, with a nice visual upgrade from standard definition.
We then dive into the "Classic Content" section of the disc, housing the older DVD extras. "Making The Incredibles" (SD, 25-minutes) goes through the process of making the film. It's detailed, but not bogged down in technical stuff.  From the story stage, to animation, sound mixing, and recording the music, it's all explored here.  For those who want more, though, we get a whole slew of additional featurettes. "Story" (SD, 7-minutes), "Character Design" (SD, 5.5-minutes), "E-Volution" (SD, 3-minutes), "Building Humans" (SD, 6.5-minutes), "Building Extras" (SD, 2-minutes), "Set Design" (SD, 2-minutes), "Sound" (SD, 3-minutes), "Music" (SD, 5-minutes), "Lighting" (SD, 3-minutes), and "Tools" (SD, 2.5-minutes) all provide a more in-depth look at what it takes to make an animated film.  It should be noted that the "Music" featurette does a nice job talking to the actual musicians about the music they're playing, instead of just interviewing Giacchino.
"Mr. Incredible and Pals" (SD, 4-minutes) is a fake 4-minute 2-D animated film that's a bit cheesy and amusing, but not as funny as the "Mr. Incredible and Pals Cmmentary by Mr. Incredible and Frozone" (SD, 4-minutes), voiced by Craig T. Nelson and Samuel L. Jackson.  The "NSA Files" (SD, 7-minutes) is a collection of 21-vignettes which allows you to explore the files of the National Supers Agency, and get detailed information about the various Supers referred to in the film.
"Who is Bud Luckey?" (SD, 4-minutes) is a small featurette about the creator of Boundin', and "Vowelette - An Essay by Sarah Vowell" (SD, 10-minutes) is a rather interesting look at this unique actress/author.  Finally, the "Art Gallery" contains all manner of pre-production sketches, storyboards, color reference paintings and more, all in a nicely interactive and searchable gallery interface.  The "Easter Eggs" from the DVD release have been pulled out of hiding and are in a nice easy-to-view section, where you can watch all 14-min worth of hidden goodies.  In "Publicity" we get a bunch of standard definition theatrical trailers (what, no HD upgrade?), some television spots and bumpers, and some entertaining "Character Interviews".  Whew. 
Suffice it to say, there is no shortage of material on this two-disc Blu-ray set, which also comes with a DVD of the film, and Digital Copy disc.  The new extras are nice, all the other extras are here - some with worthy upgrades - and the stellar video and audio presentation of the film makes The Incredibles an obvious candidate for upgrading if you have the DVD set in your movie library.
Trailer Music Used From
Theatrical Trailer
Incredibles, The (2004) - Michael Giacchino
"The Planet Plan" - United Future Organization
"On Her Majesty's Secret Service" - The Propellerheads
Teaser Trailer
Missing Information?
If any information appears to be missing from this page, contact us and let us know!