Movie Information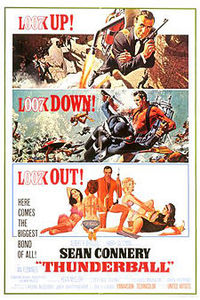 Thunderball
Released: 1965
Review: Thunderball (Ultimate Edition Blu-ray)
by Dan Goldwasser
October 25, 2008
4 / 5 Stars
The fourth James Bond film, Thunderball, was controversial not in the film itself, but what went on behind the scenes.  Bond creator Ian Fleming was sued by writers Kevin McClory and Jack Whittingham in 1961 after the publication of the Thunderball novel, claiming that it was based on a Bond screenplay the three had penned together.  Settled out of court, the McClory was able to retain certain screen rights, but Bond producers Albert Broccoli and Harry Saltzman bestowed McClory with a producer credit on the film. That wouldn\'t stop McClory from making his own Bond film years later, with 1983\'s Never Say Never Again - essentially a remake of Thunderball.  The plot of Thunderball involves SPECTRE holding the world ransom after stealing two nuclear bombs from a French NATO training flight - they threaten to destroy a major Western city unless they are paid in gold.  Bond is on the case, and his investigation takes him to the Bahamas, where he meets SPECTRE\'s Number Two man, Emilio Largo (Adolfo Celi).  With the aid of Largo\'s mistress, the sultry Domino (Claudine Auger), and CIA agent Felix Leiter (Rik Van Nutter) Bond and Largo play a psychological game of cat-and-mouse in their own mini-cold war, culminating in a very exciting and well shot underwater action sequence. 
Released numerous times on home video, Thunderball has been restored from the original camera negative for new "Ultimate Editions" that were released on DVD back in 2006.  Lowry Digital, known for their work restoring such films as Star Wars and Citizen Kane, worked on the clean-up process, and high definition transfers were made, though they weren\'t coming out - until now.  Thunderball is part of the first "wave" of James Bond releases to hit Blu-ray, along with five other Bond films (all in anticipation of the newest adventure, Quantum of Solace).  The movie looks and sounds pretty good, and is packed to the gills with extras.
Video: The first Cinemascope Bond film, Thunderball has a slick high definition 1080p image is presented in a 2:35:1 aspect ratio, and quality is great. The film grain feels natural and there is no gate weave or shake at all - it\'s a rock solid image.  Colors are vibrant although at times it feels a bit oversaturated - making flesh tones more orange and red than should be normal.  The underwater sequences are appropriately murky, but the image feels a bit more contrast heavy than the previous two Blu-ray releases.

Audio: Released in a 5.1 English DTS-HD Master Audio remix, the audio on Thunderball is primarily front-heavy, with dialogue centered and occasional nice use of the left and right speakers.  Sound effects are used sparingly in the rears, and John Barry\'s music is also positioned in the front primarily.  For a film that is 43-years old, it sounds quite good - it\'s just not going to be an immersive sound mix, nor should it be.  The original mono track is also included, for archival purposes in Dolby Digital 2.0, as well as Spanish Mono and French 5.1 Dolby Digital.
Supplements: This is the "ultimate edition" of Thunderball, and features all of the extras from the past two DVD releases.  The menu is broken down into a few "thematic" sections, so I\'ll address them here individually.
MI6 Commentary: Two commentaries are included on the disc.  The first one, hosted by Ian Fleming foundation member John Cork, the commentary track features director Terence Young as well as many of the principle members of the cast and crew from previous recordings. It\'s a well assembled commentary, providing a wealth of information on the development and adaptation of the film, as well as some interesting anecdotal stories.  While this track is a mélange of memories and comments, we also get a second commentary track with editor Peter Hunt and screenwriter John Hopkins. It\'s more focused on the two men\'s skills, and deviates at times by providing alternate audio for some film sequences. For instance, the opening titles are now heard with the original unused song "Mr. Kiss Kiss Bang Bang" sung by Dionne Warwick; some scenes are heard in foreign languages, etc.
Declassified: MI6 Vault: Six featurettes are presented here.  "The Incredible World of James Bond: Original 1965 NBC Television Special" (SD) runs 50-minutes long, and serves as a promotional puff piece to hype the release of Thunderball.  Since there were only three released Bond films, and a fourth on the way, it\'s limited to those films but provides a nice - albeit fluffy - look at the Bond franchise to that point, as well as the fan reaction and popularity of the series. "A Child\'s Guide to Blowing Up a Motor Car - 1965 Ford Promotional Film" (SD) is a cute and tongue-in-cheek 17-minute promo that shows us as a kid receives a birthday present - watching the film crew blow up a car while filming Thunderball, with a healthy dose of behind-the-scenes material.  "On Location with Ken Adam" (SD) is a 13-minute look at the locations that the film was shot in, using Adam\'s home movies taken at the time of filming while he narrates his memories on the film shoot.  "Bill Suitor: The Rocket Man Movies" (SD) is a short 4-minute piece on the man who actually flew the rocketpack used in the pre-titles sequence.  "Thunderball Boat Show Reel" (SD) is a 3-minute promo that was assembled before the film\'s release, for a 1965 boat show. It provides an alternate version of the final underwater fight, and it\'s pretty neat to see.  Finally, "Selling Bonds - Original 1965 Television Commercials" (SD) contains three vintage commercial spots for product tie-ins - a raincoat, slacks and a secret agent pen.
007 Mission Control: This unique "interactive" listing lets you view your favorite moments from the film, organized by category: "007", "Women", "Allies", "Villains", "Mission Combat Manual", and "Q Branch".  "Exotic Locations" (HD) runs 3:20, narrated by Maud Adams (Octopussy), and takes a look (using the film\'s footage) of the various world locations that the movie was shot in. In this case, most of the locations are in England, France, Miami Beach and locations around the Bahamas. The "Opening Titles - Textless" is blessedly included, featuring a text-free version of the opening titles, with Maurice Binder\'s naked silhouetted women frolicking in a tank to Tom Jones\' main title song, in high definition.
Mission Dossier: Narrated by Patrick McNee (A View to a Kill), the 27-minute long "The Making of Thunderball" was originally included on the 2000 DVD, but has been re-done here in HD. As such, all of the still photographs and artwork looks even better! Interviews were done in SD, so they are presented "windowboxed".  This featurette takes a good look at the development of the story, and a bit of the legal controversy. Various casting choices are explored (including other women who vied for the role of "Domino"), and the making-of the film is also looked at, with some interesting stories recounted.   Interviews with many of the key players, as well as lot of archival photographs, are included.   "The Thunderball Phenomenon" (HD) is a 30-minute look at the marketing for the film, and the wave of James Bond fever that swept the globe.  A lot of promotional artwork is shown, and John Barry\'s music (and soundtrack) are discussed, primarily involving the controversial fact that the album was released when only half of the film had been scored! (A situation that would re-occur with David Arnold on Tomorrow Never Dies.)  Running a brief 4-minutes, "The Secret History of Thunderball" quickly covers some interesting differences between the versions of the film theatrically and on home video, with changes in dialogue and music. 
Ministry of Propoganda: The "Theatrical Archive" (8.5-minutes) contains three trailers all in standard definition. The quality is generally terrible, and makes you appreciate the new transfer even more.  Five "TV Broadcasts" of television spots run 3:30, in standard definition black and white, and five minutes of radio spots are also included in "Radio Communication".
Image Database: An extensive still-frame image database is included in HD, although the photos don\'t seem to take up more room than a SD feature would have.  Broken down into "Portraits", "The Aston Martin", "Chateau D\'Anet", "Pinder\'s Shop", "Searching for the Vulcan", "Romance Beneath the Waves", "Underwater Action", "The Final Fight", "The Pinewood Tank", "Thunderball Around the Globe", and "Merchandising".  Some of the poster images are horribly cropped, cutting off the text and making it read like "hunderbal".  Sheesh!
On Blu-ray, Thunderball is likely to look as good as it ever will.  The transfer is great, but the colors and contrast are a bit heavy.  With all of the extras included, as well as a candid look at the legal controversy, Thunderball is definitely worth a look.
News &amp Articles
Missing Information?
If any information appears to be missing from this page, contact us and let us know!