Movie Information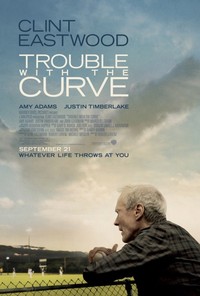 Trouble with the Curve
Released: September 21, 2012
Movie Purchasing Links
Song Credits
"Don't Owe You A Thang"


Written and performed by Gary Clark Jr
Courtesy of Warner Bros. Records Inc.
By arrangement with Warner Music Group Film & TV Licensing

"Blues With A Feeling"


Written by Walter Jacobs
Performed by Carey Bell
Courtesy of JSP Records

"Beach Dream"


Written by Adam Wilson Kittredge, Jocelyn Greenwood, Piers Henwood, Antonia Alana Freybe-Smith and Luca Stephen Renshaw
Performed by Jets Overhead
Courtesy of Microgroove Entertainment
By arrangement with Silver Side Productions

"You Are My Sunshine"


Written by Jimmie Davis
Performed by Carly Simon
Courtesy of Columbia Records
By arrangement with Sony Music Licensing

"Heartbreaker"


Written by James Leithauser, Matthew Barrick, Paul Maroon, Peter Bauer and Walter Martin
Performed by The Walkmen
Courtesy of Fat Possum Records
By arrangement with Music For The Masses Ent., Inc.

"Chicken Fried"


Written by Zac Brown and Wyatt Durrette
Performed by Zac Brown Band
Courtesy of Home Grown Music, Inc./Atlantic Recording Corp.
By arrangement with Warner Music Group Film & TV Licensing

"Long Cool Woman In A Black Dress"


Written by Allan Clarke, Roger Cook and Roger Greenaway
Performed by The Hollies
Courtesy of The Hollies Ltd./EMI Records Ltd.
Under license from EMI Film & Television Music Courtesy of Epic Records
By arrangement with Sony Music Licensing

"On My Way"


Written by Greg Camp, Randy Brown, Colby Pollard and Joe Hester
Performed by The Neighbors with Greg Camp

"Prison Bound Blues"


Written and performed by Josh White
Courtesy of Elektra Entertainment Group
By arrangement with Warner Music Group Film & TV Licensing

"The Long Waltz Home"


Written by Casey Cook
Performed by The Dappled Grays

"Cotton-Eyed Joe"


Traditional, arranged by Casey Cook, Greg Earnest, Keith Morris, Leah Calvert and Michael Smith
Performed by The Dappled Grays

"Everythang And Mo"


Written by Robert R. Page and Samuel Favers
Performed by Sammy Blue

"Distance"


Written by Christina Perri and David Hodges
Performed by Christina Perri featuring Jason Mraz
Courtesy of Atlantic Recording Corp.
By arrangement with Warner Music Group Film & TV Licensing

"You Are My Sunshine"


Written by Jimmie Davis
Performed by Ray Charles
Courtesy of The Ray Charles Foundation
Review: Trouble with the Curve (Blu-ray)
by Dan Goldwasser
January 6, 2013
2.5 / 5 Stars
Gus Lobel (Clint Eastwood) has been a baseball scout for the minor league Atlanta Braves and now age is finally starting to catch up with him; affecting his eyesight and turning him into a curmudgeon. His bitterness is starting to irritate the team's general manager, Vince (Robert Patrick), who is starting to listen more to upshot statistics guru Phillip (Matthew Lillard) instead of the seasoned Gus. They think he should retire, but Gus isn't ready to hang up his hat and he manages to convince Vince to let him take one more scouting trip to North Carolina to prove himself.
Concerned, Gus' friend Pete (John Goodman) reaches out to Gus' estranged daughter Mickey (Amy Adams) for help. Mickey isn't too keen on joining her dad on the road initially, as she is on the verge of making partner in the law firm she works for, but her love of baseball and desire to reconnect with her dad soon takes over. While checking out a player, they bump into Johnny Flanagan (Justin Timberlake), who used to be a pitcher (discovered by Gus) and is now scouting the same player as well. But soon the laws of attraction kick in and Johnny finds himself more interested in Mickey than in the player that he was sent to check out.
Eastwood's long-time assistant director and producer Robert Lorenz makes his directorial debut with the film and it's certainly competently made, but that's not the problem here. Written by Randy Brown, the trouble with Trouble with the Curve is that it's not clear what it wants to be about. It wants to be a movie about an aging baseball scout trying to prove himself against the forces of progress, a movie about a father-daughter relationship, or a movie about a romance between a daughter and a former protégé of her father. In the end it tries to be all of them and barely succeeds. The music by Marco Beltrami is pleasant enough, based primarily in strings, piano and guitar. It feels, unsurprisingly enough, like an Eastwood score.
Between Lorenz's capable direction and a screenplay that tries too hard to do everything, the film comes off as a bit cliché, predictable, and uninspired. The only things that keep this film afloat are the actors. Most enjoyable is Amy Adams, who as Mickey does a solid job at trying to balance reconciliation with her estranged father, her ambition to become partner at her law firm, and fall in love with Johnny. Timberlake does a solid job as well, but (oddly) it was Eastwood that was the weakest of the three. While he is always a pleasure to watch, he's comes off as the same disgruntled angry old man that he has been playing in the past few films he's acted in, and is almost coasting through his role. It was fine to watch the film, but in the end it didn't leave a lasting impression.
Released as a relatively bare-bones Blu-ray release, Trouble with the Curve looks fine, with the video transfer accurately reflecting director of photography Tom Stern's filmic look. Contrast is strong but not overbearing, and the color palatte gives a warm almost tobacco-stained patina throughout many of the daylight scenes. It's overall a pleasant film to look at, and the transfer feels natural and appropriate.
Audio is presented in four flavors: a DTS-HD Master Audio 5.1 English track, and then French, Spanish and Portuguese Dolby Digital 5.1 tracks. The film is a dialogue-driven one, and for the most part sounds clear and concise. The subtle but effective use of the surrounds keeps the atmosphere engaging, but it's during the baseball sequences that things surprisingly kick up a notch, giving us some rather immersive moments. Marco Beltrami's subdued and emotionally-driven score helps carry the father-daughter relationship nicely and overall the film is a satisfying listening experience, but it won't blow you away.
The surprisingly anemic collection of supplements is comprised of only two short featurettes. "Rising through the Ranks" (HD, 5-min) is a brief but glowing look at how director Robert Lorenz got his start working for Clint Eastwood, and worked his way up to directing. "For the Love of the Game" (HD, 6- minutes) looks at the actors in the film, primarily Amy Adams and Justin Timberlake's involvement, and what it was like for them to work alongside Eastwood. No trailer or commentary or anything else is included.
Trouble with the Curve is a relatively decent directorial debut for Robert Lorenz. The slightly forced screenplay didn't do him any favors, but with quality actors like Eastwood and Adams to help carry the bulk of it, the film should serve as a nice springboard for future endeavors. A nice presentation on Blu-ray is offset by a sadly limited number of extras, relegating Trouble with the Curve to the rental bench.
Trailer Music Used From
Theatrical Trailer
"Home" (2012) - Phillip Phillips
Played throughout the trailer starting at about 0:40.
News &amp Articles
Missing Information?
If any information appears to be missing from this page, contact us and let us know!