Movie Information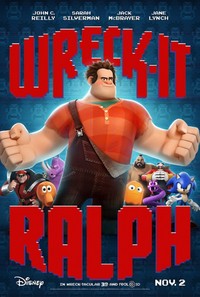 Wreck-It Ralph
Released: November 2, 2012
Credits
Song Credits
"Celebration"


Written By Ronald Bell, Claydes Smith, George Brown, James Taylor, Robert Mickens, Earl Toon, Dennis Thomas, Robert Bell, Eumir Deodato
Performed by Kool & The Gang
Courtesy of The Island Def Jam Music Group
Under license from Universal Music Enterprises

"Wreck-It, Wreck-It Ralph"


Written by Jamie Houston
Performed by Buckner and Garcia
Produced by Jamie Houston and Jerry Buckner
Mixed by Brian Malouf

"Bug Hunt"


Written and Performed by Skrillex
Produced, recorded, mixed and mastered by Skrillex on The Mothership all over the world
Skrillex appears courtesy of OWSLA/Big Beat Records

"Sugar Rush"


Lyrics by Yasushi Akimoto
Music by Jamie Houston
Performed by AKB48
Produced by Yasushi Akimoto and Jamie Houston
Mixed by Brian Malouf
AKB48 appears courtesy of KING RECORD Co., Ltd.

"March Of The Winkies"


Written by Herbert Stothart

"Shut Up And Drive"


Written by Gillian Lesley Gilbert, Peter Hook, Stephen Paul David Morris, Evan Rogers, Carl Sturken, Bernard (GB 2) Sumner
Performed by Rihanna
Courtesy of The Island Def Jam Music Group
Under license from Universal Music Enterprises

"When Can I See You Again"


Written by Adam Young, Matthew Thiessen and Brian Lee
Performed by Owl City
Produced by Adam Young
Mixed by Robert Orton
Owl City appears courtesy of Republic Records
Matthew Thiessen appears courtesy of Mono vs Stereo Records
Review: Wreck-It Ralph (Blu-ray)
by Dan Goldwasser
March 17, 2013
4 / 5 Stars
In 1995, Pixar released the first full-length computer animated film, Toy Story. The concept—about how our toys come to life when we're not around, was clever and groundbreaking. Now, 17 years later, Disney (which owns Pixar) has a new spin on the concept. Wreck-It Ralph goes behind the screen to show us what the characters in video games do when the arcade is closed. But Wreck-It Ralph isn't just a retread of Toy Story; it's a fully fleshed-out character piece with drama, adventure, action, laughs, and most importantly, heart.
Ralph (voiced by John C. Reilly) is the bad guy in the vintage Donkey Kong-styled arcade game Fix-It Felix, where he steals the heroine, smashes a building, and (at the end of each winning game) gets thrown off the roof into the mud. After 30 years of this, Ralph is feeling just a little bit down, and for once wants to be the hero. Fellow game villains in the support group Bad-Anon try to reassure Ralph that just because he plays a bad guy doesn't mean he's a bad guy, but Ralph really wants to win a medal and be a hero. After visiting the pub in Tapper (all of the arcade games are connected through the power supply, "Game Central Station," allowing characters from one game to visit another one), Ralph steals a costume from a passed-out soldier from Hero's Duty and sneaks into the game. Heeding the rule that if you die outside of your game you don't regenerate—ever, Ralph manages to barely survive the aggressive and advanced first-person shooter at the expense of the poor little girl who paid $2 in quarters to play the game.
Fed up with the insanity of the game, Ralph goes and steals the medal, achieving his long-desired glory, but at the cost of waking a Cy-Bug (one of the game's nasty little critters that don't know they're in a game; they just know to eat, kill and multiply). In the confusing tussle, both Ralph and Cy-Bug fall into an escape pod, blast out of Hero's Duty into Game Central Station and then right down into Sugar Rush, a candy-themed go-cart game, where they promptly crash. The Cy-Bug seemingly meets a sticky sweet end, but Ralph's medal is high out of reach on top of a candy cane tree. In his climb to retrieve it, he meets Vanellope von Schweetz (Sarah Silverman), a glitching outcast from the community of saccharine racers in Sugar Rush. She steals the medal to use as payment to enter the race that would put her on the game roster, much to the horror of both Ralph and Sugar Rush leader King Candy (Alan Tudyk). Now Ralph has to team up with Vanellope to help her win the race and get his medal back, while Felix (Jack McBrayer) searches for Ralph to convince him to return to Fix-It Felix before the game is unplugged (with him missing, the game is 'malfunctioning'). To do that, Felix teams up with Hero's Duty's leader, Calhoun (Jane Lynch), who is worried about the Cy-Bug multiplying and taking over Sugar Rush and then spreading like a virus through the arcade. Will Ralph achieve his dream of being the hero? What dark secrets does Sugar Rush hide? Will Felix and Calhoun find unexpected romance?
The obvious answer is that you should see the film. And I really mean, you should see this film. Wreck-It Ralph might not be a perfect movie, but before it settles into a rather conventional structure, the first act of the film is replete with sight gags and classic video game references galore. Anyone who plays and loves video games is likely to get more out of the film than someone who doesn't, but the film spreads itself out enough to be acceptable to all audiences, regardless of video game knowledge. As the bad guy who just wants to be a good guy, John C. Reilly's Ralph is a charming and likeable lead character, with Jane Lynch's wise-crackin', no-nonsense, all business Calhoun delivering some great lines and laughs. Silverman is a bit too cute and annoying at times, but ultimately her character has heart, and McBrayer is tolerable at best—his scenes are improved only due to the inclusion of Lynch's Calhoun in most of them.
Directed by Rich Moore, whose background in Futurama certainly shows, with the integration of pop-culture references galore, Wreck-It Ralph starts out strong, slows down a bit in Sugar Rush, but when all the cards are laid out the final act really delivers, making it a really fun ride. Adding to the rollercoaster is Henry Jackman's score, which ranges from 8-bit vintage arcade tones to pulse-pounding electronica, to full orchestral action. With a sympathetic lead, plenty of hidden in-jokes and a rather original twist on a standard story structure, Wreck-It Ralph is a really enjoyable film. And since there are literally thousands of video games that can be culled for more worlds and ideas to explore, hopefully this isn't the only adventure we see Ralph in.
The Blu-ray presentation of Wreck-It Ralph is par for the course for an animated film from Disney. Colors burst off the screen, the level of detail is impeccable, and the lighting is top notch. The believable sweet candy textures of nearly everything in Sugar Rush looks so tasty and delicious, that it's hard not to get hungry during those sequences. This is easily a reference quality presentation, and if it weren't enough, it looks even more spectacular in 3D. The 3D Blu-ray presentation gives everything a nice depth into the screen, expanding the landscape off into the horizon. This gives it more of a picture-window quality that only occasionally will have things poking out at you.
Matching the high quality visual presentation is a powerful and demo-worthy sound mix. Presented in an English 7.1 DTS-HD Master Audio track, Wreck-It Ralph really thrusts you into the worlds of the games. Your subwoofer will take a beating during the Hero's Duty sequence, and the races in Sugar Rush will give your surround speakers a workout. It's an immersive mix that never gives up; even the rare quiet moments are filled with subtle ambience. Henry Jackman's score is highlighted in the mix and dialogue remains clear consistently throughout. Also available is an English Descriptive Video Service 2.0 Dolby Digital Track, as well as French and Spanish 5.1 Dolby Digital tracks.
Sadly, where Wreck-It Ralph suffers the most is in the supplements. We start out with the Oscar-winning Paperman (HD, 7-minutes), a heartwarming romantic animated short driven by Christophe Beck's music (also available in 3D on the 3D Blu-ray disc). Then we get an all-too-short look at the making of the film, "Bit by Bit: Creating the Worlds of Wreck-It Ralph" (HD, 16.5-minutes). Here, director Rich Moore and his key creative team talk about how the film came about, was developed, changed, and was designed. Unfortunately they never touch upon the technological aspects of the film, the voice acting, the music, or anything else. "Alternate & Deleted Scenes" (HD, 15.5-minutes) starts out with an introduction by Rich Moore, and then four deleted and alternate scenes (with optional commentary). All of them are in the hand-drawn storyboard stage and the context is a little incongruent with the final film, so watching them with the commentary first is actually recommended to get the context.
Four fake "Video Game Commercials" (HD, 3-minutes) are presented, one for each of the three games (Fix-It Felix, Hero's Duty and Sugar Rush), done in vintage time-period appropriate manners. The fourth commercial is a bizarre infomercial for the "Fix-It Felix Hammer." There are no real trailers for Wreck-It Ralph, which is a shame. Finally, "Disney Intermission" is available while playing the film. Pressing "pause" will bring up Chris Hardwick (formerly of G4's "Web Soup"), who gives us interesting trivia and tidbits about the pop culture references in Wreck-It Ralph. I wish they had some kind of trivia track or picture-in-picture feature for the film which provided more info about the film, but this will have to suffice.
Wreck-It Ralph is a fun movie. It delivers an interesting storyline, characters with depth and growth, plenty of "hey did you catch that reference" moments, and solid animation. On Blu-ray it gets a stellar presentation, but a lackluster set of supplements. While this would normally relegate the release to the "rent it" category, the film is good enough that I say you should still snag the Blu-ray so you can watch it with your friends and see who gets all the references.
News &amp Articles
Missing Information?
If any information appears to be missing from this page, contact us and let us know!