Paramount Pictures & La-La Land Records Announce 'Transformers: The Last Knight' Soundtrack
JUNE 22, 2017 | Submitted by La-La Land Records / Soundtrack.Net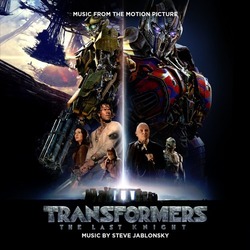 Paramount Pictures will release Transformers: The Last Knight - Original Motion Picture Soundtrack digitally on June 23, 2017, and La-La Land Records will release a limited edition 2-CD SET (of 3000 units) at www.lalalandrecords.comon July 11, 2017. These releases feature the film's original motion picture score, composed by Steve Jablonsky (Transformers: Age of Extinction, Ender's Game).
Jablonsky and Transformers: The Last Knight director Michael Bay continue an exciting, longstanding collaboration that has forged numerous cinematic blockbusters, including the previous four Transformers films: Transformers, Transformers: Revenge of the Fallen, Transformers: Dark of the Moon and Transformers: Age of Extinction.
"I met with Michael before he started shooting Transformers: The Last Knight," recalled Jablonsky."He showed me some amazing concept art and explained how the story connects the history of Transformers all the way back to the times of King Arthur and the Knights of the Round Table. I loved the idea because it gave me the opportunity to explore new musical ideas... The storyline allowed me to write melodies that are a bit more "classical" than I've written for the other Transformers films, which wasa lot of fun for me."
"Another important aspect of the story revolves around massive skyscraper sized 'horns from hell' that start emerging from the earth," describes Jablonsky."They look like gigantic animal horns, no one knows what they are or why they have appeared. I wanted to create an unsettling sense of mystery and tension with the music."
Newsletter
Enter your e-mail address to receive weekly soundtrack and film score news: