Alcon Sleeping Giant (ASG) Records & Epic Records to Release 'Blade Runner 2049' Soundtrack
OCTOBER 3, 2017 | Submitted by White Bear PR / Soundtrack.Net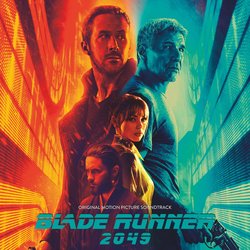 Alcon Sleeping Giant (ASG) Records, under exclusive distribution through Epic Records, will release the Blade Runner 2049 Original Motion Picture Soundtrack on Thursday October 5, 2017 at all digital retailers. A special 2CD pre-order of the physical album is live now. A true collector's item and piece of Blade Runner 2049 history, the 2-disc set is numbered and limited to only 2,049 copies. Get it HERE while supplies last. All physical copies additionally unlock a digital download.
The soundtrack highlights the entrancing, ethereal, and enigmatic original score composed by Academy Award winner Hans Zimmer and Golden Globe & Emmy nominee Benjamin Wallfisch. Original and classic compositions round out this sci-fi noir masterpiece. Finally, the album concludes with an original song by a GRAMMY Award nominee. Over a backdrop of cyber-infused soul production, it delivers a hypnotic and haunting performance.
Together, Zimmer and Wallfisch sought to continue the incredible musical legacy of the original 1982 Blade Runner by Vangelis, while imparting a piece of themselves upon the score. In order to do so, they implemented vintage synths such as "the star of the score" a Yamaha CS80 from the late seventies as well as modern technological innovations, yielding a rich sonic palette wholly cognizant of this world and the vision of director Denis Villeneuve.
"First of all, I realized that Denis is a director who has a vision; he has a voice," says Zimmer. "Remember, I've done a lot of movies with Ridley Scott. So, it was important that this was an autonomous piece of work. Let's just be honest. Ridley is a hard act to follow—as is Vangelis. While Ben was four-years-old, I had actually experienced all of this," he laughs. "We watched and literally, as we stopped watching, we decided on the palette. We decided this wasn't going to be an orchestral thing. The story spoke to us."
"We all know what Blade Runner feels like and what that experience is to watch this incredible masterpiece," adds Wallfisch. The first question we asked ourselves was, 'How can we reinvent and make it fresh and new, but still be in that world?' The mission from the beginning was this idea of finding the heart of the film—what is its soul? When you discover the simplest possible theme, it sums up humanity almost. I feel like that's what we were all striving for towards the beginning of the process."
In a feature detailing the film's Oscar potential, Variety highlighted the aural balance that Zimmer and Wallfisch achieve writing, "Zimmer and Wallfisch's score maintains proper reverence for and distance from Vangelis' iconic original work."
Curious fans worldwide, who have been waiting for the official word on Blade Runner 2049's soundtrack contents, will finally be get their wish when Zimmer and Wallfisch, GRAMMY nominated soundtrack producer Michael Hodges and soundtrack producers Ashley Culp and Kayla Morrison unveil the track-listing and artists involved. The reveal, scheduled for October 3, 2017 via Facebook live, will feature Zimmer and Wallfisch's behind the scenes notes on each track, plus a Q&A portion and a surprise appearance by one of the artists featured on the soundtrack.
Newsletter
Enter your e-mail address to receive weekly soundtrack and film score news: