Varese Sarabande Announces 'Three Billboards Outside Ebbing, Missouri' Soundtrack
NOVEMBER 8, 2017 | Submitted by The Krakower Group / Soundtrack.Net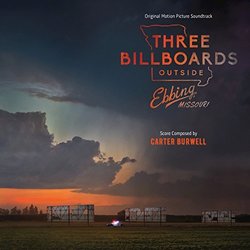 Varèse Sarabande will release the Three Billboards Outside Ebbing, Missouri - Original Motion Picture Soundtrack digitally on November 10, and on CD November 17, 2017. The album features original music by Carter Burwell (Carol, Wonderstruck).
"Frances McDormand, can do anything," said Burwell. "We've done so many different things together, including Fargo, Olive Kitteridge and going back to Blood Simple. Martin McDonagh, with whom I previously worked with on In Bruges, has similar sensibilities to me, and I'd be happy to work with him on anything. This film really felt like getting back together with my family."
"I think that the music is really putting you in the position of Frances's character," Burwell explained. "I think it's almost always what the music should be doing, helping you to see things from her point of view, when she does things that might be reprehensible, to help you understand what she's doing."
Newsletter
Enter your e-mail address to receive weekly soundtrack and film score news: