Walt Disney Records Announces 'Christopher Robin' Soundtrack
AUGUST 3, 2018 | Submitted by Walt Disney Records / Soundtrack.Net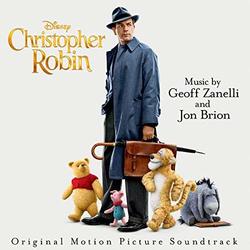 Walt Disney Records is set to release Disney's Christopher Robin Original Motion Picture digital soundtrack on August 3. The score features music by Emmy Award-winning Geoff Zanelli and Grammy-nominated composer Jon Brion. Disney's Christopher Robin is in theaters nationwide also on August 3.
Disney legend Richard M. Sherman wrote both the music and lyrics for the three new songs which appear in the film. The song "Goodbye, Farewell," which is performed by Winnie the Pooh and friends from the Hundred Acre Wood, can be heard in the opening scene. "Busy Doing Nothing" and "Christopher Robin" are both performed by Richard Sherman himself and appear in the end credits.
"Winnie the Pooh became a dear friend of mine when Walt gave us the assignment to write songs for the first Winnie the Pooh short film," says Sherman, "and here, so many years later, it is very special to be back in the Hundred Acre Wood again."
The two-time Oscar winning composer and his late brother, Robert B. Sherman, who passed away in 2012, wrote the music and lyrics for the majority of the animated films featuring Winnie the Pooh and his friends distributed by Disney (Winnie the Pooh and the Honey Tree, Winnie the Pooh and the Blustery Day and Winnie the Pooh and Tigger Too, among numerous others). They also wrote scores for such iconic Disney films as The Jungle Book and Mary Poppins.
Newsletter
Enter your e-mail address to receive weekly soundtrack and film score news: