Movie Information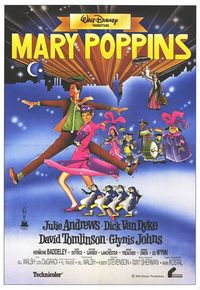 Mary Poppins
Released: 1964
Review: Mary Poppins: 50th Anniversary (Blu-ray)
by Dan Goldwasser
December 19, 2013
4 / 5 Stars
Mary Poppins is a family classic, one that has entertained and delighted for half a century. British banker George Banks (David Tomlinson) and his suffragette wife Winifred (Glynis Johns) need to find a new nanny for his rebellious and difficult-to-handle children, Jane (Karen Dotrice) and Michael (Matthew Garber). The kids want someone kind and caring, but the parents will have none of it. And yet, so enters Mary Poppins (Julie Andrews), a nanny with some peculiar—and magical—skills. Along with her good friend Bert (Dick Van Dyke), an artist and chimney sweep, they help the children open their minds (through songs, of course, as well as jumping into magical worlds through chalk paintings), and instill some compassion and love in the family. George has been so fixated on work that he never realized that he was missing out on the joy and love that his children would be able to provide him.
Directed by Robert Stevenson (Bedknobs and Broomsticks), the film is rather straightforward in the plot—the kids need a nanny to provide the attention (and love) that their busy parents aren't providing and, in the course of the film, the parents realize that they've been neglecting their kids and finally all is well. Driving the movie, though, are the energetic performances by Andrews and Van Dyke, but even more than that, the songs by Richard and Robert Sherman. (There's a great documentary about the Sherman Brothers called The Boys, which is a must-see film.) Whether it be the fun-spirited "A Spoonful of Sugar" and "Supercalifragilisticexpialidocious," or the heart-wrenching "Feed the Birds," or the toe-tapping "Step in Time," you'll definitely remember the songs from this film. They're just that good.
The film earned 13 Academy Award nominations and won Best Actress, Best Editing, Best Original Score, Best Song and Best Visual Effects. Based on the popular novels by P.L. Travers, Mary Poppins was no easy story to bring to the screen, a journey explored in the new film Saving Mr. Banks. But the end result has become a classic, now celebrating its 50th Anniversary and just this week entered in the National Film Registry. With catchy and brilliant songs, as well as solid performances by Andrews and Van Dyke, Mary Poppins will delight and move audiences, both young and old.
For this new 50th Anniversary Blu-ray release, a brand new transfer was struck, and is presented in the original 1.66:1 aspect ratio (window-boxing on the sides of your screen). Colors are vivid and bright, there's definitely some naturalistic grain going on and while skin tones tend to be on the browner side, they still felt normal. The audio is presented in an English DTS-HD Master Audio 7.1 surround track, but it's strictly for show since this is a front-heavy film. Most of the dialogue is front and center and the music is what really gives us a sense of depth. It's not an immersive experience at all and, with a limited dynamic range, it's a good but not great sounding film, but that's how it always was, even back in 1964. Also included is the 2004 Dolby Digital 5.1 English mix, a Dolby Digital 2.0 Original Theatrical Mix (not lossless) track, and French and Spanish Dolby Digital 5.1 tracks.
This Blu-ray carries over most of the supplements from the 40th Anniversary DVD release and adds two new extras. The first of the new bits is "Becoming Mr. Sherman" (HD, 14-minutes), featuring Richard Sherman and actor Jason Schwartzman (who plays Richard in Saving Mr. Banks). The two discuss their experiences (Sherman talking about working on Mary Poppins and Schwartzman talking about his acting challenges to play someone who is still alive and involved in the very project he's acting in), and it's capped by a trailer for Saving Mr. Banks. The only other new feature is "Mary-Oke" (HD, 8-minutes), which features animated text as "A Spoonful of Sugar," "Supercalifragilisticexpialidocious," "Step In Time" and "Chim Chim Cher-ee" play. It's visually fun and similar to the extra on The Muppet Movie, but kind of superfluous.
The "Classic Bonus Features" section contains the rest of the extras and I've repurposed parts of my 40th Anniversary DVD review to cover this area. First up is the "Disney on Broadway" section, which contains "Mary Poppins: From Page to Stage" (SD, 48-minutes) is a surprisingly in-depth look at the adaptation of the film for the stage with President of Disney Theatrical Productions Thomas Schumacher, producer Cameron Mackintosh, composer George Stiles, lyricist Anthony Drewe, actors Ashley Brown (Mary Poppins) and Gavin Lee (Bert), Scenic and Costume Designer Bob Crowley, and original composer Richard Sherman. "Step In Time" (SD, 7-minutes) features composer George Stiles introducing the expanded "Step In Time" sequence as performed in the stage musical.
"Backstage Disney" starts off with "Supercalifragilisticexpialidocious: The Making of Mary Poppins" (SD, 50-min) features interviews, footage, and more, taking us through the whole story of how the books were brought to the screen. "The Gala World Premiere" (SD, 18-min) brings us lots of coverage from the red carpet arrivals and "The Gala World Premiere Party" (SD, 6.5-minutes) shows the after-party. "Movie Magic" (SD, 7-minutes) is geared towards kids (with annoying music), but shows us how the groundbreaking visual effects were done. Two "Deconstruction of a Scene" featurettes are also presented: "Jolly Holiday" (SD, 13-min) and "Step In Time" (SD, 5-min), with original shots, before/after comparisons, and more. It's really quite impressive to see how they shot "Jolly Holiday" for integration with the animation. A "Dick Van Dyke Make-Up Test" (SD, 1-minute) shows us how he was transformed into the aging bank owner. The "Publicity" section gives us the theatrical teaser, the trailer, Julie Andrews' Premiere Greeting, two television spots, and three re-issue trailers.
"Music and More" starts out with "A Magical Musical Reunion featuring Julie Andrews, Dick Van Dyke and Richard Sherman" (SD, 17.5-minutes). This is a great featurette with Richard Sherman, Julie Andrews, and Dick Van Dyke. While much of what is discussed might sound familiar (if you watched the film with the commentary), it's nice to see these three talents reunited on screen and talking about the music. While they don't sing anything, they do show plenty of production photos, film clips, and behind-the-scenes shots. A deleted song, "Chimpanzoo" (SD 1.5-minutes), is sung by Sherman (on piano and kazoo) as storyboards show the intended sequence. "Disney's Song Selection" feature, which lets you jump right to each song in the film, replete with subtitles so you can sing along with the film. "Bonus Short: The Cat That Looked At a King" (SD, 10-minutes) is a live-action/animated short film, hosted by Julie Andrews, based on another one of the Mary Poppins book adventures by P.L. Travers. It's mainly for the kids and has very little to do with the film, but is entertaining.
Finally, we have the commentary track. Julie Andrews and Dick Van Dyke sat down together and talked about the film—with a focus on the production and music. Composer Richard Sherman joined actress Karen Dotrice where he speaks about the film from a musical perspective and she discusses it from a child actress point-of-view. The late composer Robert Sherman was in London and he provides some insightful tidbits as well. These comments are all edited together to provide a rather entertaining and quite educational movie-experience. For over two hours you'll be learning more about Mary Poppins than you thought you could learn.
Unfortunately, there are a few extras that were on the DVD which are missing from this new Blu-ray release. Missing is the pop-up trivia track that was on the DVD release. It's a shame since it contained a wealth of tidbits from prop information, inside-jokes, explanations on British terminology, stunt work, and more. Also missing are the photo and artwork galleries. And in a true slap-in-the-face, also missing is the real gem of the 40th Anniversary DVD release, "A Musical Journey." Hosted by Richard Sherman against a green-screen, this charming featurette took us through the different sets and sequences in the film, supplemented with lots of great behind-the-scenes footage. Sherman clearly had a great time taking us through this journey. Occasionally supplemented by video footage of Robert Sherman (in London) contributing his thoughts, the origins of many songs were explained as well. Even other projects were briefly explored, including Bedknobs and Broomsticks, as well as the Sherman works from Disneyland. Scoring session footage was shown, which is great to see as well. It was a great exploration of the music, presenting source material, original music stems, deleted songs ("Admiral Boom"), and rare never-before-seen footage, including a huge exploration of the "Step in Time" sequence, unused cues, removed scenes and outtakes. Richard Sherman talked quite glowingly about orchestrator/arranger Irwin Kostal's underscore for the fireworks sequence (which was cut from the film), which was included here in its original form—and NONE of that is on the Blu-ray. I was surprised and disappointed, to say the least.
A classic Disney film, and undoubtedly one of the best he produced, Mary Poppins is a charming, fun, and emotional movie that everyone should own. It looks great on Blu-ray and the audio is solid, though it would have been nice to have a lossless version of the original mix. The extras are solid, but incomplete—dropping some of the real gems from the 40th Anniversary is a shame. Still, don't let that deter you from picking this one up—it's well worth your time and money.
Missing Information?
If any information appears to be missing from this page, contact us and let us know!