Movie Information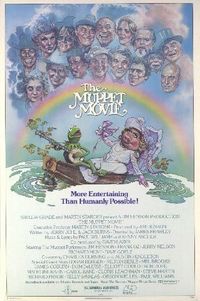 The Muppet Movie
Released: 1979
Review: Muppet Movie (Blu-ray), The
by Dan Goldwasser
August 13, 2013
4 / 5 Stars
I was four years old when The Muppet Movie hit the big screen. So, naturally, one might think I was the perfect audience for it, but it wasn't until I watched it on glorious VHS a few years later that I started to get some of the jokes and gags—and realized that, when I was four, I was not the perfect audience for the film. In fact, The Muppet Movie might have fooled people into thinking that it's for kids, when in reality it was made for the kid inside all of us.
Three years after The Muppet Show premiered on the small screen, the Muppets made the leap to the big screen with The Muppet Movie, which served as a prequel, of sorts, to how the Muppets made it big. After Kermit the Frog (Jim Henson) has a random meeting with Bernie (Dom DeLuise), a Hollywood agent, Kermit is convinced to leave his swamp and follow his dreams to Tinseltown. He partners up with not-so-funny comedian Fozzie the Bear (Frank Oz), and the two start on their road trip. Along the way they encounter all the Muppets who join them in their travels, including Dr. Teeth and the Electric Mayhem, Rowlf the Dog, Scooter, Gonzo and, of course, Miss Piggy, while simultaneously trying to avoid and outmaneuver the ruthless Doc Hopper (Charles Durning), who is convinced that Kermit can become the public face of his frog leg restaurant franchise.
The film boasts dozens of cameos, mainly from 1970s mainstay actors like Steve Martin, Mel Brooks, Richard Pryor, Carol Kane, Madeline Khan and Cloris Leachman, but also stars like Milton Berle, James Coburn and even Orson Welles. Songwriter and composer Paul Williams even has a cameo, and his songs are as memorable now as they were back then. "Rainbow Connection" is now considered a timeless classic, with "Movin' Right Along" and Dr. Teeth's "Can You Picture That" standing out as highlights. The biggest problem with The Muppet Movie today is that the simplistic plot gets bogged down by jokes that haven't aged well, and the aforementioned cameos can elicit head-scratching from viewers not versed well in 1970s pop culture. But, all that being said, it's a movie with heart—and a message that remains as important and poignant today as it was 34 years ago.
Making its debut on Blu-ray, The Muppet Movie arrives as a "Nearly 35th Anniversary Release" from Disney, and it looks great, sounds alright, and gives us a few decent extras as well. I will first note that when watching the film, if you hit "pause" on your remote, you activate "Disney Intermission"—which in this case will play a random song from the "Frog-E-Oke Sing-Along" bonus. Basically, instead of nice silence when you hit pause when the phone rings, now you have to scramble for the volume control because "Rainbow Connection" (or "Can You Picture That", or "Movin' Right Along") starts playing after a five second countdown. It was a frustrating feature with Wreck-It Ralph whereby they explained where some of the interesting in-jokes in the film were with "Disney Intermission." Now it's just as frustrating because when you pause a film it's usually not to jump to something else with audio. But, I digress.
For a nearly 35-year old film, the new Blu-ray transfer of The Muppet Movie stands out as one of the highlights of this release. Shot on 35mm, the 1.85:1 aspect ratio contains noticeable—but completely acceptable and naturalistic—film grain. There has been a light touch of noise reduction, but not to the detriment of the film and the result is an image that feels completely right for a 1979 film. The colors are nicely saturated, with a good level of contrast and black levels that only occasionally feel a little too harsh (particularly in some evening scenes). There is some softness in the image, but that is a product of the filmmaking and not the transfer. In all, there is plenty of detail and I don't think The Muppet Movie has looked this good since the premiere.
Audio is presented technically as a DTS-HD Master Audio 5.1 English track, but you'd be hard pressed to convince me it's little more than a Dolby Surround track at best. That is to say, this is a very front-heavy film and my surround speakers felt a bit neglected for the duration of the film. Like with most musicals on Blu-ray, any remastering of the audio results in the songs being at a higher fidelity than the rest of the film's audio, and this one is no exception. That being said, the songs actually sounded even better on the looping menu (and Frog-E-Oke extra) than it does in the final film. Still, the audio is very clean sounding with no noticeable hiss, but occasionally the dialogue levels vary, resulting in a slightly uneven presentation.
Billed as the "Nearly 35th Anniversary Edition," this inaugural Blu-ray release of The Muppet Movie still lacks a commentary track or substantive behind-the-scenes material, but we do get a few solid goodies. First up is the "Frog-E-Oke Sing-Along" (HD, 9-minutes). This is basically the "direct access" version of the Disney Intermission mentioned above, allowing you to watch the three songs from the film with stylized and well-done animated text to allow you to sing along with the Muppets. "Pepe Profiles present Kermit: A Frog's Life" (SD, 7-minutes) is a "faux news piece" holdover from the DVD release, where Pepe the King Prawn (a character introduced in "Muppets Tonight" and first featured in Muppets in Space) explores Kermit's early life, through interviews and "archival footage". "Doc Hopper's Commercial" (HD, 1-minute) is the full widescreen version of the commercial seen in the film, allowing us to see what Charles Durning was looking at off to the side. Short, but sweet! Two "Trailers" (HD, 6-minutes) are also presented—the teaser trailer, and the theatrical trailer.
Sadly, there is nothing about the songs or the music of the film, but the best extra I saved for last: "Jim Frawley's Extended Camera Test" (HD, 18-minutes) is an unedited raw look at what director Frawley shot in 1978 as a preproduction test for how to film the Muppets in real-world situations. With the help of Kermit and Fozzie Bear, as well as Sweetums and Miss Piggy, Frawley tries different techniques to show the characters in fields, forests, cars, and more. It's fascinating to not only see the process (occasionally Frank Oz or Jim Henson slip into frame), but the whole thing serves as an extended improv sequence between the characters. The best part comes at the end as Fozzie and Kermit encounter a herd of cows—and unfortunately the film runs out just as things start getting punchy. Still, this was a great extra and I'm really glad that Disney found the material to not only present it on the Blu-ray, but also in full HD.
34 years after the Muppets hit the big screen, their Blu-ray debut hardly disappoints. While it might be a little light on extras and the audio isn't going to blow you away, this is a childhood classic that has never looked better and any self-respecting Muppets fan would be doing themselves a favor to add this to their collection.
Missing Information?
If any information appears to be missing from this page, contact us and let us know!