'Pet Sematary' Soundtrack Released
APRIL 5, 2019 | Submitted by Defiant PR / Soundtrack.Net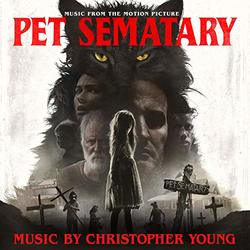 Christopher Young's original score to Paramount Pictures' Pet Sematary has been released today to coincide with the film's release on April 5th, 2019. The soundtrack will be available via digital download and through all major streaming platforms. The album features 15 original tracks from Young's electronic score along with a new recording of "Pet Sematary" by the band Starcrawler. The score was created using all-original, modified acoustic sounds, as well as a number of treated vocals that return throughout.
 
Young has scored over 130 films in a wide range of genres. Known for his mastery within the horror space, he has scored films including Hellraiser 1 and 2, The Grudge, Drag Me to Hell, Sinister, The Gift, Jennifer 8, Flowers in the Attic, The Dark Half, and Copycat, as well as acclaimed films The Hurricane, Rounders, Murder in the First, Wonder Boys, Spider-Man 3, and The Shipping News, for which he was nominated for both Critics Choice and Golden Globe awards.
 
Said Young, "I was absolutely thrilled to work with Paramount Pictures again and it was great to shape the score in a way where everybody was happy. There was a large team involved with this project so it was particularly satisfying to me that everybody felt really good about the music." Young continued, "This score is composed from 'twisted acoustic' and non-factory sounds created specifically for the film. I chose this direction knowing that we were doing an electronic score, but also knowing what would stand out. I used instruments as I would have with an orchestral score but took everything in a very different direction. I'm very pleased with how it turned out."
 
"We asked the impossible of Chris, do a score that hasn't been done before...and boy did he deliver," said producer Lorenzo DiBonaventura. "Chris is a master of horror and in Pet Sematary he pushed the score to the extremes of sound and music. This score is wildly inventive. Its many colors help sustain the suspense and surreal nature of this movie."
Newsletter
Enter your e-mail address to receive weekly soundtrack and film score news: