Kraft-Engel Signs Tom Holkenborg aka Junkie XL
AUGUST 14, 2019 | Submitted by Costa Communications / Soundtrack.Net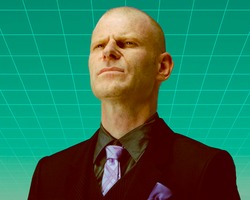 Kraft-Engel Management, today announced that Grammy-nominated, multi-platinum producer and composer Tom Holkenborg (also known by the moniker Junkie XL), has signed with Kraft-Engel Management for agent representation of his film and TV composition work, working in conjunction with Tom's longtime manager Michiel Groeneveld.
Tom Holkenborg has scored box office-topping films including Deadpool, Mad Max: Fury Road, Batman v Superman: Dawn of Justice (co-scored with Hans Zimmer), Alita: Battle Angel, Black Mass, Divergent and the forthcoming Terminator: Dark Fate. Holkenborg has over 120 scoring credits in film, video-game and television music and has worked with directors including Robert Rodriguez, George Miller, Tim Miller and James Cameron. His movies have grossed over $2 billion at the box office.
"We could not be more excited about working with Tom," commented agent Richard Kraft, "he is as exciting and passionate as a person as his scores are for films."
"I have been a fan of Tom's since I first heard his groundbreaking score to Mad Max: Fury Road," said agent Laura Engel.
One of Hollywood's truly unique talents, Holkenborg is a musical polymath, a full contact composer, renowned for his maverick approach and mastery of studio technology and instrumentation, as well as an educator and a technical pioneer.
Beginning his career in 1993, Holkenborg became a producer, composer and master of classical forms and structures with one finger planted firmly on the pulse of popular music, achieving a #1 hit in 24 countries in 2002 as Junkie XL with his rework of Elvis Presley's "A Little Less Conversation." Known for his mastery of studio technology and instrumentation, he went on to collaborate with and remix Coldplay, Dave Gahan, Depeche Mode, Robert Smith and Justin Timberlake.
In addition to his scoring work, Holkenborg runs the recently launched SCORE Academy, an annual year-long education program, created in collaboration with ASCAP (American Society of Composers, Authors and Publishers), and he produces and funds the free online tutorial series Studio Time, which, over three seasons has amassed a following of over 100,000 YouTube subscribers and given people around the world invaluable insight into Tom's composition process. Tom also held an Associate Professor position at ArtEZ Academy of Music in the Netherlands, where he created a four year bachelor program called Media Music.
Holkenborg also recently partnered with Orchestral Tools to create Junkie XL Brass, a best in class, brass, sample library.
Newsletter
Enter your e-mail address to receive weekly soundtrack and film score news: