'Carnival Row' Season 1 Soundtrack Released
NOVEMBER 11, 2019 | Submitted by Legendary Entertainment / Soundtrack.Net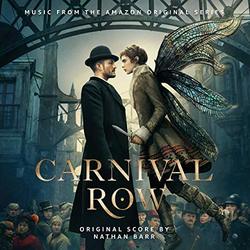 Amazon Studios and Legendary Television Studios announced the release of the Carnival Row (Original Soundtrack) with score by Emmy Award nominee Nathan Barr and two original songs by German musician Patty Gurdy, now available in digital stores and on streaming platforms. The soundtrack features music from Season One of the hit neo-Victorian fantasy television series starring Orlando Bloom and Cara Delevingne, now streaming on Amazon Prime Video.
"Getting to explore the world of Carnival Row as a composer is among my most exciting musical adventures to date," said Barr. "At its core, the score is heavily thematic and explores themes of identity, love, loss and magic in a fantastical world from the past. Sometimes choral, sometimes orchestral, the music also plugs into the steam punk world so beautifully realized on screen with a variety of unusual musical instruments including a human bone trumpet, a century old Wurlitzer pipe organ, and several instruments of my own creation including a High Pressure Stout-O-Phone and a Sympathetic Drone Cello with 19 strings."
"When I received the request to work on Carnival Row, I thought at first that it might be spam mail, but I quickly realized what an amazing request I just received," said Gurdy. "I wrote several fairy-themed songs, and two were used prominently throughout the first season. The two songs were written for the character Aisling Querelle, who used to be a famous singer in the fairy world Tirnanoc. Using my interest in Irish legend, I got completely captured in my own imaginary highland fairy-landscapes, which made it strangely natural for me to write from the perspective of such a magical and feminine character. I am so flattered to have the chance to work on this amazing production. The world of Carnival Row is truly breathtaking."
Newsletter
Enter your e-mail address to receive weekly soundtrack and film score news: