Soundtrack Information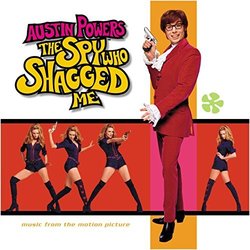 Austin Powers: The Spy Who Shagged Me
Maverick (9 47348-2)
Release Date: June 1, 1999
Formats: CD, Digital
Music From
Purchase Soundtrack
Track Listing
| | | |
| --- | --- | --- |
| 1. | Beautiful Stranger (Madonna) | 4:23 |
| 2. | My Generation (The Who) | 3:24 |
| 3. | Draggin' The Line (R.E.M.) | 4:27 |
| 4. | American Woman (Lenny Kravitz) | 4:19 |
| 5. | Word Up (Melanie G) | 3:39 |
| 6. | Just The Two Of Us [Dr. Evil Mix] (Dr. Evil) | 1:44 |
| 7. | Espionage (Green Day) | 3:23 |
| 8. | Time Of The Season [with Scott Weiland] (Big Blue Missile) | 3:24 |
| 9. | Buggin' (Remix) (The Flaming Lips) | 3:17 |
| 10. | Alright (The Lucy Nation) | 3:58 |
| 11. | I'll Never Fall In Love Again (Burt Bacharach & Elvis Costello) | 3:20 |
| 12. | Soul Bossa Nova [Dim's Space-A-Nova] (Quincy Jones & His Orchestra) | 3:07 |
| | Total Album Time: | 42:25 |
Review: Austin Powers: The Spy Who Shagged Me
by David Koran
June 24, 1999
2 / 5 Stars
This sequel should have been called Austin Powers: The Hype Strikes Back. I have never been let down as much by a film as I have with this movie: I actually walked away depressed after viewing it opening day. As for the soundtrack, in general, Iím equally disappointed to its stoop into crass commercialism, not unlike the film itself. What was clever and inventive in the first Austin Powers film is trite and poorly presented in this episode.
In the past, the music from Austin Powers seemed to actually add to the film, seamlessly adding another dimension to the film. Scenes such as the battle between Austin and the Fembots without the Divynylís "I Touch Myself" would never have been as funny with any other piece of music. Even the made for movie band of Ming Tea, with Suzanna Hoffs of The Bangles and Matthew Sweet, their song of BBC added that extra pinnace needed to truly set the film as a 60ís parody. Of course, George S. Clintonís score was to Austin Powers as anything John Barry could write for a James Bond film or even John Williams and Star Wars, a perfect fit.
In this film, even Quincy Jonesí original "Soul Bossa Nova" seems trite and out of place. The most out of place would be the teaming of Elvis Costello and Burt Bacharach, both of which are great songsmiths, but drags the film to a grinding halt right smack in the middle. Most of the artists stuck on this "songtrack" have a new album to push or a career to start or resurrect. Itís a painful display of how not to add music to a film. This may sell albums, but it doesnít make for a great addition to a library of filmmaking. He most godawful example of fawning to marketing and the expected teeny-bopper audience is the musical sequence of Dr. Evil singing "Just The Two Of Us." This and the appearance of Verne Troyer, as Mini-Me, in just about everything has turned a good draft script and original concept into an annoying pop billboard.
Well, unfortunately, this filmís success has spawned a third installment, hopefully they return to the freshness and uncompromised humor of the first film rather than retread the stuff of the second. Heck, if you want to poke fun at the 60ís, stick Austin in a beach film, or even a Felinni-esque art film, or intrigue and police drama, try watching the French Connection or Bullitt. I just hope Jay Roach and crew can learn something and get back to basics, maybe weíll see a humorous WWII film instead.
Missing Information?
If any information appears to be missing from this page, contact us and let us know!