Soundtrack Information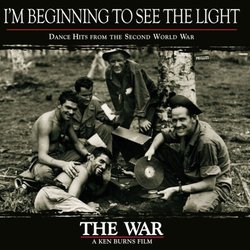 I'm Beginning to See the Light: Dance Hits from the Second World War
Legacy Recordings (88697 14539 2)
Release Date: September 11, 2007
Format: CD
Music From
Purchase Soundtrack
Track Listing
| | | |
| --- | --- | --- |
| 1. | "C Jam Blues" - Duke Ellington | 2:39 |
| 2. | "Frenesi" - Artie Shaw | 3:04 |
| 3. | "In the Mood" - Glenn Miller | 3:35 |
| 4. | "Let Me Off Uptown" - Gene Krupa | 3:04 |
| 5. | "Taxi War Dance" - Count Basie | 2:50 |
| 6. | "The Sheik of Araby" - Coleman Hawkins' All Star Octet | 2:59 |
| 7. | "Pistol Packin' Mama" - Al Dexter | 2:48 |
| 8. | "American Patrol" - Glenn Miller | 3:20 |
| 9. | "For the Good of Your Country" - Count Basie | 3:16 |
| 10. | "Cherokee" - Charlie Barnet | 3:16 |
| 11. | "Rose Room" - Benny Goodman | 2:49 |
| 12. | "Opus #1" - Tommy Dorsey | 2:56 |
| 13. | "I'm Beginning to See the Light" - Harry James | 3:14 |
| 14. | "Tuxedo Junction" - Erskine Hawkins | 3:18 |
| 15. | "One O'Clock Jump" - Count Basie | 3:04 |
| 16. | "I'm Confessin'" - Artie Shaw | 3:23 |
| 17. | "(I've Got a Gal in) Kalamazoo" - Glenn Miller | 3:17 |
| 18. | "Boogie Woogie" - Tommy Dorsey | 3:11 |
| 19. | "'Tain't What You Do (It's the Way that You Do It)" - Jimmie Lunceford | 3:01 |
| 20. | "Sing, Sing, Sing" - Benny Goodman | 8:39 |
| | Total Album Time: | 67:43 |
Review: I\'m Beginning to See the Light: Dance Hits from the Second World War
by Dan Goldwasser
November 16, 2007
4 / 5 Stars
Running about 15-hours long, Ken Burns\' documentary series The War looks at the second world war from the perspective of four American towns. A soundtrack album barely scratches the surface of the music used in the film, and three supplemental albums released help flesh out the pieces a bit more. I\'m Beginning to See the Light: Dance Hits from the Second World War is the most upbeat of them, featuring 20 classic jazz, swing and big-band numbers that will entertain and delight.
Most of the all-stars are represented here. Count Basie ("Taxi War Dance", "For the Good of Your Country", "One O\'Clock Jump"), Duke Ellington ("C Jam Blues"), Glenn Miller ("In the Mood", "American Patrol", "(I\'ve Got a Gal in) Kalamazoo"), Tommy Dorsey ("Opus #1", "Boogie Woogie") and Benny Goodman ("Rose Room", "Sing, Sing, Sing") are all represented, among a few others.
The sound quality is pretty good considering the sources - most of the tracks are in mono, and there is some hiss, but that\'s expected. The final piece, Goodman\'s "Sing, Sing, Sing" is the long version, running over 8.5 minutes long, and is nearly impossible to beat. It\'s literally one classic song after the next, and it\'s certainly one of those "feel-good" albums that is sure to lift your spirits.
Missing Information?
If any information appears to be missing from this page, contact us and let us know!