Soundtrack Information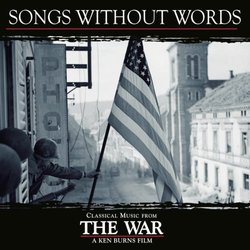 Songs Without Words: Classical Music from The War
Legacy Recordings (88697 14370 2)
Release Date: September 11, 2007
Format: CD
Music From
Purchase Soundtrack
Track Listing
| | | |
| --- | --- | --- |
| 1. | "Walton: The Death Of Falstaff" - Leonard Slatkin: London Philharmonic Orchestra | 3:38 |
| 2. | "Dvorak: Cello Concerto In B Minor (Second Movement)" - Yo-Yo Ma, New York Philharmonic, Kurt Masur | 12:36 |
| 3. | "Copland: Concerto For Clarinet, Strings, Harp And Piano" - Benny Goodman; Aaron Copland: Columbia Symphony Orchestra | 16:58 |
| 4. | "Ligeti: Lamento From Hommage A Brahms" - Pierre-Laurent Aimard, Marie-Luise Neunecker, Saschko Gawriloff | 7:34 |
| 5. | "Faure: Elegie, Op. 24" - Steven Isserlis, Pascal Devoyon | 7:01 |
| 6. | "Liszt: Nuages Gris" - Barry Douglas | 2:13 |
| 7. | "Messiaen: Quartet For The End Of Time (Third Movement)" - Ensemble Tashi | 7:44 |
| 8. | "Copland: Grovers Corners From Our Town" - Aaron Copland & New Philharmonic Orchestra | 3:13 |
| 9. | "Mendelssohn: Song Without Words" - Yo-Yo Ma, Emanuel Ax | 4:09 |
| 10. | "Elgar: Nimrod From Enigma Variations" - Leonard Slatkin: London Philharmonic Orchestra | 5:06 |
| | Total Album Time: | 70:12 |
Review: Songs Without Words: Classical Music from The War
by Dan Goldwasser
November 16, 2007
2.5 / 5 Stars
Running about 15-hours long, Ken Burns\' documentary series The War looks at the second world war from the perspective of four American towns. A soundtrack album barely scratches the surface of the music used in the film, and three supplemental albums released help flesh out the pieces a bit more. Songs Without Words: Classical Music from The War shows how Burns was able to use classical music to work as underscore, allowing both contemporary 20th Century composers as well as some classical writers to provide the gravitas necessary to showcase the emotional toll of battle.
From the heavy emotion of William Walton\'s "The Death of Falstaff" to Dvorak\'s "Cello Concerto in B Minor" to Elgar\'s "Nimrod from Enigma Variations", the album is slow, usually depressing, and very somber. The performances are all excellent, and include Benny Goodman on clarinet, Yo-Yo Ma on cello, Aaron Copland conducting the New Philharmonia Orchestra, and Leonard Slatkin conducting the London Philharmonic Orchestra. (Not all at the same time, of course.) There is even a piece by Gyorgy Ligeti ("IV. Lamento, Adagio"), which is somewhat difficult to listen to because of the atonal dissonance that he excels at, but the mood it creates is perfect to accompany the horrors of war.
Songs Without Words: Classical Music from The War is full of excellent music and performances, but the compilation doesn\'t really hold up as well as you\'d hope. It feels more like a series of disconnected pieces that only serve to sober you up, and bring you emotionally down.
Missing Information?
If any information appears to be missing from this page, contact us and let us know!