Soundtrack Information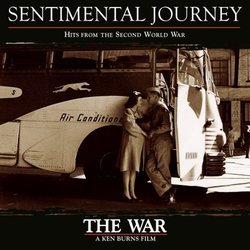 Sentimental Journey: Hits from the Second World War
Legacy Recordings (88697 14538 2)
Release Date: September 11, 2007
Format: CD
Music From
Purchase Soundtrack
Track Listing
| | | |
| --- | --- | --- |
| 1. | We'll Meet Again (Benny Goodman & His Orchestra) | 3:19 |
| 2. | Dancing In The Dark (Artie Shaw & His Orchestra) | 3:04 |
| 3. | Little Brown Jug (Glenn Miller & His Orchestra) | 2:51 |
| 4. | I'll Be Seeing You (Tommy Dorsey And His Orchestra) | 3:06 |
| 5. | Moonglow (Artie Shaw & His Orchestra) | 3:30 |
| 6. | Memories Of You (Louis Armstrong & His Orchestra) | 3:12 |
| 7. | I'll Get By (Harry James & His Orchestra) | 2:44 |
| 8. | On The Alamo (Benny Goodman & His Orchestra) | 3:26 |
| 9. | Pennies From Heaven (Teddy Wilson & His Orchestra) | 3:18 |
| 10. | Body And Soul (Coleman Hawkins) | 3:03 |
| 11. | Let's Get Lost (Frank Sinatra) | 3:00 |
| 12. | Blues In The Night (Cab Calloway & His Orchestra) | 3:08 |
| 13. | There Shall Be No Night (Duke Ellington & His Orchestra) | 3:12 |
| 14. | Echoes Of Harlem (Cootie Williams & His Rug Cutters) | 3:14 |
| 15. | Skylark (Earl Hines & His Orchestra) | 3:10 |
| 16. | Saturday Night Is The Loneliest Night Of The Week (Frank Sinatra) | 2:43 |
| 17. | Paper Doll (The Mills Brothers) | 2:36 |
| 18. | Long Ago And Far Away (Frank Sinatra) | 2:43 |
| 19. | Sentimental Journey (Les Brown & His Orchestra) | 3:50 |
| 20. | Waiting For The Train To Come In (Harry James & His Orchestra) | 3:07 |
| | Total Album Time: | 62:16 |
Review: Sentimental Journey: Hits from the Second World War
by Dan Goldwasser
November 16, 2007
4 / 5 Stars
Running about 15-hours long, Ken Burns\' documentary series The War looks at the second world war from the perspective of four American towns. A soundtrack album barely scratches the surface of the music used in the film, and three supplemental albums released help flesh out the pieces a bit more. Sentimental Journey: Hits from the Second World War is a trip down memory lane, with 20 unforgettable songs that range from bouncy and upbeat, to melancholy and heartbreaking.
The title song (Les Brown\'s "Sentimental Journey") is lyrical and smooth, but the album stars out with Benny Goodman\'s "We\'ll Meet Again", which immediately sets the tone of the album - hopeful and optimistic, and totally low key. Sure there are some jazzy numbers like "Little Brown Jug" by Glenn Miller and Frank Sinatra\'s "Saturday Night is the Loneliest Night of the Week", but most of the pieces are at a different pace, perfect for slow dancing.
It\'s hard to pick out any problems with an album like this - the artists are all A-list, from Benny Goodman ("On the Alamo") to Artie Shaw ("Dancing in the Dark", "Moonglow",) to Louis Armstrong ("Memories of You") to Cab Calloway ("Blues in the Night") to Duke Ellington ("There Shall Be no Night") to Frank Sinatra ("Long Ago and Far Away") and more. It\'s simply perfect for hopeless romantics and fans of excellent songwriting.
Missing Information?
If any information appears to be missing from this page, contact us and let us know!