Soundtrack Information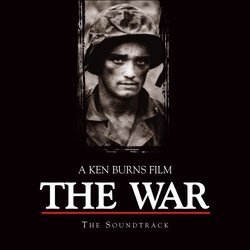 The War: A Ken Burns Film
Legacy Recordings (88697 10203 2)
Release Date: August 21, 2007
Formats: CD, Digital
Music From
Purchase Soundtrack
Track Listing
| | | |
| --- | --- | --- |
| 1. | "American Anthem" - Norah Jones | 5:08 |
| 2. | "Walton: The Death of Falstaff" - Leonard Slatkin: London Philharmonic Orchestra | 3:38 |
| 3. | "The Wang Wang Blues" - The Benny Goodman Sextet | 2:52 |
| 4. | "Movin' Back" - Wynton Marsalis | 2:47 |
| 5. | "How Long Blues" - Count Basie | 2:58 |
| 6. | "In the Nick of Time" - Joshua Bell, Edgar Meyer, Sam Bush, Mike Marshall | 6:13 |
| 7. | "It's Been a Long, Long Time" - Bing Crosby with Les Paul | 3:00 |
| 8. | "America My Home (excerpt)" - Wynton Marsalis | 2:18 |
| 9. | "If I Could Be With You (One Hour Tonight)" - Kay Starr, accompanied by the Capitol International Jazzmen | 2:48 |
| 10. | "Blues as the Turquoise Night of Neyshabur (excerpt)" - Yo-Yo Ma: Silk Road Ensemble | 4:28 |
| 11. | "Until I'm in Your Arms Again" - Wynton Marsalis | 2:42 |
| 12. | "Part: Variations for the Healing of Arinushka" - Kalle Randalu | 5:10 |
| 13. | "Basie Boogie" - Count Basie & His Orchestra | 2:24 |
| 14. | "Solitude" - Duke Ellington & His Orchestra | 3:15 |
| 15. | "Copland: Concerto for Clarinet, Strings, Harp and Piano (excerpt)" - Benny Goodman; Aaron Copland: Columbia Symphony Orchestra | 7:45 |
| 16. | "If You Can't Smile and Say Yes" - The King Cole Trio | 2:34 |
| 17. | "American Anthem" - Amanda Forsyth And Bill Charlap | 1:44 |
| | Total Album Time: | 61:44 |
Review: War: A Ken Burns Film, The
by Dan Goldwasser
November 16, 2007
3.5 / 5 Stars
Ken Burns is without a doubt on of the master documentary filmmakers of our time. From the groundbreaking series The Civil War to Baseball to Jazz, he\'s never tackled a subject in a casual manner. His latest project was The War - an in-depth examination of World War II as seen from the eyes of four "quintessentially American towns". While some have criticized Burns for taking a singular perspective on the war, it is still an impressive 15-hour journey that begins in December 1941, and concludes in September 1945.
The music for the documentary was pivotal, to help bring the viewer back to the early 1940s. As such, much of the music was source cues, ranging from the popular big-band tunes, to more emotional dramatic classical numbers. Some original music was written for the film by Wynton Marsalis, and a main title song, Gene Scheer\'s "American Anthem", was performed by Norah Jones. The War soundtrack starts off with this particular number, a sentimental piece tinged with sadness that evokes the same feeling that Randy Newman\'s "When She Loved Me" from Toy Story 2 created. Three of Marsalis\' pieces are on the album, and vary in tone and style. The old-time sounding minimalist slide-guitar piece "Movin\' Back", the piano and cello based "America My Home", and the sentimental violin-led ensemble "Until I\'m in Your Arms Again".
Some of the classic big-band swing numbers that reminded soldiers abroad of home include Benny Goodman\'s "The Wang Wang Blues", Kay Starr\'s jazzy "If I Could Be With You (One Hour Tonight)", and Count Basie\'s "Basie Boogie". The romantic ballad "It\'s Been a Long, Long Time", as sung by Bing Crosby, is nostalgic, and Nat King Cole\'s "If You Can\'t Smile and Say Yes" will warm your heart.
Classical music also figures into the soundtrack, creating emotional underscore for the more dramatic moments of the film. Burns wanted to use music that was either composed during or inspired by the war, and Walton\'s "The Death of Falstaff: Two Pieces for Strings" is effective and tragic. Aaron Copland\'s melancholy "Concerto for Clarinet & String Orchestra" was commissioned by Benny Goodman, and Arvo Part\'s "Variations for the Healing of Arinushka" is played softly on piano, and is reminiscent of Clint Eastwood\'s Flags of our Fathers.
There is a lot more music in the documentary, and this soundtrack to The War is but a mere sampling of the types of music that fill the series. It\'s a good overview, but leaves you wanting more - and thankfully, there are three "supplemental" soundtrack releases, each touching on a particular style of music, so when you get all four discs, you\'ll have a more representative slice of the musical journey from the series.
Missing Information?
If any information appears to be missing from this page, contact us and let us know!