Soundtrack Information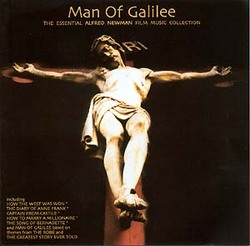 Man of Galilee: The Essential Alfred Newman Film Music Collection
Silva America (SSD 1122)
Release Date: 2001
Conducted by Paul Bateman / Nic Raine
Performed by
The City of Prague Philharmonic Orchestra
Format: CD
Music By
Track Listing
Disc 1: Man of Galilee: The Essential Alfred Newman Film Music Collection
1.
20th Century Fox Fanfare
0:21
2.
How To Marry A Millionaire - Street Scene
5:10
3.
The Diary of Anne Frank - Overture
3:27
4.
The Diary of Anne Frank - Live in Hope
1:41
5.
The Diary of Anne Frank - The First Kiss
3:44
6.
The Diary of Anne Frank - Persecution / Finale
4:16
7.
The Mark of Zorro - Overture
4:41
8.
Anastasia - Main Them
2:21
9.
The Song of Bernadette - Overture
5:28
10.
How The West Was Won - Prelude / The Land
7:10
11.
How The West Was Won - Cleve and His Mule
2:06
12.
How The West Was Won - Intermezzo
5:18
13.
How The West Was Won - Cheyenne Attack and Aftermath / Finale
8:07
14.
How The West Was Won - How The West Was Won
3:19
Disc Time:
57:09
Disc 2: Man of Galilee: The Essential Alfred Newman Film Music Collection
1.
Captain From Castle - Conquest
3:24
2.
The Keys of the Kingdom - Overture
6:45
3.
Nevada Smith - Main Title
2:24
4.
The Razor's Edge - Main Title
1:44
5.
The Razor's Edge - Seduction
3:17
6.
The Razor's Edge - India
5:31
7.
Wuthering Heights - Cathy's Theme
2:55
8.
Man of Galilee - Prologue
1:24
9.
Man of Galilee - The Promise of the Holy Spirit
6:45
10.
Man of Galilee - Rejoice
3:59
11.
Man of Galilee - The Great Journey
8:35
12.
Man of Galilee - Miriam's Song
3:17
13.
Man of Galilee - Sunrise of the Third Day
6:50
Disc Time:
Total Album Time:
56:50
113:59
Related Albums

Review: Man of Galilee: The Essential Alfred Newman Film Music Collection
by Matt Barry
March 6, 2004
3.5 / 5 Stars
No two compact discs could ever fully encapsulate the genius that was legendary Golden Age composer Alfred Newman. He simply wrote too much music: over two hundred films in a career that spanned four decades. Not that this could ever stop the rabid rerecording maniacs at Silva Screen from trying to pin ol' Al down in the two hours offered in Man Of Galilee: The Essential Alfred Newman Film Music Collection. As you might expect, it is a hit and miss affair. The highlights, which include the symphonic cantata alluded to in the title, are often nothing short of breathtaking. But the misfires, one of which occupies nearly a quarter of the discs' running time, are muddled and often downright embarrassing.
A bit of liner-note detective work reveals one of the principal causes of this giant schism in Galilee's overall quality: though the much-improved City of Prague Philharmonic is heard on all the tracks here, about half the music was conducted by Paul Bateman, the other helmed by Nic Raine. While Raine's recent work with Silva in the rerecording of several John Barry scores (The Lion In Winter, Robin And Marian, The Last Valley) has been quite admirable, some of his various interpretations of Newman leave a lot to be desired, especially when presented alongside the zeal and power of Bateman's expert contributions.
The first disc opens with the requisite "Fox Fanfare", a decent performance albeit with a spacious and overly wet recording. We then move straight into a reading of Newman's classic "Street Scene" from How To Marry A Millionaire, an instant highlight and one of Raine's best pieces here, reflecting Newman's obvious admiration for Gershwin's "American In Paris" and "Rhapsody In Blue". It is a hell of an opener, full of pure joy and jazzy optimistic bounce. Next up is a suite from 1959's The Diary Of Anne Frank, proving to be a much more lush and romantic interpretation of the true life WWII drama. As is so much the norm, Newman's melodies are gorgeous and accessible, standing right alongside even the best stuff John Williams has ever given us. "First Kiss" offers an achingly sweet waltz reminiscent of the Snow White standard "Some Day My Prince Will Come", leaving only "Persecution / Finale" to shed light on some of the darker thematic elements of Frank's story.
The Mark Of Zorro is a rollicking and over-the-top Spanish bolero, with a swashbuckling main theme that downshifts into a sweeping romantic motif. And The Song Of Bernadette begins with ominously swirling strings that give way to a sumptuous melody, reverential and awestruck. Anastasia, though, is brief and uninspired: the first major misfire from Raine. Even worse is his half hour suite from How The West Was Won. The tempo of the "Prelude" is far too slow and the performance is just plain sloppy, with bizarre miking and mixing proving to be utterly no substitute for the original. Only the "Intermezzo" is ably poignant, a hushed lullaby eventually ruined by the crashing cacophony of the "Cheyenne Attack".
The second disc begins with another mud-covered Raine piece, the ebullient and marching "Conquest" from The Captain From Castille. The "Overture" to Keys Of The Kingdom is well-done melodrama, but it is Raine's stumbling but energetic Nevada Smith main title that pulls the disc out of his own slump. It is everything a Western overture should be, outshining the entire How The West Was Won suite in under three minutes of bombastic splash and desert-sunset harmonica. The suite from The Razor's Edge, with it's unabashedly romantic "Seduction" cue, shows some classic Newman string writing, full yet never as cloying as many Golden Age scores are want to be. And then there's Kenneth Alwyn's lone interpretation of "Cathy's Theme" from Wuthering Heights, a short but sweetly heartbreaking gem.
Then, after nearly ninety minutes, Silva's disc breaks out the main course, the magnificent thirty minute "Man Of Galilee" suite, which interpolates elements of both Newman's The Robe and The Greatest Story Ever Told. The "Prologue" begins with majestic and powerful brass, clipping along at a dizzying pace. But when "The Promise Of The Holy Spirit" moves from a yearning solo horn over a bed of strings to an utterly gorgeous theme for full chorus, you'll be thrilled you picked up this disc. It is chill-inducing music of the first order, as is "Rejoice", featuring soloist Roberto Salvatore leading a splendid dance for chorus and orchestra that must be heard to be believed, it's that transcendently beautiful. "The Great Journey" is as bounding and adventurous as "Miriam's Song", featuring Nuala Willis contralto, is lovely. The suite ends with the stately punch of "Sunrise Of The Third Day", bringing the discs to a grand finish.
In all, Man Of Galilee should have by all rights been a spectacular, must-own single CD, never even attempting to cover as much ground as it tries to. But even as a bloated double disc set, there is quite a bit here to recommend, especially to anyone looking to get their feet wet with an introduction to some fabulous Golden Age music by an unrivaled master.
Missing Information?
If any information appears to be missing from this page, contact us and let us know!