Soundtrack Information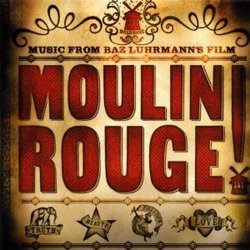 Moulin Rouge
Interscope Records (06949 3035 2)
Release Date: May 8, 2001
Formats: CD, Digital, Cassette
Music From
Purchase Soundtrack
Track Listing
| | | |
| --- | --- | --- |
| 1. | "Nature Boy" - David Bowie | 3:25 |
| 2. | "Lady Marmalade" - Christina Aguilera, Lil' Kim, Mya and Pink | 4:25 |
| 3. | "Because We Can" - Fatboy Slim | 3:27 |
| 4. | "Sparkling Diamonds" - Nicole Kidman, Jim Broadbent, Caroline O'Connor, Natalie Mendoza and Lara Mulcahy | 2:52 |
| 5. | "Rhythm of the Night" - Valeria | 3:49 |
| 6. | "Your Song" - Ewan McGregor and Alessandro Safina | 3:39 |
| 7. | "Children of the Revolution" - Bono, Gavin Friday and Maurice Seezer | 2:59 |
| 8. | "One Day I'll Fly Away" - Nicole Kidman | 3:18 |
| 9. | "Diamond Dogs" - Beck | 4:34 |
| 10. | "Elephant Love Medley" - Nicole Kidman, Ewan McGregor and Jamie Allen | 4:13 |
| 11. | "Come What May" - Nicole Kidman and Ewan McGregor | 4:48 |
| 12. | "El Tango De Roxanne" - Ewan McGregor, Jose Feliciano and Jacek Koman | 4:44 |
| 13. | "Complainte De La Butte" - Rufus Wainright | 3:06 |
| 14. | "Hindi Sad Diamonds" - Nicole Kidman, John Leguizamo and Alka Wagnik | 3:28 |
| 15. | "Nature Boy" - David Bowie and Massive Attack | 4:08 |
| | Total Album Time: | 56:55 |
Music Used in Trailers
Theatrical Trailer
"Lady Marmalade" Sorority Boys (2002) - Christina Aguilera, Lil' Kim, Mya & Pink
"Come What May (Josh Abrahams Mix)" Moulin Rouge! (2001) - Ewan McGregor & Nicole Kidman
"Sparkling Diamonds" Moulin Rouge! (2001) - Nicole Kidman & Cast
"Hindi Sad Diamonds" Moulin Rouge! (2001) - Nicole Kidman & Cast
"Diamond Dogs" Moulin Rouge! (2001) - Beck
Teaser Trailer
"Lady Marmalade" Sorority Boys (2002) - Christina Aguilera, Lil' Kim, Mya & Pink
TV Spots
"Lady Marmalade" Moulin Rouge! (2001) - Christina Aguilera, Lil' Kim, Mya & Pink
Review: Moulin Rouge
by Matthew Sheby and Dan Goldwasser
May 30, 2001
3.5 / 5 Stars
Moulin Rouge, the latest film from Baz Luhrmann, who dazzled us with Strictly Ballroom and then Romeo + Juliet, focuses on the tragic romance between bohemian poet Christian (Ewan McGregor) and Moulin Rouge star / courtesan Satine (Nicole Kidman).  Operatic in plot structure, the film is a modern-day musical that borrows its music from the past 50 years of culture. 
"Nature Boy," a Nat King Cole piece performed by John Leguizamo in the film and David Bowie on the soundtrack, bookends the story. A dirge-like narrative, Bowie's straightforward performance introduces our protagonist at the start of the album. Closing the album is a remix of the opening song by the heavyweight trip-hop group Massive Attack, with Bowie. Wobbling sideways like a raver at an after-hours party, this trance mix is an absinthe-tinged comedown from an ecstatic high. It effectively mirrors the audience's feelings after mourning the death of Nicole Kidman's Satine.
Fatboy Slim makes an appearance with an industrial/techno-lite tune that incorporates a bit of the rap sung by Moulin Rouge manager Zidler (Jim Broadbent). It's slightly different than the film version, and is just overrunning with energy.  Also house-anthem-friendly is the Beck-performed "Diamond Dogs". Timbaland, the ubiquitous rap producer, adds bass-heavy rhythms to this David Bowie cover. It's a wonderful tune that won't get significant airplay because it's too iconoclastic.
A remixed production number from the film, "Sparkling Diamonds," features Kidman singing "Diamonds Are A Girl's Best Friend" and "Material Girl" as orchestrated into big band spectacles. This is a Baz Luhrmann film, so of course there's a gratuitous electronic breakdown in the song's middle, but it was quite a fun sequence to experience in the theater.
Ewan McGregor croons Elton John's "Your Song." Because Moulin Rouge is a musical at heart, we must have at least one ballad in which a male declares his love for a female. This song is close to that, though at times is far too compressed and as such loses McGregor's intimacy. Of course, we must also have the female sing about how she wants to be saved (by the male, the audience knows). Nicole Kidman belts out "One Day I'll Fly Away" in response. It's standard musical-genre fare. That said, we truly like Kidman's voice. Once again, though, this album mix hides the vocals behind the instruments. As a result, the listener is deprived of the up-close immediacy of the voice, something normally achieved in soundtracks to other musicals.
Progressing through the plot, our male and female have to fall in love. This happens in "Elephant Love Medley," the film's most inspired musical number and a true crowd-pleaser (applause erupted at the screening when a Buffy Sainte-Marie snippet was performed). Even better, Ewan's and Nicole's voices aren't nearly as suppressed on this track as on the others, so we enjoy the number even greater. Don't miss the homage to the song that begat record-setting soundtrack sales: Dolly Parton's "I Will Always Love You."
Our lovers reaffirm their bond with their anthem "Come What May".  This original song was always tinged with a bittersweet melancholy in the film, as Satine is forbidden to love Christian (she has been promised to the dastardly Duke). On the other hand, the album track is mixed as an adult-contemporary love ballad, which doesn't feel right after watching the film.
Satine, unfortunately, must continue as a courtesan and break off her forbidden romance with Christian. In reaction to this turn of events, we have an incredible medley featuring a new cover of Sting's "Roxanne" meshed with Marianito Mores' "Tanguera" (with lyrics by Luhrmann and Craig Pierce).  This is "El Tango de Roxanne," and it is quite dissimilar to the hyper-contemporary songs that surround it on the soundtrack.  Ewan McGregor sings the pining "Tanguera" melody, while Jacek Koman belts out the "Roxanne" part.  Joined by Jose Feliciano, the performances are exceptional and McGregor's tenor voice contrasts well with the gravelly snarl of Koman.
The final "big" number is performed once more by Nicole Kidman, as joined by John Leguizamo and Alka Yagnik, who sings "Hindi Sad Diamonds", Moulin Rouge's very cool tribute to Bollywood spectacle. Though we admit to not ever having seen one of these Hindi musicals, the sight and sounds of this takeoff are quite brilliant and overpowering.
Valeria covers Diane Warren's "Rhythm of the Night," first performed, I think, by DeBarge during the early eighties. Primarily of the fast Latin jazz/salsa flavor, it does contain more dancehall samples (including one, I think, from the Goodmen's 1993 hit "Give It Up").
The trio of Bono, Gavin Friday, and Maurice Seezer performs "Children of the Revolution," a rock anthem that deserves rotation at "modern rock" radio stations. (Said artists have also contributed to the soundtrack of In the Name of the Father.) I don't recall this performance in the film, but I do remember the rendition as sung by the cast.  In addition, Rufus Wainwright sings the bilingual French "Complainte de la Butte", which if I remember correctly was used primarily as background source music during some of the more narrative scenes.
Given the complexity in licensing the songs for the film, it's pretty impressive that the producers of the album were able to get as many of the songs on it as they did.  Sadly missing from the album is any of Craig Armstrong's score, but considering the more melancholy and softer orchestral work he did for the film, it would have been too much of a contrast to go from the high-octane songs to these softer cues, and back.  I can only hope that the other songs from the film (and even the film versions of the songs on this album) will make an appearance on a "Volume Two" soundtrack release.  This album boasts strong performance by McGregor and Kidman, as well as some enjoyable covers of classic songs from the past century.
Soundtrack.Net Articles
Missing Information?
If any information appears to be missing from this page, contact us and let us know!