Soundtrack Information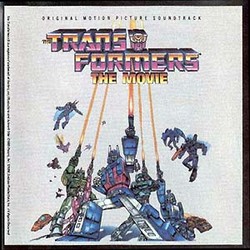 Transformers: The Movie
Scotti Brothers (72392-75242-2)
Release Date: 1986
Format: CD
Music From
Purchase Soundtrack
Track Listing
1.
The Touch - Stan Bush
2.
Instruments Of Destruction - N.R.G.
3.
Death Of Optimus Prime - Vince DiCola
4.
Dare - Stan Bush
5.
Nothin's Gonna Stand In Our Way - Spectre General
6.
The Transformers (Theme) - Lion
7.
Escape - Vince DiCola
8.
Hunger - Spectre General
9.
Autobot / Decepticon Battle - Vince DiCola
10.
Dare To Be Stupid - "Wierd Al" Yankovic
Track lengths not available for this album. If you have track length/time information for this album, please e-mail it to us at mail@soundtrack.net and we will add it to the database.
Missing Information?
If any information appears to be missing from this page, contact us and let us know!