Movie Information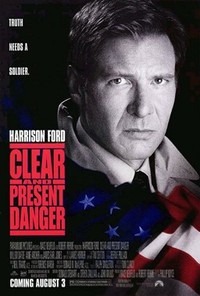 Clear and Present Danger
Released: August 3, 1994
Review: Clear and Present Danger (Blu-ray)
by Dan Goldwasser
August 1, 2008
3 / 5 Stars
The adventures of Jack Ryan continued from Patriot Games into the sequel Clear and Present Danger.  Now focusing on the conflict in Central America, CIA analyst Ryan (Harrison Ford) is appointed the acting CIA Deputy Director of Intelligence when his mentor, Admiral Jack Greer (James Earl Jones) falls ill.  When he\'s asked to investigate the murder of a President\'s friend, he soon realizes that he\'s not being told the whole story.  Columbian drug cartels, corrupt bureaucrats and top secret military ops soon put Ryan in a compromising position, where he will risk his life and his career to do the right thing.
Director Phillip Noyce returned to direct this sequel, and like Patriot Games he presents the story in a straightforward manner.  It\'s a little more complicated this time around, though, as multiple storylines start to unfold - my favorite parts being those with CIA field operative John Clark (Willem Dafoe).  It\'s a bit simpler than the novel, with a bunch of changes to make it more cinematic, and it\'s a decent film about government corruption and one man\'s determination to do the right thing.  Like the other films in the Jack Ryan anthology, Clear and Present Danger was released in 2003 as a "Special Edition" DVD, and now hits High Definition on Blu-ray disc.
Like Patriot Games, the HD transfer is mixed.  Some stuff is nice and clean, with a bit of noise reduction artifacting, and other parts seem grainy.  Even a few shots seem to have "frozen film grain" (like on the Paramount Logo), a compression artifact.  Not as nice as I would have hoped.   Again, it\'s an improvement when compared to the original DVD release, but it\'s not as nice as it could have (and should have) been.  Audio is presented in English 5.1 Dolby True HD, and French/Spanish 5.1 Dolby Digital.  The presentation is better than Patriot Games, with the action sequences (especially the Columbian rocket launcher ambush) packing quite a punch. 
Mirroring the extras on Patriot Games, the only extras on the Blu-ray release are those that were found on the 2003 DVD.  In this case, we get a 26-minute behind-the-scenes featurette, "Behind the Danger", and the theatrical trailer in HD.   Mace Neufield, Phillip Noyce, Harrison Ford, Donald Moffat, and many others in the cast and crew take us once again through the development, pre-production, production, and some of the post-production on the film. It\'s short but chock-full of information, though a commentary track would have been much appreciated.
Like the Patriot Games Blu-ray, Clear and Preset Danger has gotten a decent though slightly flawed transfer, solid audio, and a hint of extras.  If you\'re a fan of the series, it\'s worth the upgrade, otherwise I\'d just suggest renting it.
Missing Information?
If any information appears to be missing from this page, contact us and let us know!