Movie Information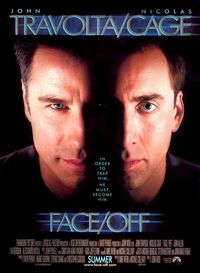 Face/Off
Released: June 27, 1997
Movie Purchasing Links
Special Collector's Edition:
Blu-ray
Promotional / Bootleg Soundtracks
Review: Face/Off (2-disc SE DVD / HD-DVD)
by Dan Goldwasser
October 27, 2007
4 / 5 Stars
It took ten years, but finally John Woo\'s Face/Off has gotten the 2-disc "Special Edition" treatment that has long been rumored. Career criminal Castor Troy (Nicholas Cage) is comatose after being captured by FBI Agent Sean Archer (John Travolta), but there is a bomb somewhere in the city set to go off, and only Castor\'s incarcerated younger brother Pollux knows where it is. An experimental procedure allows Archer to surgically trade faces with Castor, and then he\'s put into jail to try to find out from Pollux where the bomb is. Unfortunately, Castor wakes up, and takes on Archer\'s identity - and now Archer must escape from jail (as Castor) and use Castor\'s network of criminals and his reputation to work his way back to Castor (who as Archer has been exploiting the law-enforcement side) and get his face back.
The film has been considered Woo\'s best American venture, with the high-octane action and energy propelling the audience through the somewhat ludicrous but enjoyable storyline. A subplot involving Castor (as Archer) and Archer\'s wife (Joan Allen) and daughter (Dominique Swain) adds to the tension. Critics overall received the film favorably, and audiences rewarded the film at the box office. For this special edition DVD, a new transfer of the film has been made, and it looks very solid, and with excellent color balance and saturation, and minimal film artifacts. The sound is killer - a Dolby Digital 5.1 EX track is excellent, surprisingly just as good as the dts 6.1 ES audio track - both are immersive and loud. French 2.0 is included as well.
Special features on the first disc include two commentaries: the first one is with director John Woo and writers Mike Werb and Michael Colleary, and a second one with just the two writers. The differences between the commentaries are obivous: the one with Woo allows him to take the center stage, talking about the directing, style choices, and more, with the writers playing a supportive role, and the second commentary allows the writers to go more in-depth into their process of writing the script, changing the storyline points, and more developmental stuff. In all, you will get a lot of information from these two commentaries. Six deleted scenes, and an "Alternate Ending" are also included, with optional commentary by Woo and the two writers, which rounds out the features on the first disc.

The second disc has a five-part documentary on the making of the film: "The Light and Dark: Making Face/Off". Running about an hour long, the various sections explore the genesis of the storyline, casting the film, John Woo\'s approach to making films in Hollywood, the stunts and visual effects, using archival interviews and new interviews with cast and crew members. While there is (sadly) nothing about John Powell\'s score (his Hollywood feature debut), his music is used throughout the featurettes. Another documentary, the half-hour long "John Woo: A Life in Pictures", uses still imagery and interviews to present a short history of John Woo and his career to unknowledgeable audiences. Finally, the theatrical trailer finishes off the special features.
Face/Off was one of my favorite action films of the late 1990s, and it\'s great that it finally got the in-depth home video treatment it deserved, and is an easy must-have for any action movie fan.
HD-DVD Addendum:
The high definition release of Face/Off was originally due to come on both HD-DVD and Blu-Ray Disc, but Paramount Home Video sadly decided to drop their support of BRD, leaving only a HD-DVD release for the fans. This 2-disc HD-DVD release contains all of the same material and extras as the regular DVD release, but benefits greatly from the superiour image and audio capabilities that the next-generation format has to offer.
The image is presented in full 1080p, and there is no visible compression whatsoever, even during the rather messy action sequences. Details are vivid and clear, and blow the DVD release away - it was like watching a brand new print of the film. There were a few instances where red hues seemed a tad on the purple side of things, but I believe this has more to do with the home theater system I viewed the movie on, as it hadn\'t been calibrated for HDMI yet. It\'s interesting to note as well that the jump in resolution now allows wires, stunt doubles that look nothing like the actors, and even a large camera crane in the background of a shot to all be visible where they would otherwise be not as noticeable in standard definition.
The audio is provided in a Dolby Digital Plus 5.1 mix, as well as a gut-punching dts ES 6.1 surround track. The experience is superb, and for a film that is 10 years old, it stands up quite well. Dialogue is clean and discrete, and the action just buries you - without getting bogged down into a muddy sonic wave. John Powell\'s score truly benefits from the high bit-rate and immersive qualities, and sounds just excellent.
All of the supplements from the DVD release (including both commentary tracks, and the deleted scenes) are presented here. The deleted scenes are from workprints, but they\'re in HD, so that\'s a nice touch. The second disc features all the documentary bits, and they as well are all presented in HD, as well as the theatrical trailer.
I hadn\'t seen Face/Off this way since the theaters ten years ago, and it was one hell of a ride. A standardized high definition format has yet to be resolved, but until then, if you\'re fortunate enough to have an HD-DVD player, then Face/Off is a must-have to show off your system.
Missing Information?
If any information appears to be missing from this page, contact us and let us know!