Movie Information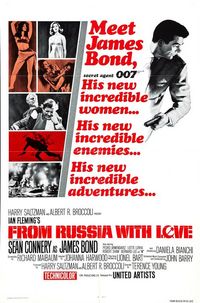 From Russia with Love
Released: 1963
Review: From Russia With Love (Ultimate Edition Blu-ray)
by Dan Goldwasser
October 19, 2008
4.5 / 5 Stars
The second James Bond film, From Russia with Love, was released only a year after the first film Dr. No became a box-office and worldwide smash.  The 1963 sequel features one of the best main title sequences for a Bond film (credits projected in light on women\'s undulating bodies!) and follows James Bond (Sean Connery) as he travels to Turkey to aid Soviet Army intelligence corporal Tatiana Romanova (Daniela Bianchi) in defecting to the British with a Lektor cryptographic device.  However, the global terrorist organization SPECTRE, led by the mysterious faceless cat-petting Blofeld, has decided to send Donald Grant (Robert Shaw) to intercept the Lektor, and along with the devious Rosa Klebb (Lotte Lenya), they play a game pitting the British against the Russians.  The film is one of the best Bond films, and is supposedly one of Connery\'s favorites.  We are introduced to "Q" (Desmond Llewelyn), and some nifty Bond gadgets, a sweet Gypsy catfight, and John Barry\'s first full Bond score that sets the tone and style of the scores to come.
Released numerous times on home video, From Russia with Love was meticulously restored from the original camera negative for new "Ultimate Editions" that were released on DVD back in 2006.  Lowry Digital, known for their work restoring such films as Star Wars and Citizen Kane, worked on the clean-up process, and high definition transfers were made, though they weren\'t coming out - until now.  From Russia with Love is part of the first "wave" of James Bond releases to hit Blu-ray, along with five other Bond films (all in anticipation of the newest adventure, Quantum of Solace).  The movie looks and sounds the best it ever has, and is packed to the gills with extras.
Video: The high definition 1080p image is presented in a windowboxed 1.66:1 aspect ratio, giving us more image on the top-and-bottom than the previous 2000 DVD release.  Film grain feels natural and there is no gate weave or shake at all - it\'s a rock solid image.  Colors are vibrant and flesh tones are natural.  Much of the film was shot on sound stages outside of London, and on location in Turkey and Venice, and there is a great amount of detail to be found in the HD image. Textures (skin, clothing, etc.) feel more life-like than before, and the cinematography firmly places the film in the 1960s, with the brightly lit sets, although the locations look spectacular.

Audio: Released in a 5.1 English DTS-HD Master Audio remix, the audio on From Russia with Love is rather front-heavy, with dialogue centered and occasional nice use of the left and right speakers.  Sound effects are used sparingly in the rears, and John Barry\'s music is also positioned in the front primarily, but the train sequence towards the end of the film is certain to entertain.  The original mono track is also included, for archival purposes in Dolby Digital 2.0.
Supplements: This is the "ultimate edition" of From Russia with Love, and features all of the extras from the past two DVD releases.  The menu is broken down into a few "thematic" sections, so I\'ll address them here individually.
MI6 Commentary: Hosted by Ian Fleming foundation member John Cork, the commentary track features director Terence Young as well as many of the principle members of the cast and crew from previous recordings. It\'s a well assembled commentary, providing a wealth of information on the development and adaptation of the film, as well as some interesting anecdotal stories.  (Side note: still missing is the original Criterion Collection commentary done for the From Russia with Love laserdisc, which was hosted by film historian Steve Rubin, and featured director Terence Young, editor Peter Hunt, and screenwriter Richard Maibaum)
Declassified: MI6 Vault: Four featurettes are presented here.  "Ian Fleming: The CBC Interview" (SD) runs nearly 8-minutes, and features a good interview with Fleming at his "Goldeneye" estate in Jamaica.  "Ian Fleming and Raymond Chandler" (SD) is a 5-minute BBC audio interview (set to still images) of Fleming interviewing the other author about their various approaches to character development and other writing techniques.  "Ian Fleming on Desert Island Discs" (SD) is another 5-minute BBC audio interview (also set to still images) of Fleming discussing is background as a Navy seaman, a journalist, and how he goes about writing. "Animated Storyboard Sequence" (SD) runs a quick 1.5-minutes, and shows how the boat chase was originally supposed to take place at night. "Credits" (SD, 16x9) just gives us the video credits for the extras.
007 Mission Control: This unique "interactive" listing lets you view your favorite moments from the film, organized by category: "007", "Women", "Allies", "Villains", "Mission Combat Manual", and "Q Branch".  "Exotic Locations" (HD) runs 3:15, narrated by Maud Adams (Octopussy), and takes a look (using the film\'s footage) of the various world locations that the movie was shot in. In this case, most of the locations are in Istanbul and locations around Turkey, as well as Venice, Italy.
Mission Dossier: Narrated by Patrick McNee (A View to a Kill), the 34-minute long "Inside From Russia with Love" was originally included on the 2000 DVD, but has been re-done here in HD. As such, all of the still photographs and artwork looks even better! Interviews were done in SD, so they are presented "windowboxed".  This featurette takes a good look at the adaptation of the novel (as well as the changes made for the film), the casting, and some of the challenges of the production - including the circumstances of the tragic death of famed Mexican actor Pedro Armendáriz ("Ali Kerim Bey").  Interviews with many of the key players, as well as lot of archival photographs, are included.   "Harry Saltzman: Showman"" (HD) is a 26-minute look at the very successful producer who helped bring Bond to the big screen.  Finally, the archival "Dr. No 1963 featurette" (SD) is included, running 8.5-minutes.  The quality is grainy, dirty and scratchy, but it\'s novel to see how EPKs were handled nearly 50-years ago.
Ministry of Propoganda: The "Theatrical Archive" (7.5-min) includes the "Original Theatrical Trailer: S.P.E.C.T.R.E" (HD), "Bond: Back to Back" (SD), and "The Biggest Bond Sale of All" (SD).  Like the spots on Dr. No, it\'s too bad they couldn\'t include these in HD (aside from the theatrical trailer) but I suppose it was just easier to go to the video sources already transferred previously instead of digging back into the vault.  1.5-minutes of "TV Broadcasts" includes three television spots, and 1.5-minutes of "Radio Communication" includes three radio spots for From Russia with Love.
Image Database: An extensive still-frame image database is included in HD, although the photos don\'t seem to take up more room than a SD feature would have.  Broken down into "The Filmmakers", "Ian Fleming", "Portraits", "Pinewood", "Dressed to Kill", "Lovely... Lovely", "Tatiana Meets Rosa Klebb", "Istanbul", "The Gypsy Camp", "The Orient Express", "Scotland", "Rats!", "Smoke on the Water", "The Lost Scene", and "Around the World with 007" (posters).  The highlight again is "The Lost Scene", which shows stills from an abandoned scene involving Bond being followed a Bulgarian agent.  Too bad they didn\'t find the footage for the scene and include it on the disc as an extra!
On Blu-ray, James Bond has never looked or sounded better, and one of the best Connery Bond films, From Russia with Love is excellent.  With a healthy heap of extras (sans the Criterion commentary), it\'s a mandatory inclusion in any film enthusiast\'s collection. Now they just need to bring on Goldfinger!
Missing Information?
If any information appears to be missing from this page, contact us and let us know!