Movie Information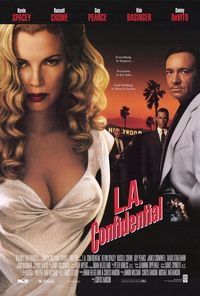 L.A. Confidential
Released: September 19, 1997
Movie Purchasing Links
2-Disc Special Edition:
DVD
Review: L.A. Confidential (Blu-ray)
by Dan Goldwasser
September 28, 2008
4 / 5 Stars
1997\'s L.A. Confidential, based on the novel by James Ellroy, is a great film noir about the distance between illusion and truth in 1950\'s Los Angeles as seen through the eyes of three police officers.  Bud White (Russell Crowe) is a cop with a violent temper who constantly breaks the rules, and when his ex-partner is found killed (along with a bunch of other folks) at the Nite Owl Cafe, he is determined to get to the bottom of the case.  In the process, he clashes with do-gooder Sergeant Ed Exley (Guy Pierce), who was partly responsible for getting Bud\'s partner fired, by testifying against him in the Bloody Christmas scandal).  We also follow Sgt. Jack Vincennes (Kevin Spacey), who consults on a successful television show, "Badge of Honor", and provides dirt to gossip rag editor Sid Hudgeons (Danny DeVito) in exchange for kickbacks.  Vincennes\' investigation start to reveal ties to the Nite Owl massacre, and somehow in the middle of it all is high-priced call-girl Lynn Bracken (Kim Basinger), who White starts to fall for.
A great detective mystery, L.A. Confidential is the type of movie that holds up with repeated viewings; each time something new is revealed and a little more of the mystery becomes clearer.  It\'s a wonderful ensemble piece, showcasing solid acting by (then unknowns) Guy Pierce and Russell Crowe, and is arguably one of Kim Basinger\'s best performances.  Director Curtis Hanson\'s depiction of Los Angeles in the 1950s is honest and realistic, showing the sleazy undercoating that existed beneath the polished veneer.
Video for the Blu-ray release is decent, but not mind-blowingly amazing.  For a ten year-old film, parts of the movie look a bit softer than I would have expected, but for the most part it has good color balance and crisp imagery.  Sometimes, though, it feels as if the film grain brings out a bit of the compression on the disc.  Audio is much better though, with an excellent sound field allowing dialogue to be presented cleanly and crisply, and Jerry Goldsmith\'s wonderful noir-ish score sounds great.  It\'s still a rather front-heavy sound mix, with limited use of the surrounds, but it sounds pretty solid, and Warner Bros has seen fit to include not only a 5.1 Dolby Digital English track, but also an English Dolby TrueHD track, French, Quebec French, German, Italian, Castellan, and Spanish. Whew - that\'s a lot of audio options, but it\'s dwarfed by the fourteen different subtitle choices!
Released originally on DVD in 1998, the new Special Edition DVD and Blu-ray includes all of the extras from the previous release as well as a very respectable amount of new extras.  First and foremost is the new ensemble commentary track featuring film critic Andrew Sarris, producers Arnon Milchan and Michael Nathanson, original novelist James Ellroy, costume designer Ruth Myers, screenwriter Brian Helgeland, production designer Jeannine Oppewall, editor Peter Honess, director of photography Dante Spinotti, and finally actors Russell Crowe, Kevin Spacey, Guy Pearce, James Cromwell, David Strathairn, Kim Basinger and Danny DeVito. Notably missing is director/screenwriter Curtis Hanson, and while it remains a mystery as to why he isn\'t included, the truth is that there is so much information gleaned from this excellent commentary that it almost doesn\'t matter.  (That being said, it would have been really nice to have a second commentary just by Hanson running solo, but I digress.)  Nearly every aspect of the production is covered, including development, screenplay adaptation, production, editing, and plenty of talk about the way the film effectively evoked the style of Los Angeles in the 1950s, including the use of songs and Jerry Goldsmith\'s excellent Oscar-nominated film score.
Pulled over from the original DVD release (and a nice inclusion on Blu-ray) is Jerry Goldsmith\'s original score on an isolated audio track, in full 5.1 Dolby Digital.  Other previously released extras include three television spots and the theatrical trailer, as well as a promo for the song soundtrack.  (Both the Blu-ray and DVD releases include an additional CD disc, containing a sampler of six songs heard in the film.)  "Off the Record" is a "vintage" (i.e. filmed in 1998) 19-minute long collection of interview bits (including Curtis Hanson) talking about the film and the project, and "Photo Pitch" is a re-creation of Hanson\'s original studio pitch that he gave the producers and the cast.  Running 8.5-minutes long, it\'s a neat collection of photos from the era that helped evoke the style of the film that Hanson was trying to convey.  Also ported over is "The L.A. of L.A. Confidential", a collection of vignettes exploring the various locations in Los Angeles that were used for filming.  For the Blu-ray release, the interactive map has been updated and is presented in HD, but the video (like the other re-purposed extras) is still in 4x3 standard definition. 
All new for the Special Edition DVD and Blu-ray are a handful of hearty featurettes. "Whatever You Desire: Making L.A. Confidential" is a 30-minute exploration of the making of the film.  Featuring archival footage as well as new interview footage, it overlaps the commentary track, but provides some nice additional insight into some aspects of the production.  The 21-minute "Sunlight and Shadow: The Visual Style of L.A. Confidential" is a great piece that discusses the set design, costumes, cinematography and cinematic influences on the film. It\'s an excellent piece, and well worth seeing.  Casting is explored in the 24.5-minute long "A True Ensemble: The Cast of L.A. Confidential), and the challenges of adapting the complex novel to the screen - as well as a discussion of the changes between the two - are looked at in "L.A. Confidential: From Book to Screen", which runs 21-minutes.  That\'s over 90-minutes of new making-of material, and it\'s all presented in 16x9 standard def video.
But that\'s not all.  Finally, the original 2000 television pilot "L.A. Confidential" (starring Keifer Sutherland) is included.  Running 46.5-minutes long, the pilot appears to take place prior to the events in the film, and look like it would have been a rather interesting television show to watch. Unfortunately, it never got picked up and was un-produced.  Much like the "Black Bart" pilot on the Blazing Saddles release, it\'s really great that Warner Bros. has seen fit to include it here, for historical purposes.
L.A. Confidential lost to Titanic for the Academy Award for Best Picture of 1997, but it certainly deserved the recognition and acclaim that is has received.  Over ten years later, the movie still holds up, with a compelling story, intriguingly flawed characters, and a great soundtrack.  With a sizeable and impressive amount of new extras, you can retire your old DVD and confidently make the upgrade to the new release.
News &amp Articles
Missing Information?
If any information appears to be missing from this page, contact us and let us know!