Soundtrack Information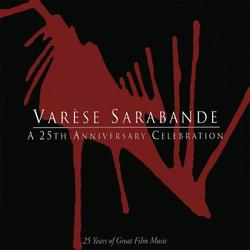 Varese Sarabande: A 25th Anniversary Celebration
Varese Sarabande (302 066 460 2)
Release Date: 2003
Format: CD
Purchase Soundtrack
Track Listing
Disc 1: Varese Sarabande: A 25th Anniversary Celebration
1.
The Man From Snowy River (Bruce Rowland) - End Title
3:54
2.
The Winds of War (Bob Cobert) - Main Title
2:22
3.
Blue Velvet (Angelo Badalamenti) - Mysteries of Love
2:09
4.
Witness (Maurice Jarre) - Building the Barn
4:57
5.
Raising Arizona (Carter Burwell) - Way Out There
1:54
6.
Pee Wee's Big Adventure (Danny Elfman) - Breakfast Machine
2:36
7.
Halloween (John Carpenter) - Theme
2:54
8.
A Nightmare on Elm Street (Charles Bernstein) - Main Title
3:33
9.
The Fly (Howard Shore) - Finale
2:49
10.
Robocop (Basil Poledouris) - Rock Shop
3:42
11.
The Empire Strikes Back (John Williams) - The Imperial March
3:20
12.
The Right Stuff (Bill Conti) - Yeager's Triumph
5:11
13.
The Final Conflict (Jerry Goldsmith) - Main Title
3:26
14.
The Abyss (Alan Silvestri) - Bud on the Ledge
3:13
15.
Brainstorm (James Horner) - Michal's Gift to Karen
6:48
16.
Peggy Sue Got Married (John Barry) - Peggy Sue's Homecoming
3:25
17.
My Left Foot (Elmer Bernstein) - Mother
3:37
18.
The Dead (Alex North) - The Story of Michael Furey
2:58
19.
Stanley & Iris (John Williams) - Stanley and Iris
3:25
20.
The Milagro Beanfield War (Dave Grusin) - Theme
3:57
21.
Driving Miss Daisy (Hans Zimmer) - End Titles
4:51
Disc Time:
75:01
Disc 2: Varese Sarabande: A 25th Anniversary Celebration
1.
Steel Magnolias (Georges Deleure) - Suite
8:06
2.
Unforgiven (Lennie Neihaus and Clint Eastwood) - Claudia's Theme
5:41
3.
Raggedy Man (Jerry Goldsmith) - Main Title
3:34
4.
The Grifters (Elmer Bernstein) - The City
3:34
5.
Green Card (Hans Zimmer) - Silence
4:03
6.
City Slickers (Marc Shaiman) - Main Title
2:40
7.
Father of the Bride (Alan Silvestri) - Main Title
2:27
8.
While You Were Sleeping (Randy Edelman) - A Happy Ending
2:20
9.
Babe (Nigel Westlake) - This is a Tale...
1:47
10.
The Adventures of the Great Mouse Detective (Henry Mancini) - Main Title
1:38
11.
The Adventures of Robin Hood (Erich Wolfgang Korngold) - Main Title / Coronation Procession
4:42
12.
The Young Indiana Jones Chronicles (Laurence Rosenthal) - Peking 1910: An American Thanksgiving - A Chinese Adventure
5:56
13.
The Secret Garden (Zbigniew Presiner) - Colin Opens His Eyes
2:00
14.
A Little Princess (Patrick Doyle) - The Good-bye
4:19
15.
Rudy (Jerry Goldsmith) - Main Title
3:34
16.
Iron Will (Joel McNeely) - Main Title
2:57
17.
Memphis Belle (George Fenton) - The Final Mission
3:53
18.
Eye of the Needle (Miklos Rozsa) - Finale and Epilogue
3:19
19.
Total Recall (Jerry Goldsmith) - The Dream
3:33
20.
Back to the Future Part III (Alan Silvestri) - End Credits
4:02
Disc Time:
74:05
Disc 3: Varese Sarabande: A 25th Anniversary Celebration
1.
To Die For (Danny Elfman) - Main Titles
4:10
2.
The Player (Thomas Newman) - The Player
3:06
3.
Black Robe (Georges Delerue) - Suite
4:49
4.
Medicine Man (Jerry Goldsmith) - The Trees
6:01
5.
2001 (Alex North) - Space Station Docking
2:21
6.
Star Wars: Shadows of the Empire (Joel McNeely) - Xizor's Theme
4:37
7.
The Crow (Graeme Revell) - Birth of a Legend
6:17
8.
Blade (Mark Isham) - Intruder
4:50
9.
The Omen (Jerry Goldsmith) - Ave Satani
2:31
10.
Vertigo (Bernard Herrmann) - Prelude and Rooftop
4:39
11.
Scream (Marco Beltrami) - Sydney's Lament
1:37
12.
The Sixth Sense (James Newton Howard) - De Profundis
2:21
13.
Xena: Warrior Princess (Joseph LoDuca) - Main Title
1:15
14.
Air Force One (Jerry Goldsmith) - The Parachutes
5:21
15.
Starship Troopers (Basil Poledouris) - Klendathu Drop
4:29
16.
The Matrix (Don Davis) - Main Title / Trinity Infinity
3:53
17.
The Iron Giant (Michael Kamen) - The Eye of the Storm
2:27
18.
You've Got Mail (George Fenton) - Empty Store
2:49
19.
A Little Romance (Georges Delerue) - Main Title
3:12
20.
Pleasantville (Randy Newman) - Real Rain
4:31
Disc Time:
75:16
Disc 4: Varese Sarabande: A 25th Anniversary Celebration
1.
Sunset Boulevard (Franz Waxman) - Prelude
3:50
2.
L.A. Confidential (Jerry Goldsmith) - Bloody Christmas
2:51
3.
Rounders (Christopher Young) - Rounders
3:46
4.
The Score (Howard Shore) - Main Title
3:49
5.
The Replacements (John Debney) - The Replacements Remix
5:48
6.
Gone in 60 Seconds (Trevor Rabin) - The Last Car
4:47
7.
The Bourne Identity (John Powell) - Drum and Bass Remix
2:14
8.
Rush Hour 2 (Lalo Schifrin) - Main Title
2:21
9.
XXX (Randy Edelman) - Prague Arrival
1:52
10.
Die Hard (Michael Kamen) - Gruber's Arrival
3:47
11.
The Last of the Mohicans (Trevor Jones) - Main Title
1:51
12.
Moby Dick (Christopher Gordon) - Moby Dick Theme
2:05
13.
The Mists of Avalon (Lee Holdridge) - Morgaine's Journey
6:25
14.
Cleopatra (Alex North) - Main Title
2:51
15.
Life as a House (Mark Isham) - If I Could Kiss You
3:37
16.
Emma (Rachel Portman) - Emma
2:55
17.
In The Bedroom (Thomas Newman) - End Title
4:21
18.
Cast Away (Alan Silvestri) - End Credits
3:44
19.
One True Thing (Cliff Eidelman) - One True Thing
2:18
20.
Unfaithful (Jan A.P. Kaczmarek) - Unfaithful
2:35
21.
Far From Heaven (Elmer Bernstein) - Autumn in Connecticut
3:08
22.
Ice Age (David Newman) - Opening Travel Music
1:15
23.
Shrek (Harry Gregson-Williams and John Powell) - Transformation / The End
3:26
Disc Time:
Total Album Time:
75:36
299:58
Related Albums
RobocopVinyl Edition Limited to 3,000 Units
Milan Records

Released: July 17, 2015

Formats: CD, Digital, Vinyl (56 min)

The Right StuffLimited Edition of 3,000 Copies
Varese Sarabande Club (VCL 0609 1095.2)

Released: June 29, 2009

Formats: CD, Digital, Vinyl (37 min)

UnfaithfulVarese Sarabande (302 066 356 2)

Released: 2002

Format: CD (44 min)

ShrekDreamWorks Records (0044-50305-2)

Released: May 15, 2001

Formats: CD, Digital (40 min)

Total RecallThe Deluxe Edition
Varese Sarabande (302 066 197 2)

Released: 2000

Format: CD (71 min)

EmmaHollywood Records (MH-62069-2)

Released: July 30, 1996

Formats: CD, Digital (43 min)

Black RobeVarese Sarabande (VSD 5349)

Released: 1991

Format: CD (37 min)

Raggedy ManLimited Edition of 1,500 Copies
Varese Sarabande Club (VCL 9101.7)

Released: 1991

Format: CD (34 min)

RobocopVarese Sarabande (302 066 429 2)

Released: Unknown

Format: CD (42 min)

Air Force OneExpanded Bootleg
Bootleg Album (AFO-CD 97111)

Released: 1999

Format: CD (77 min)
Review: Varese Sarabane: A 25th Anniversary Celebration
by Dan Goldwasser
June 21, 2004
4 / 5 Stars
Back in 1978, a small record label was created that over the course of the next 25 years, would set the standard for film soundtrack releases.  That label, Varèse Sarabande, has released hundreds - if not thousands - of soundtracks since its conception.  Now, to celebrate this wondrous anniversary, the good folks at Varèse have put together a four disc compilation highlighting their many releases.
Many tracks from their big releases are included here: The Omen, Total Recall, Robocop, Halloween, The Empire Strikes Back, Sunset Boulevard, Emma, The Last of the Mohicans, City Slickers, and more.  It would be redundant to list them all here, but just know that there are tracks from 84 soundtracks here on this set.  As such, there are plenty of scores missing that couldn't be included - a shame, but practicality needs to intervene at some point.
While including plenty of well-known soundtrack cues, there are also some more obscure titles that you might not be familiar with that make a welcome appearance here: The Winds of War, Raggedy Man, A Little Romance, Moby Dick, The Dead, Eye of the Needle and others.  It's clear from listening to this album that it is not intended for the film score collector at heart - rather, it's aimed at a more generalized listening audience, to expose them to the wide variety of film music styles that are out there, and that Varèse has to offer.
It is this variety that has seemingly helped determine the sequencing of the album.  It's not organized by genre (although there are certainly moments where that appears to be the case).  Rather, it was organized in such a way that the listening flow is never interrupted abruptly, and each track segues quite nicely into the next.  Kudos to the person(s) who was tasked with that job!  The ability to smoothly from Pee Wee's Big Advenure into Halloween, then Nightmare on Elm Street, The Fly, and end up at Robocop just before hopping into The Empire Strikes Back takes a level of skill and foresight that is rather remarkable.
There are nearly five hours of music presented here, on four albums.  It has plenty to offer any listener, whether they be a casual film music fan, or a die-hard fanatic.  It's the perfect album to give as a gift to someone who you want to be exposed to film music.  You might even discover some new gems, and then make it a goal to seek out the regular Varèse release.  (I know I have!)  Here's to the past 25 years with Varèse, and here's to 25 more!
Missing Information?
If any information appears to be missing from this page, contact us and let us know!