Movie Information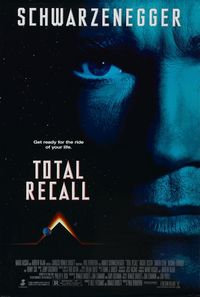 Total Recall
Released: June 1, 1990
Song Credits
"Mutant Dancing"


"Running Out of Air"
"Rubble Cit"
Written and Performed by BRUNO LOUCHOUARN
PRODUCED BY JOE LAMONT
PUBLISHED BY LYGON ST. MUSIC & BARNEY SUE MUSIC
Review: Total Recall (Blu-ray)
by Dan Goldwasser
August 12, 2012
4 / 5 Stars
Back in 1990, Arnold Schwarzenegger was riding high, after less than a decade of box office dominance that started with Conan the Barbarian and The Terminator and carried him through Commando, Predator, Raw Deal, Red Heat and more. He was the king of the action film—and he hadn't even done Terminator 2: Judgment Day yet. But a new science fiction film would help carry him into the '90s—Total Recall. Written by Ronald Schusett and Dan O'Bannon (Alien) with John Povill, the film is loosely based on the Philip K. Dick short story We Can Remember It For You Wholesale, and helmed by RoboCop director Paul Verhoeven.
Douglas Quaid (Schwarzenegger) is a construction worker who is plagued by dreams of Mars and a brunette woman. He asks his wife, Lori (Sharon Stone), to go on a trip to Mars. She would rather go somewhere on Earth to help with his stress because Mars is dealing with a revolt between Cohaagen (Ronnie Cox), the governor of Mars Colony who controls the air, and the rebels led by their mysterious leader, Kuato. After seeing a commercial for "Rekall"—where they implant the memories of a vacation experience in your head—Quaid thinks that a virtual Mars trip might be the best way to go to get the need out of his system. But something goes wrong, as apparently Quaid had already had his memory wiped and implanted with a new one. Suddenly, Quaid finds himself thrust into the middle of the revolt and finding out what the hell is going on requires him to go to Mars. There he meets the mysterious brunette from his dream, Melina (Rachel Ticotin), who just might hold the key to his identity, while trying to outrun Cohaagen and his second-in-commnd, Richter (Michael Ironside).
Total Recall is a delightfully fun, but exceptionally violent (for its time) film. Schwarzenegger gets some great one-liners in and, because of the way the story unfolds, there are plenty of hints to keep you guessing whether or not the whole thing is real or is a dream. Like he did with RoboCop, Verhoeven gives the film a few satirical tongue-in-cheek moments before the whole thing turns into an orgy of violence, enhanced by some Oscar-winning visual effects and on-set animatronics. Adding to the whole experience is Jerry Goldsmith's score, a thematic orchestral score with synth elements that still provides some great adrenaline-pumping moments. Is the whole movie a dream, or is it real? It's ultimately an unanswered question, but it's one hell of a ride and stands up as one of Schwarzenegger's better films.
It's been 22-years since the film came out and now a new remake is slated to hit the screen. That means that it's time for Total Recall to be dusted off and given the proper treatment on Blu-ray with a new transfer and a decent amount of extras (some old, some new).
The old release (which I didn't even bother to pick up) reportedly was dark, grainy, dirty and muddled. For this new release, dubbed the "Mind-Bending Edition," Lionsgate went back to the original camera negative and the visual results are excellent. The image is sharp and fine detail is easy to pick out in the frame. Jost Vacano's uniform set lighting creates that slightly artificial quality which Verhoeven was going for (also evident in RoboCop and Starship Troopers) and thankfully the blacks aren't crushed, allowing us to see the detail in the shadows. There is also a nice fine patina of grain over the whole film, which is quite natural and welcome. With the prevalent red hues that dominate the exteriors of Mars, there are a few instances where the color balance seems a bit off (slightly purplish in one shot, then back to red in the next) but those moments are few and far between. For a film that is over twenty years old, this is easily the best Total Recall has looked on home video.
Audio is presented in three flavors of DTS-HD Master Audio 5.1: English, French and German. Interestingly, the DTS-HD ES 6.1 track from the old Blu-ray was scrapped, but the results are still the same. The first half of the film is a predominantly front-heavy film, with almost no discernible use of the surround sounds, even in the music. Once the film gets to Mars, and the action starts to kick up a bit, the rear speakers get a bit more use. Through the whole film, dialogue is cleanly presented in the front center channel and, by keeping it there, we get to clearly hear some great Arnie moments during the bigger action sequences ("Melina, RUN!"). Also benefitting from this 5.1 audio track is Jerry Goldsmith's powerhouse score, which never feels overwhelmed by the sound effects.
For this re-release on Blu-ray, Lionsgate brings us some—but not all—of the old 2001 "Special Limited Edition DVD." Missing are the "Rekall's Virtual Vacations" and "Visions of Mars" featurettes, as well as the "Visual Storyboard Comparisons," "Conceptual Art," "Cast & Crew Biographies," "Production Notes" and "Theatrical Teaser." But don't worry, we still get a few oldies-but-goodies. First up is the (now infamous) commentary track with director Paul Verhoeven and actor Arnold Schwarzenegger talking about the film. The two men have a great chemistry, and their reminiscing about the film is enjoyable and informative, with the exception of Arnold's uncanny ability to describe to us what is going on on-screen. Imagining Total Recall (SD, 31-minutes) is a 2001 documentary that gives us a pretty in-depth look at the making of the film, replete with behind-the-scenes photos and footage, interviews with the cast and crew, and more. It's a shame it's so short, but in that brief amount of time we do get a fairly comprehensive overview of how Total Recall came about. But don't worry, we have a lot of new stuff that will help fill in some of the gaps!
First up, we have a new "Interview with Paul Verhoeven" (HD, 35-minutes) where the director looks back (even further) at the film and talks about the problems with the script when he came on board, how they tried to solve the issues of the third act, the challenges faced making the movie, and more—all as he walks the tightrope of whether or not it was all real or a dream, and supplemented with some film footage and behind-the-scenes material. "Models and Skeletons: The Special Effects of Total Recall" (HD, 23-minutes) looks back at the Oscar-winning visual effects with Miniature Effects Co-Supervisor Mark Stetson talking about the massive miniature sets they built for Mars and CGI Director Tim McGovern talking about the groundbreaking work they did on the skeleton X-ray sequence. It's all fascinating stuff, especially the anecdote about the motion capture session and Arnold's wardrobe. Sadly, makeup master Rob Bottin and his amazing work on the film isn't covered, mentioned or shown. I guess that's the main difference between visual effects and on-set work. Also, new to the Blu-ray is a short vintage "Making Of Featurette" (SD, 8.5-minutes) and a "Restoration Comparison" (HD, 5-minutes) which shows some before/after comparisons between the scanned negative and the final color-corrected result. We also get a ported-over short "Photo Gallery" (HD, 1-minute) and a rather horribly marketed "Theatrical Trailer" (SD, 2-minutes).
It might have been 22 years since it hit theaters and became a huge success, but Total Recall doesn't seem to have aged much. There are a few moments where the visual effects are clearly dated, but the energy of the film, the mystery of the story and the sheer fun of it all still holds up quite well today. With a new and much improved transfer, a decent audio presentation, most of the old supplements (as well as some interesting new ones) and a hard-to-beat price, picking up this new Blu-ray is highly recommended.
Missing Information?
If any information appears to be missing from this page, contact us and let us know!