Movie Information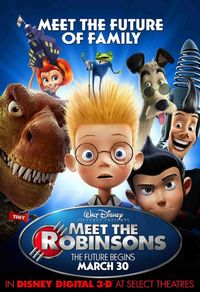 Meet the Robinsons
Released: March 30, 2007
Movie Purchasing Links
Review: Meet the Robinsons
by Dan Goldwasser
October 22, 2007
3 / 5 Stars
Meet the Robinsons has the odd fortune of being one of Walt Disney Animations only full 3D computer animated features that has nothing to do with Pixar. It was, however, slightly tweaked a bit after Disney bought the computer animation giant, with the legendary John Lasseter taking on an executive producer roll. In the film, Lewis is an orphan who is very smart and always creating inventions. Constantly getting passed up on adoption is starting to get to him, so he wants to seek out his biological mother - but no one has seen her since she left him by the orphanage door. But Lewis saw her, so he decides to create an invention that will allow you to recall any memory by punching in the date and time. Makes sense, no? But there are darker forces at work - forces from.... the future! And Will Robinson shows up to help Lewis - in the process, bringing him to the future where Lewis discovers a family that he could feel right at home with. It\'s a fun movie, definitely for the kids. The animation is solid, but not groundbreaking, and there are plenty of little winks-and-nods to other sci-fi and Disney projects. Ultimately it\'s a story about a boy trying to find a family, and it\'s touching if just a tad schmaltzy.
On DVD, the image is perfect - it\'s compressed from the original digital files, so there is no film artifacting at all. Colors are vibrant and the image is crisp. Audio is presented in 5.1 Dolby Digital English, French and Spanish, and is nicely immersive. The DVD is a single-disc edition, and while it might not qualify as a "Special Edition" by any means, there are a quite a few bonus features. Most notably is the feature-length commentary with director Stephen Anderson (himself an orphan), during which the recording is occasionally interrupted by Bowling Hat Guy, who is "breaking through" the transmission. It\'s amusing, but actually takes away opportunities for Anderson to speak more about the filmmaking process. He touches on all aspects of the film, from story development, casting, animation, music, and more. Much of what he discusses is also presented in the 17-minute featurette, "Inventing the Robinsons", except we can now see what he was referring to, and hear from other people as well. On the music side, they do talk with composer Danny Elfman and show footage of the scoring sessions, and talk about the his involvement with All American Rejects to record the original song "The Future Has Arrived" for the film.
There are two music videos: Rob Thomas\' "Little Wonders", and Jonas Brothers\' "Kids of the Future", some deleted scenes that extend a few character moments in the film, and a little featurette on "Inventions that Changed the World". For the kids, a trivia game ("Family Function 5000 Game") is also included. Trailers finish off the package, and overall it\'s a rather solid non-"Special Edition" DVD release.
Missing Information?
If any information appears to be missing from this page, contact us and let us know!