Movie Information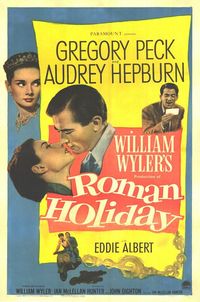 Roman Holiday
Released: 1953
Movie Purchasing Links
Special Centennial Collection:
DVD
Special Collector's Edition:
DVD
Review: Roman Holiday (Centennial Collection DVD)
by Dan Goldwasser
November 18, 2008
4 / 5 Stars
1953\'s Roman Holiday introduced actress Audrey Hepburn to the world.  The William Wyler romantic comedy follows the royal princess Ann (Hepburn) during her European tour. While in Rome, she tires of her official duties and after being given a sedative by her physician, sneaks out of the embassy to explore the city on her own.  But soon the sedative kicks in, and she encounters American reporter Joe Bradley (Gregory Peck) while trying to sleep on a park bench. Refusing to take money for a cab, Joe ends up bringing her to his home to recover.  The next day, Joe goes to work leaving Ann asleep at his place. It is there that he discovers her identity when he sees a picture of her, and he makes a bet with his editor that he can get an exclusive with the Princess. As Joe and Ann experience all aspects of Rome, Ann never reveals her identity to him - and soon they fall in love, but it is not to be, for she is still a Princess.  There\'s a bittersweet ending to the film, but Roman Holiday is a fun journey that showcases not only the wonderful historical locations, but also an inaugural performance by Hepburn that merited an Academy Award.  It\'s a classic film, and has now been restored and released as part of Paramount\'s "Centennial Collection" in a 2-disc set.
The image quality of the film is quite good.  It\'s been restored and cleaned up by Lowry Digital, and the black and white has some nice detail.  It\'s not a dark film, and black levels aren\'t purely solid, but overall it\'s a nice transfer.  The audio is presented in mono, and feels limited to the mid/high range, with very little bass.  Dialogue is relatively clear, but it\'s not an audio track that will stand out as anything other than ordinary.
Starting off the slew of supplemental extras on the second disc is "Audrey Hepburn: The Paramount Years" (30-minutes). This documentary looks at the rise of untrained (Dutch!) actress Audrey Hepburn, and his amazing global influence on perceptions of Hollywood glamour and fashion. Done "Biography" style, it\'s a fascinating look at her life, from her training to become a ballerina, her struggles during World War II, her random meeting of playwright Collette, which thrust her on the stage in the lead role of Gigi, to her being cast in Roman Holiday for which she received an Academy Award for her first film.  The rest of the documentary focuses on the films Hepburn did for Paramount Pictures, through to her humanitarian efforts in her later years.  It\'s a cursory look at her life, but it\'s very well presented in a candid and insightful manner.  "Remembering Audrey" (12-minutes, 16x9) is a touching tribute to the actress, with her friends and family recounting their favorite moments with her, and is supplemented with archival and personal photographs.  "Rome with a Princess" (9-minutes) is a travelogue featurette that takes us through the various locations seen in the film, with a little spattering of history about the locales as well. 
"Dalton Trumbo: From A-List to Blacklist" (12-minutes) is a short but interesting look at the original author of Roman Holiday who found himself blacklisted in the mid 20th century, as one of the "Hollywood Ten" who testified before Congress.  "Restoring Roman Holiday" (7-minutes) is a look at the work that Paramount did in 2002 to restore the film with Lowry Digital, and includes some before/after comparisons.  "Behind the Gates: Costumes" (5.5-minutes, 16x9) is a brief and tantalizing look at the expansive costume department at Paramount Pictures.  Many classic wardrobe moments are touched upon (quickly and briefly) and this could have been a more extensive and immersive piece - but it\'s quite interesting stuff.  "Paramount in the \'50s" (9.5-minutes) is a look at the rather impressive array of films that the studio released in that pivotal decade when television started to erode at the audience base.  Finally, three theatrical trailers (in less-than-pristine condition) are included, as well as four photo galleries ("Production", "The Movie", "Publicity", "The Premiere").
Roman Holiday is a fun free-spirited romantic comedy that thrust Audrey Hepburn into immediate stardom.  This is one of the best debut films out there for any actor or actress, and with a clean presentation and healthy range of supplements, the new Centennial Collection edition is worth adding to your classic films section of your home video library.
Missing Information?
If any information appears to be missing from this page, contact us and let us know!