Movie Information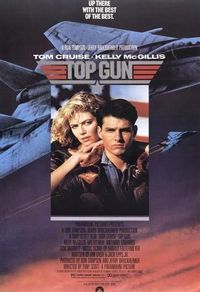 Top Gun
Released: May 16, 1986
Song Credits
"DANGER ZONE"


By Giorgio Moroder & Tom Whitlock
Performed By Kenny Loggins
Produced by Giorgio Moroder
Kenny Loggins courtesy of CBS Records

"LEAD ME ON"


By Giorgio Moroder & Tom Whitlock
Performed by Teena Marie
Produced By Giorgio Moroder
Teena Marie courtesy of CBS Records

"HOT SUMMER NIGHTS"


By Michael Jay, alan Roy Scott & Roy Freeland
Performed By Miami Sound MAchine
Produced By Emilio Estefan, Jr. & Giorgio Moroder
Miami Sound Machine courtesy of CBS Records

"HEAVEN IN YOUR EYES"


By John Dexter, Paul Dean, Mike Reno & Mae Moore
Performed By Loverboy
Produced By Paul Dean & John Dexter
Loverboy courtesy of CBS Records

"TOP GUN ANTHEM"


By Harold Faltermeyer
Performed by Harold Faltermeyer & Steve Stevens
Produced by Harold Faltermeyer
Steve Stevens courtesy of Warner Bros. Records Inc.

"MIGHTY WINGS"


By Harold Faltermeyer & Mark Spiro
Performed By Cheap Trick
Produced By Harold Faltermeyer
Cheap Trick courtesy of CBS Records

"PLAYING WITH THE BOYS"


By Kenny Loggins, Ina Wolf & Peter Wolf
Performed By Kenny Loggins
Produced By Peter Wolf
Kenny Loggins courtesy of CBS Records

"TAKE MY BREATH AWAY"


By Giorgio Moroder & Tom Whitlock
Performed by Berlin
Produced By Giorgio Moroder
Berlin courtesy of Geffen Records and Phonogram B.V.

"DESTINATION UNKNOWN"


By Franne Golde, Jake Hooker & Paul Fox
Performed by Marietta Waters
Produced by Harold Faltermeyer

"THROUGH THE FIRE"


By Giorgio Moroder & Tom Whitlock
Performed by Larry Greene
Produced by Giorgio Moroder
Larry Greene courtesy of Camel/MCA Records, Inc.

"RADAR RADIO"


By Giorgio Moroder & Tom Whitlock
Performed by Giorgio Moroder featuring Joe Pizzula
Produced by Giorgio Moroder

"GREAT BALLS OF FIRE"


By Jack Hammer & Otis Blackwell

"(SITTIN' ON) THE DOCK OF THE BAY"


By Otis Redding & Steve Cropper
Performed by Otis Redding
Courtesy of Atlantic Recording Corporation
by arrangement with Warner Special Products

"YOU'VE LOST THAT LOVIN' FEELING"


By Barry Mann, Cynthia Weil & Phil Spector
Performed by The Righteous Brothers
Courtesy of PolyGram Special Projects, A Dvision of PolyGram Records, Inc.
Review: Top Gun (Blu-ray)
by Dan Goldwasser
July 27, 2008
3.5 / 5 Stars
When it came out in 1986, Top Gun helped propel Tom Cruise's stardom even further into the stratosphere. Produced by Don Simpson and Jerry Bruckheimer, and directed by Tony Scott, the film starred Cruise as Pete "Maverick" Mitchell, a cocky Navy fighter pilot who goes to the elite US Navy Fighter Weapons School (a.k.a. Top Gun). While there, he and his partner Nick "Goose" Bradshaw (Anthony Edwards) strike up a rivalry with Tom "Iceman" Kazanski (Val Kilmer) and Ron "Slider" Kerner (Rick Rossovich). Maverick ends up falling for his female civilian instructor, Charlotte "Charlie" Blackwood (Kelly McGillis). While he lives under the shadow of his dad (who died in a classified accident), Maverick stumbles his way through the school, breaking some of the rules and ultimately leading to a disaster that affects him to his core—hopefully changing him in the process.
Top Gun was one of those films that, when it came out, was very well received both by critics and fans alike. The movie made over $350 million worldwide, but if the question of how well it aged twenty years later comes up, the answer is... not so well. Not that it's not an enjoyable film—it's got a kind of kitsch quality to it. It's just that when looking at the movie in the context of the past two decades of film making, it doesn't have the same level of excitement as it once had. The dialogue comes off as incredibly cheesy and the overt slow-motion stuff seems like over-glorified showboating. The action sequences are just close-ups of the actors intercut with models or second unit footage (a trick that Michael Bay uses to excess, especially in The Rock). The Kenny Loggins songs feel like they're from a bygone era and Harold Faltermeyer's score feels overworked at times. Berlin's Oscar-wining "Take My Breath Away" feels overplayed even though it's not used that much. Still, there's a fun quality to the film that makes it an enjoyable watch and the Blu-ray release lets you do so in luxury.
Released back in 2004 as a "Special Edition" DVD, the HD-DVD release didn't have any of the extras included, but now the Blu-ray release makes up for that by providing nearly everything from the DVD and a few new goodies as well. First up is the transfer, which seems to be the same one used for the HD-DVD. Showcasing the filtered shots, natural looking lighting and strong saturation, the image of the disc looks very film-like. It's got a bit of grain, which adds to the presentation, and overall it's a very good image. Surpassing all expectations is the audio. Not only does it have an English 5.1 Dolby True HD track and French/Spanish 5.1 Dolby Digital tracks, but it also includes an English 6.1 DTS Master Audio track. The audio pulls you in and, during some of the dogfighting sequences, punches you in the gut with the roar of the engines through the subwoofers. Dialogue is clear and general ambience is well established. Overall, a reference quality track for a catalog title.
The supplements are pretty solid as well. First up is a spliced-together commentary with producer Jerry Bruckheimer, director Tony Scott, screenwriter Jack Epps, Kr., and three technical advisors on the film. It's a rather technical commentary, focusing more on the flight training and aerial sequences, and less on the film making process. Still I found it to be an interesting track, well worth checking out. A six-part documentary "Danger Zone: The Making of Top Gun" runs nearly 2.5 hours long and should tell you pretty much everything you'd need to (or want to) know about the film. The six areas covered are Pre-Production, Production: Land and Sea, Production: Air, Visual Effects, The Music of Top Gun, and Release and Impact. It's all very well assembled and most of the major participants in the film show up here (notably missing are Anthony Edwards and Kelly McGillis). It's not a truly honest look at the film, since everyone seems to be touting its major successes and overlooking the problems with it, but the music featurette (running 20-minutes long) discusses how Harold Faltermeyer got the job and had the theme for the movie before he started shooting, how Kenny Loggins came on, and even Berlin's involvement. It's a very well done segment with all of the major music players.
Two multi-angle scenes are presented with storyboards, so you can compare the before-and-after of the scenes, with Tony Scott providing commentary. The "Vintage Gallery" area actually has four music videos, seven TV spots, a six-minute "Behind the Scenes" featurette and an eight-minute "Survival Training" featurette. A seven-minute gathering of "Tom Cruise Interviews" give a glimpse of the actor's experience on the film.
Finally, as a Blu-ray disc exclusive, a nearly 30-minute documentary "Best of the Best: Inside the Real Top Gun" gives us a neat behind-the-scenes look at the real facility, with actual footage from the school. Missing from the disc is the Production Photography still gallery, which was on the original DVD release, and the theatrical trailer is still AWOL—an odd and frustrating omission. Still, Top Gun has never looked or sounded better on home video and if you have the DVD, it's well worth the upgrade.
Trailer Music Used From
Theatrical Trailer
"Playing with the Boys" Top Gun (1986) - Kenny Loggins
"Top Gun Anthem" Top Gun (1986) - Harold Faltermeyer & Steve Stevens
First song played in the background of the trailer for about 30 seconds.
"Danger Zone" Top Gun (1986) - Kenny Loggins
Fourth song played in trailer from about 1:26 until the end of the trailer.
"Stranger Eyes" - The Cars
Played throughout the original theatrical trailer. See: http://www.youtube.com/watch?v=qAfbp3YX9F0
"Might Wings" Top Gun - Cheap Trick
Second song played from about 0:30 to 1:10.
"Lead Me On" Top Gun (1986) - Teena Marie
Third song played in trailer from about 1:12 to 1:26.
Missing Information?
If any information appears to be missing from this page, contact us and let us know!