Direct to Video Information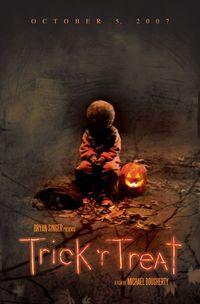 Trick 'r Treat
Type: Direct to Video
Released: October 6, 2009
Credits
director

Michael Dougherty
Movie Purchasing Links
Review: Trick 'r Treat (Blu-ray)
by Dan Goldwasser
October 24, 2009
3.5 / 5 Stars
Anthology films have a special place within the vast and varied horror genre.  While they might be a bunch of unrelated stories like in Creepshow and Tales from the Darkside, the idea of multiple storylines intertwined with each other can certainly make a movie fun, allowing for a bit of variety within a single film.  In the case of Trick 'R Treat, director/writer Michael Dougherty's film homage to all aspects of Halloween, the four distinct stories are all interconnected, and not everything is what it seems.
After a pre-title sequence in which a woman who doesn't care for the holiday is effectively dispatched, we follow four different groups of people on the same Hallolween night, in a small town in Ohio.  There's the school principal, Steven (Dylan Baker) who has secret life as a serial killer.  College virgin Laurie (Anna Paquin) is pressured by her friends into finding the "right guy" for her first time.  A group of teenagers decide to pull a prank on the neighborhood loner, involving the legend of the Halloween Schoolbus Massacre.  And finally, the reclusive Mr. Kreeg (Brian Cox) is stalked by a menacing trickster.  In each of these stories, all of which take place around the same time, and while presented separately are interwoven through various characters appearing in both, not everything is what it seems, and there are a lot of twists in store.  The varying aspects of Halloween as a holiday - from malicious tricks, poisoned treats, costumes, urban legends, pumpkin carving and more - are all integrated into the storylines, creating quite the homage to the darkest of holidays.  Tying all of these stories together is a mysterious and creepy character, Sam (Quinn Lord), who seems to represent the spirit of the holiday more than anything else.
Shot with the intention of being released theatrically, Trick 'R Treat had a lot of trouble getting the theatrical release it deserved, and after playing some film festivals to much acclaim, was ultimately relegated to direct-to-video status.  The higher budget certainly makes the film look and sound great, though, and all of the money is on screen.  Released by Warner Premiere, Trick 'R Treat is not a long film (it clocks in at about 82-minutes, with credits) and not groundbreaking, but it was entertaining and had that rare but effective combination of scares and laughs.  The interweaving aspects of the story reminded me a bit of Pulp Fiction, and given the usual tiresome glut of torture-porn movies that tend to pass as "horror" films these days, it was certainly refreshing to see a film that focused more on the stories and characters, and less on the effects.  It's definitely a throwback to the 1980s.
The Blu-ray of Trick 'R Treat sports a very solid transfer.  There is a little bit of grain, adding to the natural film qualities of the movie.  Some of the exterior scenes were shot on a soundstage, and you wouldn't know that, courtesy of the solid cinematography.  Sound is presented as English Dolby True HD 5.1, as well as French and Spanish Dolby Digital 5.1 tracks.  It's not the most immersive of tracks, but does an effective job balancing the dialogue, sound effects, and Douglas Pipes' thematic underscore.
Extras on the DVD are non-existent, and but the Blu-ray features a nice selection of treats.  First up is the feature-length commentary track with writer/director Mike Dougherty, concept artist Breehn Burns, storyboard artist Simeon Wilkins, and composer Douglas Pipes.  It takes a little time for the track to get going, but once things start heating up, it makes for a fun and informative track.  Trick 'R Treat was certainly a labor of love for Dougherty, and his enthusiasm and trivia nuggets come across excitedly in the commentary.
A behind-the-scenes featurette, "Trick 'R Treat: The Lore and Legends of Halloween" (SD 16x9, 27.5-minutes) is a nice combination of making-of material, combined with a look at the historical aspects to the various origins of Halloween traditions.  Narrated by Brian Cox, it's filled with behind-the-scenes footage, interviews, and while it might dip its toe into the EPK fluff area at times, it still works as a very well done piece.
"Additional Scenes" (SD 16x9, 17-minutes) provides us with a bunch of extended and alternate scenes, most of which were cut down for time and pacing.  Dougherty provides an alternate comedy which explains his reasoning for what was different, or why things were trimmed.  "Trick 'R Treat: Season's Greetings" (SD, 4-minutes) is the original 1996 animated short that Dougherty created while in college, and is the first appearance of the "Sam" character. It's a moody and dark animated holiday card, and an optional commentary track is included as well.   Finally, a short "School Bus FX Comparison" (SD 16x9, 1-min) is a quick look at the film's biggest visual effect shot, of the school bus going over the quarry edge.  A second disc, with Digital Copy is also included.
It might seem a little light on extras, but between the feature commentary and behind-the-scenes featurette, viewers will certainly get a sense of what it was like for the cast and crew working on the film.  Given the subject matter and high quality of the production, Trick 'R Treat should have been released in theaters around Halloween - in 2007, when it was supposed to be.  It's a shame that it was dangled for two years before being released on home video, but now people finally have a chance to see this fun and entertaining film - it just might become a tradition to watch it every fall.
Missing Information?
If any information appears to be missing from this page, contact us and let us know!