Movie Information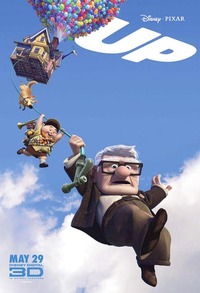 Up
Released: May 29, 2009
Song Credits
[No songs credited, though a song called 'The Spirit of Adventure' is played over the closing credits after much score is played (sounds like a recording from 40s or earlier)]
Review: Up (Blu-ray)
by Dan Goldwasser
November 11, 2009
4 / 5 Stars
Ah, Pixar! It seems that they can do no wrong. Even their weakest films are generally leagues ahead of most studio features, and it all comes down to one thing: story. Yes, that's right, story. If they can get you crying with storyboards and pencil sketches, then it doesn't matter how technically proficient their films are. And yet, they manage to push the boundaries of technology every single time. No exception is their tenth feature film, Up, which has grossed well over $650 million so far.
Directed by Pete Docter, the film concerns Carl Fredricksen (Edward Asner), who spent his whole life with his adoring wife Ellie (Elizabeth Docter) planning on being adventurous and taking a trip to Paradise Falls in South America, in the footsteps of their hero, Charles F. Muntz (Christopher Plummer). Muntz was an adventurer in the 1930s, but after bringing back a skeleton of a 13-foot tall bird, was dismissed as a fraud. He then vanished when he vowed to prove he was not a liar.
Carl and Ellie live a happy life, working their jobs at the zoo. Unfortunately, they are unable to have children, and life keeps getting in the way of them being able to save up enough money to take their much desired trip. When Ellie passes away, Carl is all alone, and the world around him has grown tall and modern - and a land developer wants to buy his house to build a skyscraper. Grumpy and just wanting to live his life in peace, Carl is annoyed when Wilderness Explorer Russell comes calling, wanting to "help the elderly" to get the last badge he needs. So he sends him on a fool's errand, and believes that he has seen the last of Russell.
After an incident where Carl is remanded to the Shady Acres Retirement Home, he decides to escape to Paradise Falls instead - by filling up thousands of helium balloons, and floating his house there. Once he's airborne, however, he discovers that Russell has stowed away on the porch, and soon the two embark on an epic journey that will take them to Paradise Falls. But they aren't alone there - defrocked explorer Charles F. Muntz and his league of talking dogs are still there in search of a living specimen of the the mystical 13-foot tall bird, and vow to stop anyone from stealing their discovery.
What follows in the next 90 minutes is a delightful journey and the growth of a heartwarming relationship between a bitter old man and an exuberant kid who just wants to help. With the added humor of Kevin (the large 13-foot bird), and the lovable talking dog Dug (Bob Peterson), Up is a delight from start to finish. It's also the first Pixar film presented in 3D, but there are no gimmicky effects to show it off - instead, it's just a natural part of the film. Michael Giacchino's uplifting and emotional score is pleasant and (like all of the Pixar films he scores) has a nice jazzy end title sequence.
Up might not be considered one of the best Pixar films, but it's got a solid storyline, great memorable characters (I'm still convinced that Carl is based on my old high school Geometry teacher Mr. Newberry), a dastardly villain, some great comedic moments, and some wonderful heartwarming parts as well. In all, it's a really good film, and definitely worth seeing.
Released on Blu-ray, Up sports a spectacular and stunning reference-quality digital transfer.  Colors are vibrant, darks are detailed yet solid, and the crispness of the image makes it feel like it might leap off the screen.  Released theatrically in 3D in some locations, Up never tries to be too gimmicky with depth, but instead has a very subtle use of depth of field to let the viewer enjoy the scenic vistas.  Audio is presented in DTS-HD Master Audio 5.1 English, and like most of the Pixar films, is a wholly immersive and engaging experience.  From the creaking and warm sounds in Carl's home to the cracking thunder of the storm sequence, to the dynamic sounds of the South American jungles , to the crystal clear dialogue to the energetic orchestral score, the audio in Up is a winner.  Also included are optional French and Spanish Dolby Digital 5.1 tracks, and a rather interesting inclusion of a DTS-HD Master Audio 2.0 English track, as well as a "English Descriptive Video Service".
Supplements on the disc are pretty extensive, and it's great that Disney and Pixar are embracing Blu-ray so fervently.  First up is the commentary track, which is also available via the Cine-Explore feature.  The latter is the best way to watch the film, since it provides supplemental artwork, behind-the-scenes footage, and photographs  in pop-up windows as the commentary plays.  Featuring director Pete Docter and co-director Bob Peterson, this track is immensely informative and engaging. Every detail, from the story and character development, to the casting, animation production challenges, and more, are all explored.  A nice amount of time is also spent discussing the importance of Michael Giacchino's musical score, and some additional behind-the-scenes footage from the scoring sessions are shown in the Cine-Explore feature.
Next up are two animated short films.  "Partly Cloudy" (HD, 6-minutes) was the heartwarming short film shown before Up about a baby-delivering stork, and his rather challenging relationship with his cloud.  "Dug's Special Mission" (HD, 4.5-minutes) is a new short featuring the loveable Dug, giving us a little back-story as to how he came to meet Carl and Russell during his hunt for Kevin.  "Adventure is Out There" (HD, 22-minutes) is a very interesting look at the trip that the Pixar team took to Venezuela to do research for the film, and shows how accurate their location scenes were in mimicking the real-life counterparts.  "The Many Endings of Muntz" (HD, 5-minutes) is a quick look at the problems the filmmakers faced with how to dispatch of the film's villain, and a few different ways they explored getting rid of him.  I did find one easter egg, "The Egg" (HD, 2-minutes), which explores a possible motivation that Muntz had for hunting Kevin.  The BD-Live functionality of the disc was finally activated, and if you have a Profile 2.0 compliant Blu-ray player, as well as an internet connection, you can access and download a few promotional trailers for various Disney products; there is nothing unique or exclusive to the Up Blu-ray.
The second disc contains the rest of the extras.  In the "Documentary" section, we find seven featurettes on various aspects of the film.  "Geriatric Hero" (HD, 6.5-minutes) looks at the character development for Carl, and how animating an elderly person was a different type of challenge for the animators.  "Canine Companions" (HD, 8.5-minutes) explores the different dogs in the film, with a primary focus on Dug and Alpha, and even talks a bit about the psychology of canines.  "Russell: Wilderness Explorer" (HD, 9-minutes) looks at the loveable kid in the film, and how his character evolved during the development of Up.  "Our Giant Flightless Friend, Kevin" (HD, 5-minutes) is a look at the bizarre fictional bird, and all the different ideas of what he was, from a mythical being with magic powers, to being a missing link between birds and humans.  "Homemakers of Pixar" (HD, 4.5-minutes) looks at the amazing amount of detail and technology that went into creating Carl's home.  "Balloons and Flight" (HD, 6.5-minutes) explores the animation challenge they faced with simulating thousands of balloons (and rendering them to look proper).  Finally, Michael Giacchino's touching score is examined in "Composing for Characters" (HD, 7.5-minutes), which had previously been released accompanying the iTunes Digital Download of the film's score.
"Alternate Scene: Married Life" (HD, 9-minutes) explores the challenge that the filmmakers faced with the opening sequence in the film, with the montage of married life.  It's a well done piece that talks about the various influences the sequence had, and this longer alternate sequence delves into a few discarded plot points.  "Up Promo Montage" (HD, 6-minutes) is a collection of character vignettes that are entertaining, but with little explanation seems a bit random.  Still, like WALL-E playing with different items, it's a nice showcase for the animators.   A "Global Guardian Badge Game", powered by BD-Live, lets kids test their geography skills, and finally a selection of two "Worldwide Trailers" (HD, 4.5-minutes) are included, rounding out the extras.  The 4-pack release comes with an additional standard definition DVD of the film, and a Digital Copy.
Up looks and sounds spectacular on Blu-ray. It's a charming and affecting storyline that provides both a solid emotional arc, and a dash of exciting adventure.  While the supplements felt like they were missing the artwork galleries that I've come to expect from Pixar releases, there are still a good number of supplements that nicely delve into the behind-the-scenes process of bringing the project together. It's a delightful film and well worth adding to your growing movie collection.
News &amp Articles
Missing Information?
If any information appears to be missing from this page, contact us and let us know!