Walt Disney Records Announces 'Incredibles 2' Soundtrack
JUNE 15, 2018 | Submitted by Walt Disney Records / Soundtrack.Net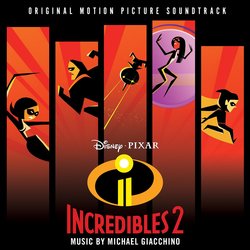 Oscar-winning composer Michael Giacchino returns to the world of the Incredibles with a new score for Disney•Pixar's Incredibles 2. The original motion picture soundtrack, with music composed and produced by Giacchino, will be released by Walt Disney Records today. The film opens in U.S. theaters on June 15, 2018.
The Incredibles has a very special place in Giacchino's heart as it was the composer's first film score. Giacchino and writer/director Brad Bird have collaborated on 5 film scores since 2004.
According to Brad Bird, Giacchino is remarkably versatile. "Michael is a musical chameleon," says Bird. "He has many styles at his disposal. In many ways, he is a fellow imaginer or an actor who's playing a part in the movie."
Having established the now-familiar musical flavor in The Incredibles, Giacchino chose not to revisit the first score in order to take a fresh approach. Giacchino said "Brad and I knew we were going to use the main theme of course, but I still wanted it to have a different vibe while it stayed in the same vein and character." His inspirations for the score included Henry Mancini, John Barry and Hoyt Curtin.
In addition to writing themes for Elastigirl and new characters, the composer-turned-songwriter also created end-credit jingles featuring theme songs for Mr. Incredible, Elastigirl and Frozone.
The soundtrack features cues from Giacchino's score, plus the jingles. The digital version also features bonus tracks, including versions of the jingles by Disney Music Group's new a cappella group, DCappella, as well as "The Glory Days" from the original soundtrack.
Newsletter
Enter your e-mail address to receive weekly soundtrack and film score news: