Hollywood Records Announces 'We Have to Go Back: The LOST Concert' Album
NOVEMBER 15, 2019 | Submitted by Disney Music / Soundtrack.Net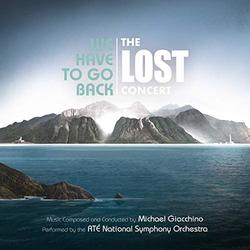 Hollywood Records is pleased to present a live recording of Michael Giacchino's concert performance of his music for the hit television show Lost, in celebration of the 15th anniversary of the show's premiere. The digital album is available today at streaming services and the Mondo/Hollywood Records vinyl version, We Have To Go Back: The Lost Concert (LIVE) 3XLP, is available at MondoTees.com. The vinyl was mastered by Patricia Sullivan at Bernie Grundman Mastering and is pressed on 3X 180 gram colored vinyl (SRP $50).
Recorded live in Dublin, Ireland in the summer of 2019, Michael Giacchino conducted a performance by the world renowned RT… National Symphony Orchestra, playing 18 selections from six seasons of music from Lost.
The vinyl album features liner notes by showrunners Carlton Cuse and Damon Lindelof, composer Giacchino, and writer Tim Grieving.
From the liner notes, Cuse and Lindelof said, "In the scripts, we would simply write—'The Giacchino kicks in.' Our not so subtle way of saying it was time for emotion. Fear. Excitement. Anger. Love. All the things that are difficult to describe with words.†And so, Michael went to work, adding his magic and indelible creative mark to the show. What Michael did was nothing short of alchemy.† His music didn't just elevate Lost, it came to define it."
Giacchino said, Lost ended up being one of the purest versions of me musically. I was able to explore divergent feelings; there were moments of madness and fear, tempered by hope and peace. I was able to play with both melodic and atonal sounds, reacting to the characters that I had grown to love with all their flaws over the six seasons of the show. As we recorded the episodes week to week, it became quite clear that we were part of an extraordinary global experience. This winding journey of redemption and new beginnings had touched people all over the world."
Newsletter
Enter your e-mail address to receive weekly soundtrack and film score news: