TV Series Information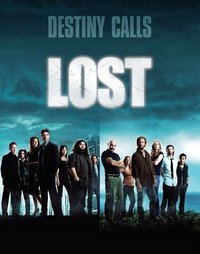 Lost
Type: TV Series
Released: September 22, 2004
Credits
Review: Lost: The Complete Third Season (DVD)
by Dan Goldwasser
December 16, 2007
3 / 5 Stars
Not since "Gilligan\'s Island" has there been such a great set of castaways as the ensemble on "Lost". J.J. Abrams, Jeffrey Lieber and Damon Lindelof\'s twist-filled drama on ABC about a group of air crash survivors finished its third season this past spring, and now a seven disc DVD set is available, with all of the episodes as well as plenty of extras. The season gave us a lot more insight into the world of the "Others" on the island, a bit more information about the insidious nature of the Dharma Initiative, and of course, plenty of flashbacks with the various lead characters that provided more insight into who they really are. It took a while to get all that though - the season started off rather slow, with more questions being asked than answered.
Episodes seemed to come and go without anything truly progressing, with much of the focused on Jack (Matthew Fox), Kate (Evangeline Lilly) and Sawyer (Josh Holloway), who were being held captive by the "Others". We even had the much-despised "Paulo and Nicky" episode which had absolutely nothing to do with the main story arc, and felt like a Twilight Zone episode stuck into a show that itself was like a Twilight Zone episode. But then around the halfway point (reportedly once it was decided that the show would have an ending after three more 16-episode seasons), things started getting better. More information was coming at a faster pace, and old questions that had been lingering were finally being answered. This is also not a casualty-free season, as many cast members play out their final moments on screen, not to return next season (unless in flashback form, of course). It left us with quite a cliffhanger, and while it was a somewhat rocky season, "Lost" regained its footing at the end.
The DVD release of the season is subtitled "The Unexplored Experience", and features some solid extras. The video quality (downconverted from the 720p high definition broadcast) is quite good, with the 16x9 enhanced image looking well saturated and balanced. Audio is presented in Dolby Digital 5.1 English, Spanish and French, as well as an English Dolby Digital 2.0 track. It\'s not the most immersive sound mix on television, but it\'s all about the story, right? There are only four episodes that contain commentary tracks from such folks as producer Damon Lindelof, writers Carlton Cuse, Adam Horowitz and Edward Kitsis, actors Elizabeth Mitchell, Evangeline Lilly, Josh Holloway and Michael Emerson. The first commentary (on the episode "Tale of Two Cities", with Lindelof and Mitchell) doesn\'t really give you much information, but then you get a commentary like the one on "Man Behind the Curtain" (with Lindelof, Cuse and Emerson) which provides a lot of good details on the show\'s process and development.
The last disc contains all the extra supplements, which starts out with the most annoying menu setup: you have to click on a television monitor (unlabeled of course), and then you\'re taken to a static image which you then have to click "enter" again, and then the menu items show up. It\'s not the most intuitive interface, and it would have been better just to have an index of the extras.
"Lost on Location" runs almost an hour, and is a great look at the filming of a few key sequences from 10 of this season\'s episodes. Lots of B-roll footage, stunts, visual effects, and story spoilers abound, so be sure to watch it only after you\'ve seen the season. "Crew Tribute with Evangeline Lilly" is a 7-minute segment that highlights the different crew members that work on the production. "Lost in a Day" is about half-an-hour long, and gives us a pretty in-depth look at what goes into making an episode, during a singular 24-hour period. At that point, multiple episodes are in different points in the production cycle, and we get to see story development, production preparation, location shooting, editing, post-production, visual effects, and more. They even visit composer Michael Giacchino in his studio as he works to compose music for an episode. It\'s a great featurette, one that I wish more television shows (and films) would consider doing.
"The World of the Others" is a 14-minute long featurette that looks at the second cast on the show, the "Others". With the third season, we learn a lot more about this gang of characters, and this piece explores a bit about them. "Terry O\'Quinn: Throwing from the Handle" is a quick piece that shows the actor rehearsing a knife throw for an episode. A 6.5-minute long "Blooper Reel" features a lot of actors flubbing lines, which can be entertaining once, but isn\'t likely to be viewed more than that.
"The Lost Flashbacks" contain three deleted flashbacks that were removed from the broadcast versions of the show, and give a little more insight into Locke, Sun and Jin, and Paolo and Nicky\'s stories. Additionally, there are 18-minutes worth of "Deleted Scenes", filling in some more gaps in the storyline. "The Orchid Instructional Film" is the complete (2.5 minutes) version of the fake instructional video from the Dharma Initiative seen in the show.
"The Lost Book Club" talks about the hidden meaning behind the placement of several books within the show, and runs 8-minutes long. "Cast in Clay" is a 5-minute PR piece looking at the work McFarlane Toys did with creating the action figures for "Lost", and this is followed by another PR piece on the upcoming Ubisoft "Lost" video game (but it doesn\'t really show us game play footage).
Finally, "Sneak Peeks" includes the usual Walt Disney Home Video trailers for upcoming releases, including The Game Plan, "Brothers and Sisters: Season One", "Grey\'s Anatomy: Season Three", "Ugly Betty: Season One", "What About Brian: Seasons One and Two", "Desperate Housewives: Season Three", and... tucked away at the very end - a sneak preview for Season Four of "Lost", which doesn\'t show much, but will get you excited for it anyways.
The third season had some ups and downs, but thankfully it ended on a pretty solid note. The DVD release is enjoyable, looks and sounds good, and has a decent amount of behind-the-scenes extras. It should be enough to keep you satisfied until Season Four starts up in February 2008.
Missing Information?
If any information appears to be missing from this page, contact us and let us know!