Soundtrack Information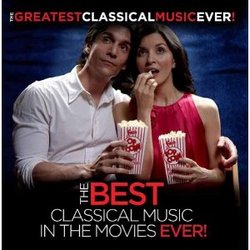 Best Classical Music in the Movies Ever!
Release Date: September 18, 2012
Format: CD
Music From
Purchase Soundtrack
Track Listing
1.
Star Wars (Main Theme from Star Wars)
2.
14. Scene (Moderato). - Swan Lake, Op.20, Act II
3.
3. In the Hall of the Mountain King - Peer Gynt - Incidental Music (1998 - Remaster)
4.
Cavatina
5.
My Heart Will Go On (Love Theme from the movie Titanic)
6.
Clair de Lune (from Suite Bergamasque)
7.
O Fortuna. - Carmina Burana (1997 - Remaster)
8.
Schindler's List - Theme
9.
Nocturne in C sharp minor/cis-moll/en ut dièse mineur, Op. posthume
10.
Theme From E.T. (The Extra-Terrestrial)
11.
II. Allegretto. - Symphony No. 7 in A, Op.92
12.
II. Adagio cantabile. - Piano Sonata No. 8 in C Minor, Op.13 'Pathétique' (1990 Digital Remaster)
13.
Also sprach Zarathustra, Op. 30 (opening)
14.
Lacrimosa. - Mass No. 19 in D Minor, K.626 'Requiem'
15.
'Ode to Joy' from Symphony No. 9 in D minor 'Choral', Op.125
16.
Adagio for Strings, Op.11
17.
Nessun dorma. - Turandot (Act III)
Track lengths not available for this album. If you have track length/time information for this album, please e-mail it to us at mail@soundtrack.net and we will add it to the database.
Missing Information?
If any information appears to be missing from this page, contact us and let us know!