Soundtrack Information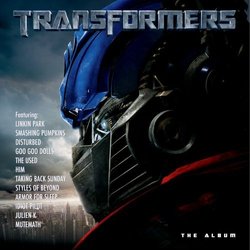 Transformers: The Album
Warner Bros. Records (220348-2)
Release Date: July 3, 2007
Formats: CD, Vinyl
Music From
Purchase Soundtrack
Track Listing
| | | |
| --- | --- | --- |
| 1. | "What I've Done" - Linkin Park | 3:25 |
| 2. | "Doomsday Clock" - Smashing Pumpkins | 3:44 |
| 3. | "This Moment" - Disturbed | 3:05 |
| 4. | "Before It's Too Late (Sam and Mikaela's Theme)" - Goo Goo Dolls | 3:05 |
| 5. | "Pretty Handsome Awkward" - The Used | 3:35 |
| 6. | "Passion's Killing Floor" - H.I.M. | 5:14 |
| 7. | "What's It Feel Like to Be a Ghost?" - Taking Back Sunday (Not in Film) | 3:43 |
| 8. | "Second to None" - Styles of Beyond feat. Mike Shinoda | 3:07 |
| 9. | "End of the World" - Armor For Sleep (Not in Film) | 4:01 |
| 10. | "Retina and the Sky" - Idiot Pilot (Not in Film) | 3:37 |
| 11. | "Technical Difficulties" - Julien-X | 4:22 |
| 12. | "Transformers Theme" - MuteMath (Not in Film) | 2:46 |
| | Total Album Time: | 43:44 |
Review: Transformers: The Album
by Mike Brennan
August 7, 2007
2.5 / 5 Stars
Most blockbuster action or superhero films these days release a soundtrack of music inspired by the film that I generally find useless in regard to the actual soundtrack of the film. The best of these, in recent years and in my opinion, was Daredevil, which featured not only songs I liked, but songs that were both used in the film and worked well with the subject of the film. For example, the two songs by Evanescence, which supported the character of Elektra, and also happened to launch the rock group\'s career. The Transformers rock album, while not quite as good as Daredevil, also has a number of good songs, and also ones that were featured in the Michael Bay-directed film. Also like Daredevil, the album features the song used in the film\'s trailer, Linkin Park\'s "What I\'ve Done", which opens the album. The nature of the Transformers album is the same as the one release along with the 1986 movie, featuring the rock songs used in it.
Of the 12 songs on the album, 8 were used in the film. However, a second choice a studio makes when compiling a soundtrack album is how much cash they want to fork out for new material, or use songs that appear on already-released albums by the artists. For Transformers, we get a mix. Disturbed provides a new track, "This Moment", which is a good song for fans of that group\'s most recent album. The Goo Goo Dolls, of course, wrote a new song for the film, "Before It\'s Too Late", which is used as the love song. This is not a new sound for the group, but is a solid rock ballad. On the other hand, the producers pulled a number of songs from recent rock albums which, in addition to Linkin Park, include The Used and Smashing Pumpkins. However, more songs are new than not. Two other notable tracks are featured on the album, which includes "Second to None" by Styles of Beyond featuring Mike Shinoda, of Linkin Park. Fans of them will like this one. And finally is MuteMath\'s new version of the Transformers Theme, made popular by Lion for the 1986 animated film. Unfortunately, this new version, muddled with weird electronic sounds, does not stand up to the original. While this soundtrack album stands above most "Music Inspired By" song albums, it is tailored to fans of new rock.
Missing Information?
If any information appears to be missing from this page, contact us and let us know!