Movie Information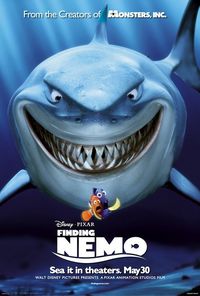 Finding Nemo
Released: May 30, 2003
Credits
director

Andrew Stanton

director

Lee Unkrich
Song Credits
"The Girl from Ipanema"


WRITTEN BY Antonio Carlos Jobim, Vinicius De Moraes and Norman Gimbel

"Fandango"


WRITTEN BY Bob Bain

"Psycho (The Murder)"


Written by Bernard Herrmann

"Beyond the Sea"


WRITTEN BY Charles Louis Trenet, Albert Lasry and Jack Lawrence
Performed by Robbie Williams
COURTESY OF EMI RECORDS
UNDER LICENSE FROM EMI FILM & TV MUSIC
Review: Finding Nemo (Blu-ray)
by Dan Goldwasser
January 28, 2013
4.5 / 5 Stars
Marlin the clownfish (voiced by Albert Brooks) is a single father to his young son Nemo (Alexander Gould), having raised him after his wife and their other eggs were killed in a barracuda attack. Nemo has one fin smaller than the other due to his egg being damaged during the attack. It's been a source of embarrassment for him and a constant reminder to Marlin of the tragic day. It's now Nemo's first day of school and Marlin—the over protective father—ends up embarrassing his son during their field trip. Upset, Nemo defies his father's wishes and swims to an anchor chain beyond the reef and is suddenly captured by some divers. Stunned, Marlin chases after his only child, but can't keep up and loses the boat. Distraught, he bumps into Dory (Ellen DeGeneres), an upbeat regal blue tang who suffers from short-term memory loss and the two begin a journey to find Nemo, who has been placed in an aquarium tank at a dentist's office.
Directed by Andrew Stanton (Wall-E, John Carter), Finding Nemo was Pixar's fifth feature film, and by then they had truly started to become a force to be reckoned with in Hollywood. The film is engaging on an emotional level and is truly a great film. Brooks' portrayal as the parent franticly searching for his missing son is empathetic and yet humorous. DeGeneres is perfect as the flighty Dory and the variety of characters they encounter on their journey keeps the film moving along at a steady clip, while the story grows in depth. Again, it's Pixar's dedication to crafting a solid story that makes the end result as good as it is.
Last fall, Disney released Finding Nemo in theaters for a limited theatrical run in 3D, prior to its debut on Blu-ray. Traditionally, any movie that contains as many subtle color gradients as Nemo would be riddled with banding and compression issues. Amazingly enough, the Blu-ray transfer was clearly done with so much care and attention that it rarely (if ever) becomes a noticeable problem. While blue is the obvious predominant color in the film, the imagery is filled with all the colors of the rainbow and all of them look downright gorgeous. Fine detail is exquisite and contrast is deep but never crushing in the blacks. Once again, Disney and Pixar have delivered a reference quality release.
Also reference quality is the audio presentation, which starts out with a Dolby TrueHD 7.1 English mix—about as immersive and engaging as one would expect from Pixar. Clear dialogue is nicely centered, and excellent ambient atmospherics keep the surround speakers engaged, fully immersing the viewer beneath the sea. Low-end is deep, giving your subwoofer some nice work, and Thomas Newman's excellent Oscar-nominated score is presented with great respect and prominence.
Released as a five-disc "Ultimate Collector's Edition," Finding Nemo comes to Blu-ray with a 3D Blu-ray disc, two Blu-rays (2D version of the film and bonus features), a DVD version of the film, and a Digital Copy disc. One starts to wonder when Disney will join Ultraviolet, since the use of a disc for a digital copy seems so very 2010. For those who don't get the "Ultimate" release, the 3-disc version contains just the 2D-Blu-ray, the Bonus Blu-ray, and the DVD version of the film. All of the extras are the same.
The 2D disc starts off the bonus features with the "Knick Knack Theatrical Short" (HD, 4-min), one of the early Pixar shorts done in 1989 about a snowman in a snow globe and his quest to join a mermaid, backed solely by a Bobby McFerrin track. Unfortunately, this is still the 'kid-friendly' modified version, which differs cosmetically from the original 1989 version. The "Cine-Explore" feature lets you watch the film with a modified version of what sounds like 2003 commentary track by director Andrew Stanton, co-director Lee Unkrich, and co-writer Bob Peterson, accompanied by a picture-in-picture experience of storyboards, animation tests, behind-the-scenes footage, and more. Unfortunately, you can't listen to the commentary without the PIP track.
The "Finding Nemo: A Filmmaker's Roundtable" (HD, 17.5-min) is a new featurette where director Andrew Stanton is joined by co-director Lee Unkrich, co-writer Bob Peterson, producer Graham Walters, production designer Ralph Eggleston, and technical lead Oren Jacob to talk about their favorite memories making the film. Great anecdotes are shared and archival footage is integrated to help illustrate some of the stories, including a funny deleted line by DeGeneres. "Reinventing the Submarine Voyage" (HD, 15-min) looks at the history of the original 1959 Disneyland Submarine Voyage ride, and how it was modernized into a Nemo-themed attraction. A "Deleted Scene: Alternate Opening" (HD, 3-min) is presented via storyboards and concept art, with an introduction by Stanton. Finally, "A Lesson in Flashbacks" (HD, 8-min) features Stanton discussing how he had developed a whole flashback structure for Marlin throughout the film to build his character, and how it started to cause problems and what he ultimately did to solve it.
The "Bonus Disc" starts out with "Aquariums," where you can choose from six different looping screensavers. (There are also two more, one on the 3D disc, and the second on the 2D disc.) "Art Review" (HD, 8.5-min) shows a large variety of concept artwork from the film, featuring commentary by production designer Eggleston, character art director Ricky Nierva and shading art director Robin Cooper. "Making Nemo" (SD, 25.5-min) is a solid behind-the-scenes look at the making of the film, donein 2003 for the Collector's Edition DVD. Everything from the story and character development, research, animation technology, how the Pixar team would blow off steam, and more are explored. Well, not quite everything; there's nothing about Thomas Newman's score or even anything about the actors and the voice casting. "Exploring the Reef" (SD, 7-min) is a quick primer on coral reefs and their threatened inhabitants, hosted by Jean-Michel Cousteau.
"Studio Tour" (SD, 5.5-minutes) features young actor Alexander Gould giving us a playful tour of the (then new) Pixar Animation Studios as he journeys to find how Finding Nemo came to life. "Old School" (SD, 10-min) brings us eight mini-featurettes: "El Capitan Pitch Selects" (Andrew Stanton's breathless story pitch), "School Progression" (a few versions of the same moment in the film over the course of its development), "MA Reference" (shows how a bunch of items in the film are actually from Andrew Stanton's childhood), "Whale Mouth" (looks at how the water simulation was developed for the inside of the whale's mouth), "International Mine" (a variety of foreign language versions of the seagulls'singular phrase), "Pelican Animation" (looks at how they animated these gangly birds), "Glenn McQueen Tribute" (a tribute to a Pixar animator who passed away during the Nemo production) and "Aquascum 2003" (a fake commercial for an aquarium tank cleaner). "Outtakes" (SD, 2-min) gives us four different funny moments from the voice recording sessions, and "Deleted Scenes" (SD, 6-min) brings us seven unused sequences, presented in storyboard format. "Publicity Pieces" brings us four trailers (in SD, sadly), as well as three promotional pieces: "Fishy Facts," "ABC Stunts," and "DVD Stunts" (quick interstitials that are amusing). Finally, "Mr. Ray's Encyclopedia" (SD, 16x9) is an interactive look at the real sea creatures featured in the film.
Missing from the Blu-ray release are a few items that were on the original 2003 Collector's Edition DVD, including the branching segments of the "Visual Commentary" (not to mention other audio bits that were dropped for the Blu-ray Cine-Explore feature), a music-only version of the "Art Review," as well as Character, Environment and Color Script galleries. It's hardly a deal-breaker, but it would have been nice for them to include it all.
Finding Nemo is an emotional film; one that takes you on an adventure beneath the sea as a father searches for his son. Coming after Monsters, Inc., it was considered yet another home-run for Pixar and holds up nearly a decade later. The Blu-ray presentation is nearly flawless and while it doesn't port over all of the extras from the 2003 DVD release, this is a Blu-ray you can safely double-dip on without any guilty feelings.
Trailer Music Used From
Theatrical Trailer
"Down Under" - Men at Work
"Beyond the Sea" - Robbie Williams
Missing Information?
If any information appears to be missing from this page, contact us and let us know!