Movie Information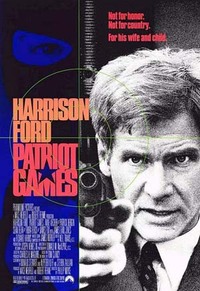 Patriot Games
Released: June 5, 1992
Review: Patriot Games (Blu-ray)
by Dan Goldwasser
August 1, 2008
3 / 5 Stars
Following up on the success of The Hunt for Red October, producer Mace Neufeld decided to go for adapting Patriot Games because it dealt more with the character of Jack Ryan (Harrison Ford, replacing Alec Baldwin) and his family. No longer a CIA analyst, Ryan and his family are on vacation in England when he finds himself in the middle of an terrorist attack on a member of the royal family by a splinter group of the IRA. Ryan intercedes, and ends up incapacitating one of the attackers, Sean Miller (Sean Bean) killing Miller's younger brother in the process. Given an honorary knighthood as a hero for saving the royals, Ryan returns to the USA—but Miller has revenge on his mind. With the help of his brethren, Miller escapes custody, and now he's after Ryan and his family.
Patriot Games was directed by Phillip Noyce, best known at the time for his work on the Australian thriller Dead Calm. Noyce brought a clean approach to the film, allowing the story to unfold in a relatively straightforward fashion. It's not really an espionage or spy movie, but there are some very well done action sequences in the film. Instead, the film focuses more on Ryan as a family man who is sucked back into the life at the CIA that he left behind, to save his family. His wife (played by Anne Archer) and daughter are sympathetic characters, and Ford's portrayal of Ryan is that of a man sucked into a situation that he would rather avoid, acting only when necessary. It's a more reflective and calmer version of the character played by Baldwin in The Hunt for Red October, with Ryan being more reactive than proactive.
Released in 2003 as a "Special Edition" DVD, the Blu-ray release of Patriot Games boasts a new HD transfer, but it's a bit of a mixed bag. At first glance, the image looks pretty good—the cinematography is appropriately bleak but clear, and there's a bit of film grain. But then you look a little closer, and you start to see some weird compression artifacting. At least, that's what I think it is. It's hard to say—some stuff looks great, other parts have speckles and dirt. It's pretty good when compared to the original DVD release, but it's hardly a transfer to show off to your friends.
Audio is presented in English 5.1 Dolby True HD, and French/Spanish 5.1 Dolby Digital. The presentation generally well done, though it lacks an immersive quality and retains more of a front-heavy soundscape. Dialogue is clean and easy to hear, especially when everyone talks in hushed tones, and James Horner's score feels nicely balanced to the sides and rears.
Like The Hunt for Red October, the only extras on the Blu-ray release are those that were found on the 2003 DVD. In the case of Patriot Games, we're not even graced with a commentary track. Instead, all we get is a 25-minute behind-the-scenes featurette, "Patriot Games Up Close", and the theatrical trailer in HD. As short as the featurette is, it's not lacking in the way of content. Mace Neufield, Phillip Noyce, Harrison Ford, Anne Archer, and many others take us through the development, pre-production, production, and some of the post-production on the film. Nothing is really said about the music. It's hardly the most in-depth exploration on Patriot Games, but something is better than nothing, and it's a pretty solid 'something.'
Patriot Games might not be the spy thriller people wanted it to be, but it's a pretty good film that focuses more on the characters, leading to a great climax. It's got a decent transfer, good audio, and a tease of extras. If you're a fan of the series, it's worth the upgrade, otherwise I'd just suggest renting it.
Missing Information?
If any information appears to be missing from this page, contact us and let us know!