Movie Information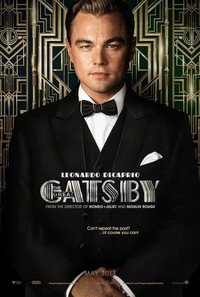 The Great Gatsby
Released: May 10, 2013
Movie Purchasing Links
2-Disc Special Edition:
DVD
Song Credits
--


Jazz age recordings by THE BRYAN FERRY ORCHESTRA

"Together"


Written by Romy Madley Croft, Oliver Sim and Jamie Smith
Licensed by Universal Music Publishing Group Pty Limited
By arrangement with Beggars Group Media Limited

"No Church In The Wild"


Written by Shawn JAY Z Carter, James Brown, Kanye West, Michael Dean, Charles Njapa, Terius Nash, Gary Wright, Phil Manzanera, Joseph Roach and Christopher Breaux
Published by (c) 2011 WB Music Corp., Carter Boys Music, Dynatone Publishing Company, Intersong-USA, Inc., Bug Music Inc, a BMG company, Please Gimme My Publishing Inc / Papa George Music, Blue Mountain Music Ltd, Universal Music MGB Ltd and 2082 Music Publishing
By kind permission of Warner/Chappell Music Australia Pty Ltd, Universal Music Publishing Group Pty Limited, EMI Music Publishing Australia Pty Limited, J. Albert & Son Pty Ltd, Hebbes Music Group Pty. Ltd
Performed by JAY Z and Kanye West, Frank Ocean and The Dream
JAY Z appears courtesy of Roc Nation
Under license from Roc Nation / RocAFella / Island Def Jam (US)
Licensed courtesy of Universal Music Australia Pty Limited

"Young and Beautiful"


Written by Elizabeth Grant and Rick Nowels
(c) 2012 EMI Music Publishing Germany GMBH / R-Rated Music. Licensed by EMI Music Publishing Australia Pty Limited.
Produced by Bryan Ferry, Rhett Davies, Colin Good and Simon Willey
Performed by The Bryan Ferry Orchestra
The Bryan Ferry Orchestra appears courtesy of BMG Rights Management (UK) Limited

"Young and Beautiful"


Written by Elizabeth Grant and Rick Nowels
(c) 2012 EMI Music Publishing Germany GMBH / R-Rated Music. Licensed by EMI Music Publishing Australia Pty Limited.
Produced by Rick Nowels
Performed by Lana Del Rey
Lana Del Rey appears courtesy of Polydor Records UK
Licensed courtesy of Polydor Records UK & Universal Music Domestic Rock/Urban
Under license from Universal Music Operations Ltd & Universal Music GmbH

"Young and Beautiful"


Written by Elizabeth Grant and Rick Nowels
(c) 2012 EMI Music Publishing Germany GMBH / R-Rated Music. Licensed by EMI Music Publishing Australia Pty Limited.
Produced by Rick Nowels, Emile Haynie, Elliott Wheeler and BLAM
Performed by Lana Del Rey
Lana Del Rey appears courtesy of Polydor Records UK
Licensed courtesy of Polydor Records UK & Universal Music Domestic Rock/Urban
Under license from Universal Music Operations Ltd & Universal Music GmbH

"Hearts A Mess"


Written by Wally De Backer, William Attaway and Irving Burgie
Published by Samples 'N' Seconds Records Pty Ltd* By kind permission of J. Albert & Son Pty Ltd* and BMG Chrysalis/Mushroom Music.

"Let's Misbehave"


Written by Cole Porter
© 1927 (Renewed) WB Music Corp.
By kind permission of Warner/Chappell Music Australia Pty Ltd
Performed by Irving Aaronson and his Commanders
Sound recording licensed by Select-Audio-Visual Distribution, a Naxos Company

"Ain't Misbehavin'"


Written by Thomas "Fats" Waller, Harry Brooks and Andy Razaf
Published by Razaf Music (ASCAP).
All rights administered by Primary Wave Music Publishing, LLC/Wixen Music Publishing, Inc
Licensed by Universal Music Publishing Australia
© 1929 EMI Mills Music Inc.
Licensed by EMI Davis Music Australia Pty Limited, Chappell & Co Inc. (ASCAP) and Redwood Music Ltd.
Administered by J. Albert & Son Pty Ltd. Used with permission.
Performed by Louis Armstrong
Licensed courtesy of Sony Music Entertainment Australia Pty Ltd

"St Louis Blues"


Written by W.C. Handy
(c) 1914 Handy Bros Music Co Inc.
Licensed by EMI Davis Music Australia Pty Limited.
Performed by Louis Armstrong
An Artist Alliance Recording, Licensed from LicenseMusic.com ApS, courtesy of Charly Acquisitions Ltd, by arrangement with CPC Music Services

"Love Is The Drug"


Written by Bryan Ferry and Andrew Mackay
Published by BMG Chrysalis/Mushroom Music and Universal Music Publishing MGB Australia
Produced by Bryan Ferry, Rhett Davies, Colin Good and Simon Willey
Performed by Bryan Ferry with The Bryan Ferry Orchestra
Bryan Ferry and The Bryan Ferry Orchestra appear courtesy of BMG Rights Management (UK) Limited

"New Orleans Bump (Monrovia)"


Written by Ferd "Jelly Roll" Morton
Published by Edwin H. Morris & Company, A Division of MPL Music Publishing, Inc. (ASCAP) and Southern Music Publ. Co. Inc
Performed by Jelly Roll Morton
Courtesy of Cleopatra Records
By arrangement with The Orchard

"Who Gon Stop Me"


Written by Shawn JAY Z Carter, Kanye West, Michael Dean, Shama Joseph, Maurice Simmonds and Joshua Kierkegaard Grant Steele
Published by © 2011 WB Music Corp., Carter Boys Music, Sony ATV Music Publishing and Please Gimme My Publishing Inc / Papa George Music, Sak Pase Music Publishing (BMI)/Sham and Verse Publishing (BMI) / BuVision Publishing (BMI)
By kind permission of Warner/Chappell Music Australia Pty Ltd, EMI Music Publishing Australia Pty Limited, and Universal Music Publishing Group Pty Limited
Produced by Shama "Sak Pase" Joseph
Performed by JAY Z and Kanye West
JAY Z appears courtesy of Roc Nation
Under license from Roc Nation / RocAFella / Island Def Jam (US)
Licensed courtesy of Universal Music Australia Pty Limited

"Bang Bang"


Written by William Adams, Sonny Bono, James P. Johnson, and Cecil Mack
Published by i.am.composing, LLC (BMI) / BMG Sapphire Songs (BMI), Mushroom Music,
(c) WB Music Corp and Redwood Music Ltd. Cotillion Music Inc., Chris-Marc Music, Cherry River Music Co.
(Samples "Bang Bang (My Baby Shot Me Down)" by Sonny Bono. Cotillion Music Inc. and Chris-Marc Music)
(Samples "Charleston" by James P. Johnson and Cecil Mack. WB Music Corp., Redwood Music Ltd.)
By kind permission of Warner/Chappell Music Australia Pty Ltd and J. Albert & Son Pty Ltd.
Contains elements of "Charleston" written by James P. Johnson and Cecil Mack.
Covered by Marco F. Ferrari on the piano, and performed by Jazz Ensemble.
Used by permission. All rights reserved.
Produced by will.i.am
Performed by will.i.am
Under license from Interscope Records (US)
Licensed courtesy of Universal Music Australia Pty Limited

"Bang Bang"


Written by William Adams, Sonny Bono, James P. Johnson, and Cecil Mack
Published by i.am.composing, LLC (BMI) / BMG Sapphire Songs (BMI), Mushroom Music,
(c) WB Music Corp and Redwood Music Ltd. Cotillion Music Inc., Chris-Marc Music, Cherry River Music Co.
(Samples "Bang Bang (My Baby Shot Me Down)" by Sonny Bono. Cotillion Music Inc. and Chris-Marc Music)
(Samples "Charleston" by James P. Johnson and Cecil Mack. WB Music Corp., Redwood Music Ltd.)
By kind permission of Warner/Chappell Music Australia Pty Ltd and J. Albert & Son Pty Ltd.
Produced by Bryan Ferry, Rhett Davies, Colin Good and Simon Willey
Performed by The Bryan Ferry Orchestra
The Bryan Ferry Orchestra appears courtesy of BMG Rights Management (UK) Limited

"A Little Party Never Killed Nobody (All We Got)"


Written by David Listenbee, Jordan Orvash, Maureen Ann McDonald, Francesca Richard, Andre Smith, Stacy Ferguson, Alexander Scott, Andrea Martin, Kamaal Fareed.
Published by GoonRock Music/ Chebra Music, administered by Kobalt Music Publishing Australia/(c) 2013 Mo Zella Mo Music, Verses of Style Publishing BMI/Notting Hill Music administered by Universal Music Publishing Australia, Dre Kroon Music, Headphone Junkie Publishing (ASCAP), EMI Music Publishing Australia Pty Limited, God's Cryin' Publishing/ Sony ATV Music Publishing (ASCAP), Songs Music Publishing LLC, Songs of SMP / U Betta Like My Music (ASCAP)
Produced by GoonRock
Performed by Fergie, Q-Tip and GoonRock
Q-Tip appears courtesy of G.O.O.D. Music/ Def Jam Recordings
Goonrock appears courtesy of Goonrock Music
Licensed courtesy of Interscope Records, a division of UMG Recordings, Inc.

"Rhapsody In Blue"


Written by George Gershwin
(c) 1924 (Renewed) WB Music Corp.
By kind permission of Warner/Chappell Music Australia Pty. Ltd.

"Over The Love"


Written by Stuart Hammond, Kid Harpoon, Aaron Foulds and Florence Welch
Published by Universal Music Publishing Ltd and Beggars Music Limited and Young Turks Publishing/Beggars Music Limited
Produced by Emile Haynie, Tom Hull and Baz Luhrmann
Performed by Florence + The Machine
Licensed courtesy of Universal-Island Records Ltd
Under license from Universal Music Operations Ltd

"Still"


Written by Lionel Richie
(c) 1979 Jobete Music Co Inc. obo itself, Libren Music and Brenda Richie Publishing. Licensed by EMI Songs Australia Pty Limited

"Izzo (H.O.V.A.)"


Written by Shawn JAY Z Carter, Kanye West, Freddie Perren, Alphonso Mizell, Berry Gordy and Deke Richards
(c) 2001 Lil Lulu Publishing / Ye World Music / Jobete Music Co Inc. Licensed by EMI Music Publishing Australia Pty Limited / EMI Songs Australia Pty Limited
Produced by Kanye West
Performed by JAY Z
JAY Z appears courtesy of Roc Nation
Under exclusive license from Island Def Jam/RAL Records (US)
Licensed courtesy of Universal Music Australia Pty Limited

"Empire State Of Mind (Pt II) Broken Down"


Written by Shawn JAY Z Carter, Alexander Shuckburgh, Sylvia Robinson, Bert Keyes, Alicia Augello-Cook, Angela Hunte and Jane't Sewell
Published by (c) 2009 WB Music Corp., Carter Boys Music, Gambi Music Inc., Global Talent Publishing. Lellow Productions / J Sewell Publishing / Masani Elshabazz Music.
By kind permission of Warner/Chappell Music Australia Pty Ltd, EMI Music Publishing Australia Pty Limited. and Fable Music Pty Ltd
Performed by Alicia Keys
Licensed courtesy of Sony Music Entertainment Australia Pty Ltd

"100$ Bill"


Written by Shawn JAY Z Carter and Evan Mast
(c) WB Music Corp., Carter Boys Music and El Pico Publishing (BMI)
By kind permission of Warner/Chappell Music Australia Pty Ltd
Produced by E. Vax
Performed by JAY Z
Licensed courtesy of S. Carter Enterprises

"100$ Bill"


Written by Shawn JAY Z Carter and Evan Mast
(c) WB Music Corp., Carter Boys Music and El Pico Publishing (BMI)
By kind permission of Warner/Chappell Music Australia Pty Ltd
Produced by Bryan Ferry, Rhett Davies, Colin Good and Simon Willey
Performed by The Bryan Ferry Orchestra
The Bryan Ferry Orchestra appears courtesy of BMG Rights Management (UK) Limited

"Where The Wind Blows"


Written by Andrea Martin, Dan Dougherty and Phil Ponce
Published by (c) God's Cryin' Publishing / Sony ATV Music Publishing (ASCAP), WB Music Corp/Redwood Music Ltd.
By kind permission of Warner/Chappell Music Australia Pty Ltd and J. Albert & Son Pty Ltd.
Contains samples from "Oh! You Have No Idea"
written by Dougherty and Ponce,
performed by Sophie Tucker,
courtesy of Jasmine Records
Produced by Andrea Martin
Performed by Coco O. of Quadron
Coco O. appears courtesy of Vested In Culture/Epic Records

"Crazy In Love"


Written by Shawn JAY Z Carter, Rich Harrison, Beyoncé Knowles and Eugene Record
(c) 2003 Carter Boys Publishing, EMI Blackwood Music Inc, Unichappell Music Inc, Beyoncé Publishing / Hitco South/ Music of Windswept, a BMG company,
By kind permission of EMI Music Publishing Australia Pty Limited, Warner/Chappell Music Australia Pty Ltd and J. Albert & Son Pty Ltd. Music Publishing Pty Ltd
Produced by Bryan Ferry, Rhett Davies, Colin Good, Simon Willey and Jon Brion
Performed by Emeli Sandé and The Bryan Ferry Orchestra
The Bryan Ferry Orchestra appears courtesy of BMG Rights Management (UK) Limited
Emeli Sandé appears courtesy of Virgin Records Limited

"Crazy In Love"


Written by Shawn JAY Z Carter, Rich Harrison, Beyoncé Knowles and Eugene Record
(c) 2003 Carter Boys Publishing, EMI Blackwood Music Inc, Unichappell Music Inc, Beyoncé Publishing / Hitco South/ Music of Windswept, a BMG company,
By kind permission of EMI Music Publishing Australia Pty Limited and Warner/Chappell Music Australia Pty Ltd and J. Albert & Son Pty Ltd.
Music Publishing Pty Ltd
Produced by Bryan Ferry, Rhett Davies, Colin Good and Simon Willey
Performed by The Bryan Ferry Orchestra
The Bryan Ferry Orchestra appears courtesy of BMG Rights Management (UK) Limited

"Back To Black"


Written by Amy Winehouse and Mark Ronson
(c) 2006 EMI Music Publishing Ltd. Licensed by EMI Music Publishing Australia Pty Limited.
Produced by Hollywood Holt
Performed by Beyoncé x André 3000
Beyoncé appears courtesy of Parkwood Entertainment/ Columbia Records
André 3000 appears courtesy of Epic Records

"Back To Black"


Written by Amy Winehouse and Mark Ronson
(c) 2006 EMI Music Publishing Ltd. Licensed by EMI Music Publishing Australia Pty Limited.
Produced by Bryan Ferry, Rhett Davies, Colin Good and Simon Willey
Performed by Bryan Ferry with The Bryan Ferry Orchestra
Bryan Ferry and The Bryan Ferry Orchestra appear courtesy of BMG Rights Management (UK) Limited

"Young and Beautiful"


Written by Elizabeth Grant and Rick Nowels
(c) 2012 EMI Music Publishing Germany GMBH / R-Rated Music. Licensed by EMI Music Publishing Australia Pty Limited.
Produced by Elliott Wheeler and Rick Nowels
Performed by Lana Del Rey
Lana Del Rey appears courtesy of Polydor Records UK
Licensed courtesy of Polydor Records UK & Universal Music Domestic Rock/Urban
Under license from Universal Music Operations Ltd & Universal Music GmbH

"Oh! You Have No Idea"


Written by Dan Dougherty and Phil Ponce
(c) 1928 (Renewed) WB Music Corp/Redwood Music Ltd. By kind permission of Warner/Chappell Music Australia Pty Ltd and J. Albert & Son Pty Ltd.
Produced by Bryan Ferry, Rhett Davies, Colin Good, Simon Willey and Elliott Wheeler
Performed by Andrea Martin and The Bryan Ferry Orchestra
The Bryan Ferry Orchestra appears courtesy of BMG Rights Management (UK) Limited

"Together"


Written by Romy Madley Croft, Oliver Sim and Jamie Smith
Licensed by Universal Music Publishing Group Pty Limited
Produced by Jamie Smith
Performed by The xx
Licensed courtesy of Young Turks
By arrangement with XL Recordings Ltd/ Beggars Group Media Limited

"Love Is Blindness"


Written by U2
Published by Universal Music Publishing B.V. except Blue Mountain Music Ltd (UK) and Mother Music (Irl.)
Produced by Jack White III
Performed by Jack White
(c) 2011 Third Man Records
Licensed courtesy of Third Man Records

"Into The Past"


Written by Joseph Ray, Daniel Stephens, Alana Watson and Craig Armstrong
Published by (c) 2013 EMI Publishing Ltd. Licensed by EMI Music Publishing Australia Pty Limited and Warner-Olive Music LLC (ASCAP)
Produced by Daniel Stephens and Joseph Ray
Performed by NERO
NERO appears courtesy of MTA Records
Licensed courtesy of Mercury Records (London) Ltd
Under license from Universal Music Operations Ltd

"Hearts A Mess"


Written by Wally De Backer, William Attaway and Irving Burgie
Published by Samples 'N' Seconds Records Pty Ltd*
By kind permission of J. Albert & Son Pty Ltd* and BMG Chrysalis/Mushroom Music.
Performed by Gotye
Licensed courtesy of Samples 'N' Seconds Records Pty Ltd

"Kill And Run"


Written by Sia Furler and Chris Braide
Sia Furler: (c) 2013 EMI Music Publishing Ltd.
Licensed by EMI Music Publishing Australia Pty Limited
Chris Braide: BMG Chrysalis/Mushroom Music, Chris Braide designee (BMI)
Produced by Chris Braide and Oliver Kraus
Performed by SIA
Sia appears courtesy of Monkey Puzzle Music

"Can't Repeat The Past", "Infinite Hope", "Daisy's Theme"


Written by Craig Armstrong
Published by Warner-Olive Music LLC (ASCAP)
Produced by Bryan Ferry, Rhett Davies, Colin Good and Simon Willey
Performed by The Bryan Ferry Orchestra
The Bryan Ferry Orchestra appears courtesy of BMG Rights Management (UK) Limited
Review: Great Gatsby, The
by Sean Saulsbury
July 3, 2013
3.5 / 5 Stars
Set at the height of the Roaring Twenties, Baz Lurhmann's version of The Great Gatsby is slick, entertaining, dramatic at times, and accessible to modern audiences.
That last point is not necessarily a good thing. Some of the driving scenes play out like a Grand Theft Auto video game, much of the extravagant parties are set to hip-hop music from decades into the future, and the 3D adds little to the experience. Some will love it, some will not. But consuming an adult beverage just prior to viewing the film is recommended, regardless.
Moulin Rouge director Baz Luhrmann clearly sets his mark, and if you like his style you will likely enjoy Gatsby. Leonardo DiCaprio works well in the lead role as the mysterious Jay Gatsby, and the script keeps us intrigued as it slowly reveals new information about Gatsby—some of it is seemingly contradictory at times, which adds to the pleasure of having it all make sense in the end.
The other players are fine in their roles—nobody really stands out as fantastic—but Carey Mulligan as the love interest is the least compelling. She is too melancholy and her slouchy posture detracts from her sex appeal. (On the other hand, DiCaprio's love for Mulligan's character is convincing, which saves the flick from being a bore.)
Ultimately, the film works because it portrays the extent to which a man will go for love. That is something most of us can identify with. There are also two or three scenes that are well set up, dramatically written and you will be close to the edge of your seat anticipating what is going to happen next. (Note I didn't say "on" the edge of your seat, but "close" to it.) The costume design is fantastic and the best thing about the movie.
While the picture's theme, which is the tragic nature of pure love in an impure world, is ultimately a false dichotomy and not one I personally identify with, it is well and clearly portrayed none-the-less.
In the end, Gatsby is not all that great. But it is pretty good. If you are a big DiCaprio fan, love a spectacular party and a good plot, and like to get a little inebriated before a trip to the theater, then The Pretty Good Gatsby is worth a watch.
Trailer Music Used From
Theatrical Trailer
"Bedroom Hymns" - Florence + The Machine
"Happy Together" - Filter
"No Church in the Wild" - Kanye West and Jay-Z
First song in the trailer.
"Love is Blindness" - Jack White (U2 cover)
Second song played in trailer.
Missing Information?
If any information appears to be missing from this page, contact us and let us know!