ABKCO Records Announces 'Isle of Dogs' Soundtrack
MARCH 1, 2018 | Submitted by ABKCO Records / Soundtrack.Net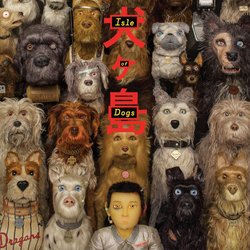 ABKCO Records has set a March 23 release for the Isle of Dogs Soundtrack. Written, directed and produced by Wes Anderson, the stop-motion animated feature stars Bryan Cranston, Koyu Rankin, Edward Norton, Bob Balaban, Bill Murray, Jeff Goldblum, Kunichi Nomura, Akira Takayama, Greta Gerwig, Frances McDormand, Akira Ito, Scarlett Johansson, Harvey Keitel, F. Murray Abraham, Yoko Ono, Tilda Swinton, Ken Watanabe, Mari Natsuki, Fisher Stevens, Nijiro Murakami, Liev Schreiber and Courtney B. Vance. The soundtrack album includes Academy Award-winning composer Alexandre Desplat's original score, compositions from acclaimed Japanese films Seven Samurai and Drunken Angel, The West Coast Pop Art Experimental Band's brand of American psychedelia, and The Sauter-Finegan Orchestra's eccentric euphonies. The CD version will be out March 30, just one week after its digital release. The vinyl edition is slated for Summer 2018.
Music supervisor Randall Poster commented, "Wes and I couldn't be more excited to share this music from the film. Built on a taiko drum foundation, Alexandre has created a unique and purposeful film score that we think is like no other. While we were keen to follow the musical lure of the Kurosawa, Wes—as always—managed to inspire a tribute that is, nonetheless, all his own."
Japanese composer Fumio Hayasaka worked with legendary filmmaker Akira Kurosawa on many projects, including Seven Samurai (1954), one of the most referenced films in history. Isle of Dogs Soundtrack includes a composition from Seven Samurai, performed here by the Toho Symphony Orchestra, as a cinematic nod to Kurosawa's work. "Kosame No Oka" is a central musical thematic from the filmmaker's 1948 crime noir Drunken Angel. From the same era is Japanese singer/actress Teruko Akatsuki's sole 1951 release "Tokyo Shoe Shine Boy."
"I Won't Hurt You" originally appeared as a B-side on the debut 1966 single by Los Angeles-based psychedelic group The West Coast Pop Art Experimental Band. Known for their sometimes bizarre and childlike music, WCPAEB released six albums before breaking up at the dawn of the following decade.
The Sauter-Finegan Orchestra was an American swing band formed in the 1950s that gained a reputation for using non-traditional instruments in their performances. Their 1952 single "Midnight Sleighride" incorporates piccolo, xylophone, triangle, chanting, and, of course, sleigh bells.
After graduating from Manhattan School of Music with a BA in jazz flute and saxophone, American composer/musician Kaoru Watanabe moved to Japan to master the traditional art of taiko drumming. Since returning to the U.S., Watanabe has become a world-renown performer and educator in this discipline, and lent his creative talents to provide authentic taiko percussion on the Isle of Dogs Soundtrack.
ABKCO has a unique working relationship with Wes Anderson and his longtime music supervisor Randall Poster, releasing the original soundtrack for every film Anderson has written and directed over the last decade - The Darjeeling Limited (2007), Fantastic Mr. Fox (2009), Moonrise Kingdom (2012) and The Grand Budapest Hotel (2014). These soundtracks are all currently available from ABKCO Records.
Newsletter
Enter your e-mail address to receive weekly soundtrack and film score news: