Movie Information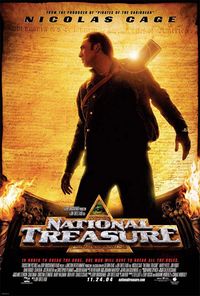 National Treasure
Released: November 19, 2004
Movie Purchasing Links
Review: National Treasure (Blu-ray Disc)
by Dan Goldwasser
June 2, 2008
3.5 / 5 Stars
National Treasure was a rather successful 2004 adventure that featured Nicholas Cage as Ben Gates, a treasure hunter who has been seeking the fabled treasure of the Knights Templar, using clues passed down in a story from his grandfather (Christopher Plummer). After being double-crossed by Ian Howe (Sean Bean), Gates along with sidekick tech guru Riley Poole (Justin Bartha) needs to steal the Declaration of Independence before Ian does, because they believe there might be a clue to the location of the Templar treasure on the back. In the process of stealing it (not an easy task, of course), they involve Dr. Abigail Chase (Diane Kruger), and soon Gates has the FBI on his tail, led by Agent Sadusky (Harvey Keitel). The clues will take them all over the eastern seaboard and involve many national monuments and historic building.
National Treasure doesn\'t really make excuses for what it is - a fantastical romp through history that takes liberal leaps of logic to get the plot going. But while credibility is stretched thin, that doesn\'t make it any less fun. Much like The Da Vinci Code, clues lead to more clues, and it\'s never boring, and actually is likely to spark a renewed interest in our nation\'s history. And because the film is rated PG, it will keep most of the family well entertained throughout.
Originally released as a single-disc DVD back in 2005, when the sequel National Treasure: Book of Secrets hit theaters last December, Walt Disney Home Video released a new 2-disc "Special Edition" of National Treasure, to get people excited for the latest adventure. Now it\'s available on Blu-Ray disc, and contains a few exclusive extras. The image is improved from the DVD releases. Not quite reference quality, there\'s a bit of a murky aspect to the picture that feels soft during the darker moments of the film. But overall the crisp clarity makes this a worthy upgrade from the DVD release. The audio is presented in uncompressed PCM 5.1 as well as English, French and Spanish 5.1 Dolby Digital. It\'s a heavily immersive audio track and certainly reference quality.
Supplements include everything that was previously released on the 2-disc DVD set, and then a little more. Exclusive to the Blu-ray release is a feature-length commentary track with director Jon Turteltaub and actor Justin Bartha. Unfortunately, what could have been an interesting technical commentary is dragged down by Bartha\'s rambling interjections, usually involving stuff that has nothing to do with the film; you get the sense he doesn\'t want to be there. Turteltaub does manage to get some interesting tidbits out though, when he isn\'t quizzing Bartha about his love life.
The other Blu-ray exclusive release is a lot more interesting. "Mission History: Inside the Declaration of Independence" is a BD-Java featurette that lets you explore the Declaration line-by-line, with layman translations of each line, as well as over thirty featurettes of History Channel quality material explaining the background of the document and what it all means. Splendid stuff, and though it\'s a bit slow to navigate through, it\'s worth the time.
The remaining extras are all culled from the 2-disc Collector\'s Edition release, and are presented in standard definition. "National Treasure: On Location" runs about 11-minutes long, and features interviews with cast and crew members showing lots of B-roll footage from the location shoots, which involved the actual monuments and landmarks portrayed in the film. Seven "Deleted Scenes" are shown, with optional director\'s commentary. They add a little extra back-story information, but are clearly cut for a reason. The "Opening Scene Animatic" shows the previsualization of the opening sequence, with optional director\'s commentary. Similarly, an "Alternate Ending" which doesn\'t feel as "romantic" as the film\'s version is included, once again with commentary.
The most interesting featurette is "Ciphers, Codes & Codebreakers", a 12-minute long mini-documentary about encryption codes, and more, from a historical viewpoint. It\'s good stuff, but ends before they get into the real meat of it. "Exploding Charlotte" is a 6.5-minute piece on how they filmed the Arctic segment (in a freezer), and then how they blew up the boat they built on location. "Steal a National Treasure" is a nearly six-minute look at what it would really take to steal the Declaration of Independence, and how they filmed it for the production. Finally, a six-minute piece "On the Set of American History" shows them on location, filming in more of the national landmarks and monuments. An 8-minute feature on real treasure hunters ("Treasure Hunters Revealed"), a 5-minute segment on the Templar Knights ("The Knights Templar), and a pop-up "Trivia-Track" are included, all of which required playing a decoder game called "Riley Poole\'s Decode This!" to unlock - blessedly the game is not necessary nor included on the Blu-ray release.
Missing from this release (as with the 2-disc DVD) are theatrical trailers for National Treasure, though they do include trailers for the sequel National Treasure: Book of Secrets and the upcoming Pixar film Wall-E. Finally getting the commentary track that was missing from the DVD release should have made this a must-have upgrade, but the commentary misses the boat with Bartha\'s ramblings. Still, the transfer on National Treasure is good and the audio excellent, and the Declaration explorer worth your time and expense to upgrade to HD.
Missing Information?
If any information appears to be missing from this page, contact us and let us know!