Movie Information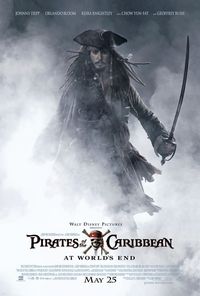 Pirates of the Caribbean: At World's End
Released: May 25, 2007
Credits
Movie Purchasing Links
Pirates of the Caribbean: Four-Movie Collection:
Blu-ray
Song Credits
"Only Found Out Yesterday"


WRITTEN AND PERFORMED BY KEITH RICHARDS

"Hoist The Colours"


LYRICS BY TED ELLIOT AND TERRY ROSSIO
MUSIC BY HANS ZIMMER AND GORE VERBINSKI

"Yo Ho (A Pirate's Life For Me)"


WORDS BY XAVIER ATENCIO
MUSIC BY GEORGE BRUNS
Review: Pirates of the Caribbean: At World\'s End
by Dan Goldwasser
May 27, 2007
3 / 5 Stars
As a film franchise, Pirates of the Caribbean was really surprising. That is to say, who would have thought that a film based on a ride at Disneyland would do so well? It didn\'t work for The Haunted Mansion, which failed to connect with audiences in a way that Jerry Bruckheimer\'s action-packed spectacle apparently did. Last year\'s sequel Pirates of the Caribbean: Dead Man\'s Chest was little more than a transitory middle film, designed to introduce us to new characters and set up a lot of plot that would ultimately (hopefully!) pay off in the final film in the trilogy. That film is now here, and Pirates of the Caribbean: At World\'s End is a bit of a mess, but it delivers plenty of action and character moments that pay off - even if not in the ways you would expect.
The film\'s action starts in Singapore, where now back-from-the-dead Captain Barbossa (Geoffrey Rush) and Elizabeth Swann (Keira Knightly) are trying to work out a deal with Pirate Lord Sao Feng (Chow Yun-Fat), to gain access to the charts to Davy Jones\' Locker, where Jack Sparrow (Johnny Depp) has been sentenced to spend eternity. Of course, Elizabeth is still feeling guilty about how she sentenced Jack to "death" at the end of the second film, and Barbossa has an alterior motive for bringing Jack back from the Locker, one which involves the mystic Tia Dalma (Naomie Harriss). Will Turner (Orlando Bloom) in the meantime, is trying to free his father "Bootstrap" Bill Turner (Stellan Skarsgård) from his 100 years of service to Davy Jones (Bill Nighy), who is currently under the command of Lord Cutler Beckett (Tom Hollander) of the East India Trading Company, who is seeking to eliminate all of the pirates and rule the oceans. It\'s not too complicated really, but the progression of deals that are made (and broken) to achieve everyone\'s own ends is presented in an unnecessarily complicated manner.
Running a bloated 168-minutes, the film has some pacing issues, primarily in the middle section, but once the action kicks in for the climactic battle sequence in the middle of a turbulent maelstrom, things definitely pick up a bit. Director Gore Verbinkski has certainly grown as a director over the course of the Pirates movies, and the action sequences have a cinematic quality to them that was missing from the first two films, with sweeping crane shots as cannonballs wreak destruction throughout the various naval vessels.
The visual effects by Industrial Light and Magic were Oscar-winning last year, and this time around they are certainly on par with their past effort. (For example, the rain running down Davy Jones\' face is completely believable.) Musically, Hans Zimmer pulled out all the stops on this one, and armed with a handful of new themes (and a satisfying sprinkle of the old themes), is able to battle it out with the sound effects. A battle which, unfortunately, he loses on occasion, but for the most part the music shines through.
By the time the movie is over, much like Spider-Man 3, we\'re exhausted from the sheer overwhelming amount of plot and character interactions that ultimately lead to a bit of a twist ending, but a relatively satisfying one, nonetheless. It remains to be seen if they will make another Pirates film, but for now, the trilogy is at an end, and it certainly goes out with a prolonged, drawn-out bang.
Missing Information?
If any information appears to be missing from this page, contact us and let us know!