Soundtrack Information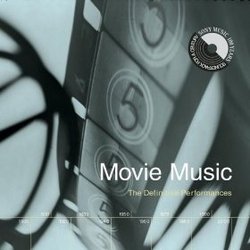 Movie Music: The Definitive Performances
Legacy Recordings (J2K 65813)
Release Date: October 12, 1999
Formats: CD, Digital
Music From
Purchase Soundtrack
Track Listing
Disc 1: Movie Music: The Definitive Performances
1.
Music For Silent Movies
2.
Singin' In The Rain
3.
You Are Too Beautiful
4.
A Guy What Takes His Time
5.
Temptation
6.
Inka Dinka Doo
7.
Rock and Roll
8.
Lullaby of Broadway
9.
The Way You Look Tonight
10.
A Lovely Way To Spend An Evening
11.
Secret Love
12.
The Man That Got Away
13.
Giant
14.
March from The River Kwai & Colonel Bogey
15.
An Affair To Remember
16.
A Certain Smile
17.
My Heart Belongs To Daddy
18.
Overture from West Side Story
19.
With A Little Bit Of Luck
20.
To Sire With Love
21.
Mrs. Robinson
22.
Ballad of Easy Rider
23.
Be
24.
The Way We Were
Disc 2: Movie Music: The Definitive Performances
1.
Suicide Is Painless
2.
Knockin' On heaven's Door
3.
Evergreen
4.
On The Road Again
5.
Tender Years
6.
Footloose
7.
Take My Breath Away
8.
It Had To Be You
9.
The John Dunbar Theme
10.
State of Love and Trust
11.
When I Fall In Love
12.
Streets of Philadelphia
13.
I'm Forrest...Forrest Gump
14.
Childhood
15.
The Sweetest Thing
16.
Men In Black
17.
I Say A Little Prayer
18.
Southampton
19.
My Heart Will Go On (Love Theme from Titanic)
20.
I Don't Want To Miss A Thing
Track lengths not available for this album. If you have track length/time information for this album, please e-mail it to us at mail@soundtrack.net and we will add it to the database.
Related Albums
Dances with WolvesFirst Pressing Limited Edition of 1,000 Copies
Music On Vinyl / At the Movies (MOVATM067)

Released: May 16, 2016

Format: Vinyl (53 min)

West Side StoryExpanded Edition
Legacy Recordings (SK 89226)

Released: Unknown

Format: CD
Missing Information?
If any information appears to be missing from this page, contact us and let us know!