Movie Information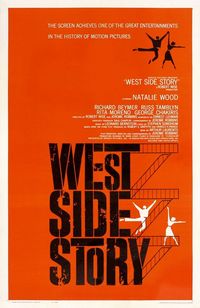 West Side Story
Released: October 18, 1961
Credits
Review: West Side Story - 50th Anniversary Edition (Blu-ray)
by Dan Goldwasser
December 3, 2011
4.5 / 5 Stars
Adapted loosely from Romeo and Juliet, Leonard Bernstein's West Side Story tells the tale of star-crossed lovers Tony (Richard Beymer) and Maria (Natalie Wood) in the middle of a turf war between two teenage street gangs on the west side of New York City in the 1950s. The Jets are a group of white teens led by Riff (Russ Tamblyn), while the Sharks are a Puerto Rican gang led by Bernardo (George Chakiris). When the conflict between the two gangs comes to a head, the police intervene, and Lt. Schrank (Simon Oakland) and Officer Krupke (William Bramley) mandate that the two gangs have to reconcile, or else there will be a price to pay. The Jets, however, decide that it might be better to challenge the Sharks to an all-out rumble for full control of the territory, and Riff asks his best friend (and Jets co-founder) Tony to deliver the challenge to the Jets at the school dance. But it's there that Tony sees Maria - Bernardo's sister - and both are immediately smitten with each other. Thus begins their turbulent relationship, with the Jets and Sharks gearing up for war, and their romance caught in the middle.
As it's based on Romeo and Juliet, you can get a sense of where things are headed, and let's just say that it's definitely a heart wrenching tragedy. Directed by Robert Wise and choreographed and co-directed by Broadway icon Jerome Robbins, West Side Story is a masterful celebration of story told through dance and music. The songs, featuring lyrics co-written by Stephen Sondheim with Leonard Bernstein, are each memorable and now considered classics. It's a long film, running a little over 2.5 hours, but the performances from the actors as well as the creative filmmaking style never get boring. In 1961, it was not conventional to shoot musical numbers with such depth and artistry, and it truly did set the bar high for subsequent movie musicals. West Side Story would go on to win ten Academy Awards, including Best Picture, Best Director, Best Supporting Actor and Actress, Best Cinematography, Best Sound, Best Editing and more - and it's all evident when you watch the film.
The new HD restoration of West Side Story looks phenomenal. From the opening aerials of New York City to the stylized rooftop sets to the heart wrenching finale, it's a gorgeous looking film. The deep color saturation is incredibly vibrant, the detail is crisp and sharp, and there is a delightfully slight bit of grain throughout the image reminding us that this was a film. There are occasional moments of moire pattern shimmer and some of the optical shorts feel a little fuzzy but that's just the nature of the medium. There has apparently been some concern regarding the visual fade-out from the overture into the main titles, and reportedly Fox will be offering a disc exchange program. Don't let that dissuade you from watching this on a big screen, though!
Audio for West Side Story is presented in a DTS-HD Master Audio 7.1 track, repurposed from the four-track masters (and not the recently restored six track masters), and as such is not an exact replication of the original 1961 presentation. But that being said, Leonard Bernstein's music sounds phenomenal, dialogue is clean but slightly compressed (again, a product of the time) and while this isn't a reference quality track to show off your home theater, West Side Story sounds just great. Also included is an English 4.0 Dolby Digital track, a Spanish 5.1 Dolby Digital track, a French 5.1 DTS track, and a German 5.1 DTS track.
Billed as the 50th Anniversary Edition, on the first Blu-ray disc, we have a few film-specific extras. "Song Specific Commentary by Stephen Sondheim" (HD, 19.5-min) is a brief but highly informative glimpse into the development of the songs, and Sondheim's candor and discussion about things that he likes and dislikes about the songs, as well as where he changed things from stage to screen, makes this a quick commentary well worth listening to. It's a shame it's so brief, though, since I'm sure there is a lot more behind the songs that would be worth having him discuss at length. "Pow! The Dances of West Side Story" (HD, 19-min) is a great deconstruction of the various dance sequences in the film, featuring interviews with people directly involved with the production as well as current experts on dance, film and music. It's available viewed within the film, or individually. "Music Machine" (HD, 85-min) lets you watch all the musical numbers in the film either individually, or in-a-row. >[?On the second disc, we get a wealth of extras, some old and some new. "A Place for Us: The Legacy of West Side Story" (HD, 29.5-min) is a new featurette that looks back at the amazing worldwide influence that the play and film have had on society and pop culture over the past sixty years. "West Side Memories" (SD 16x9, 56-min) is a holdover from the 2003 DVD Special Edition release, and is a rather in-depth and candid look at the making of the film. Interviews with living cast and crew members are mixed in with archival interviews and behind-the-scenes photos and footage to create a compelling and fascinating exploration of the challenges (and serious problems) encountered when making the film. "Storyboard to Film Comparison Montage" (HD, 5-minutes) is exactly what you would expect, a montage of shots from the film compared to their storyboards, set to music. Finally, four "Trailers" (HD, 12-min) are included, rounding out the extras on West Side Story.
As a groundbreaking film musical, West Side Story is a must-see for all fans of cinema and theater. That is has been given a great presentation on Blu-ray, combined with some solid extras, should make it a no-brainer and must-own for everyone.
News &amp Articles
Missing Information?
If any information appears to be missing from this page, contact us and let us know!